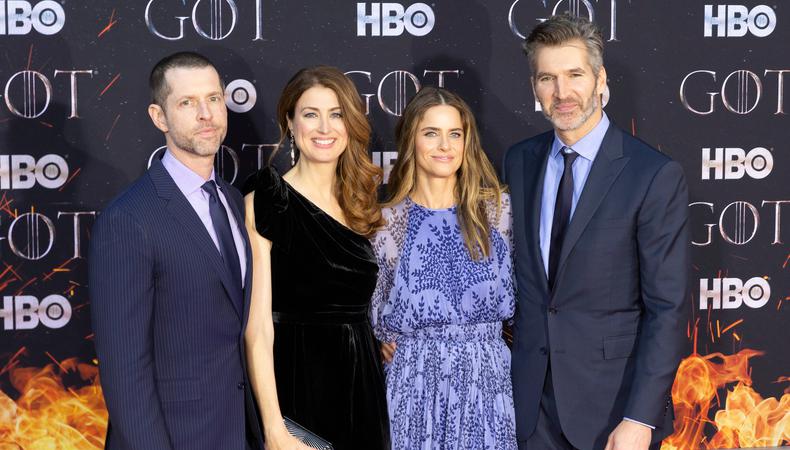 Greenlit means a project is officially a go, so all you have to do is follow these leads to stay up to date. You never know where you'll find an opportunity to land an audition!
"The Chair"
Now that "Game of Thrones" creators David Benioff and D.B. Weiss have had some time away from their HBO epic, the duo is back to work over at Netflix. The streaming service has ordered the new series "The Chair," a six-episode half-hour dramedy that will star Sandra Oh and Jay Duplass. The series hails from Benioff, Weiss, and Amanda Peet as part of the "Thrones" duo's mega-deal with Netflix signed last year. Written and executive produced by Peet, who also serves as showrunner, the series centers on the chair of an English department at a major university. No further details have been announced, but the project is now in pre-production so expect more casting in advance of filming, which will begin soon. No casting director has been publicly announced.
"Borderlands"
Following recent video game adaptations such as "Assassins Creed" and current box office favorite "Sonic the Hedgehog," another adaptation has found its director. After five years of development, it was announced last week that Eli Roth will direct a movie based on the video game "Borderlands," produced by Lionsgate. The film, like the game, will be set on the frontier of the sci-fi planet of Pandora that has been abandoned by a mega-corporation. The studio will put the film into production later this year with Craig Mazin ("Chernobyl") writing the latest screenplay draft.
"Kevin Can Go F*** Himself"
"Schitt's Creek" is sadly coming to a close, but star Annie Murphy is just getting started. Announced last week, the actor will reportedly lead the forthcoming meta-sitcom "Kevin Can F*** Himself" at AMC. Murphy will play Allison, who is fed up with her husband, Kevin, and "escapes her confines and discovers her rage…as the series dissects the textbook image of the sitcom wife." Rashida Jones will executive produce the series, which was created by Valerie Armstrong. Felicia Fasano is casting.
"The Portable Door"
The Jim Henson Company is looking to bring a little bit more magic to the world by taking people through "The Portable Door," a new fantasy adventure comedy adapted from Tom Holt's six-book fantasy series. Christoph Waltz and Guy Pearce will star in the film, along with Patrick Gibson. Jeffrey Walker will direct from a screenplay adapted by Leon Ford, which follows Paul Carpenter, a new intern at a mysterious London firm who becomes steadily aware that his employers are anything but conventional. Australian independent film company Story Bridge Films will produce, so expect the project to film down under in the coming year.
"The Power"
Finally, Variety reported last week that "The Office" star Rainn Wilson will star as a series regular in the upcoming Amazon series "The Power." Wilson will play Daniel Dandon, the "self-righteous and self-important" governor of Washington opposite Leslie Mann's character, Margot. The 10-episode thriller is based on the novel of the same name written by Naomi Alderman and centers on an event where teenage girls all over the world suddenly develop the power to electrocute people at will. Also starring will be Auli'i Cravalho, John Leguizamo, Toheeb Jimoh, Ria Zmitrowicz, Halle Bush, Nico Hiraga, Heather Agyepong, and Daniela Vega. Nina Gold is the casting director.