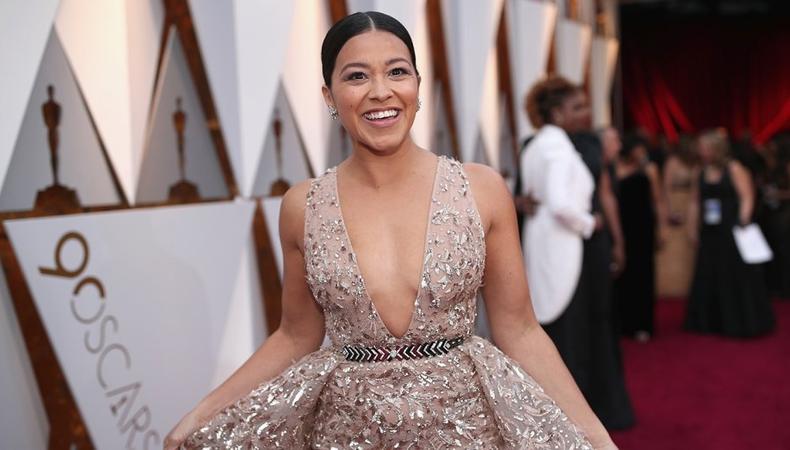 Greenlit means a project is officially a go, so all you have to do is follow these leads to stay up to date. You never know where you'll find an opportunity to land an audition!
M. Night Shyamalan Apple Series
A twist we could all see coming: M. Night Shyamalan is heading back to TV. After his foray into the small screen business with Fox's "Wayward Pines," Apple, who is diving into the streaming race hard, has given the director a straight-to-series order for a half-hour psychological thriller. No word yet on the plot details or when we can expect to see it, but Tony Basgallop, who has extensive TV experience with "Berlin Station," "24: Legacy," "24: Live Another Day," and many more series, will be writing the script. Shyamalan's casting director of choice, Douglas Aibel, will likely be on board for the series as well.
"Hillbilly Elegy"
"The Shape of Water" took home the biggest award at last night's Oscars ceremony, and while it didn't take home the statue for best original screenplay, writer-director Guillermo del Toro earned a nomination, and it's no surprise that his co-writer Vanessa Taylor is already prepping to write a new script. Taylor has found her next project in "Hillbilly Elegy," based on the J.D. Vance's memoir of the same name. Taylor's moving from one great director in Guillermo del Toro to another—this time, Ron Howard. Here's hoping Howard brings starmaker Nina Gold (who he's worked with the most in recent years) on board with him to cast.
"Someone Great"
Gina Rodriguez is a fan favorite and audiences are about to get more of her. As reported by The Hollywood Reporter, the "Jane the Virgin" star will star in and produce "Someone Great," a romantic comedy for Netflix. Jennifer Kaytin Robinson, the creator of MTV's "Sweet/Vicious," will be making her directorial debut on the project, which centers on a woman who decides to seek adventure in New York City before she moves across the country for her dream job while recovering from a heart-wrenching break-up. So, NYC actors, keep an eye out; it looks like filming is supposed to kick off in the Big Apple next month. There's almost definitely a CD attached, although one has not been announced, so keep track of Netflix's roster of casting directors—especially Jennifer Euston, Julie Schubert, or Carla Hool, to staff the female-driven show.
Hans Christian Andersen Movie Musical
Producers are starting to see that there's nothing like a musical, especially after the unexpected success of "The Greatest Showman." Now, Fox 2000 has sealed the deal on a big screen musical with new music from "Wicked" composer-lyricist Stephen Schwartz. The flick, which will be written by David Magee ("Life of Pi" and "Mary Poppins Returns"), will be a fantasy about and based on the works of Hans Christian Andersen, with the intention to later translate the project into a Broadway musical. It's ambitious, but they've certainly got the right team behind it, with Neil Meron and Craig Zadan producing and Ansel Elgort as the rumored lead. The only thing left now that both the music and the contract have already come together are the director and CD. It's a good bet Telsey + Company will get recruited, as they're the popular go-to for screen musicals, but we'll just have to wait and see.
"Mixtape"
The TV side of the Fox family has decided to step back in the musical world. The network has ordered a pilot for "Mixtape," a musical drama from former "Smash" showrunner Josh Safran, who's giving the genre a second go. Callie Hernandez was just announced as the lead, joining Madeleine Stowe in the pilot, which will be set in Los Angeles. The story captures the different stages of love and the interconnecting lives of a disparate group of people. Hernandez and Stowe are the only two cast members announced so far and "a disparate group" implies many more, so keep an eye out for those L.A. casting notices. Telsey + Company's L.A. office–based Tiffany Little Canfield, who cast the new "Mary Poppins," has a long history of musical series and films (in addition to the SAG award–winning "This Is Us"), so hers might be the room to get into.
Mary Jennings Hegar Film
While Angelina Jolie is always busy—between writing, directing, being a mom, and helping the world—she's been off the screen for a few years now, last appearing in 2015's "By the Sea." Now she's taking a break from the director's chair and circling a new role, according to Variety, as the lead in "Shoot Like a Girl," based on the memoir by Purple Heart veteran Maj. Mary Jennings Hegar. Neil Burger will be taking the helm for the film, as well as doing the script rewrites with Alice O'Neill. Burger and O'Neill have collaborated in the past on Showtime's "Billions," so while there's no casting director quite yet for "Shoot Like a Girl," Burger could look to that series' team of Allison Estrin and Avy Kaufman to add actors.
Looking to get cast? Apply to casting calls on Backstage.