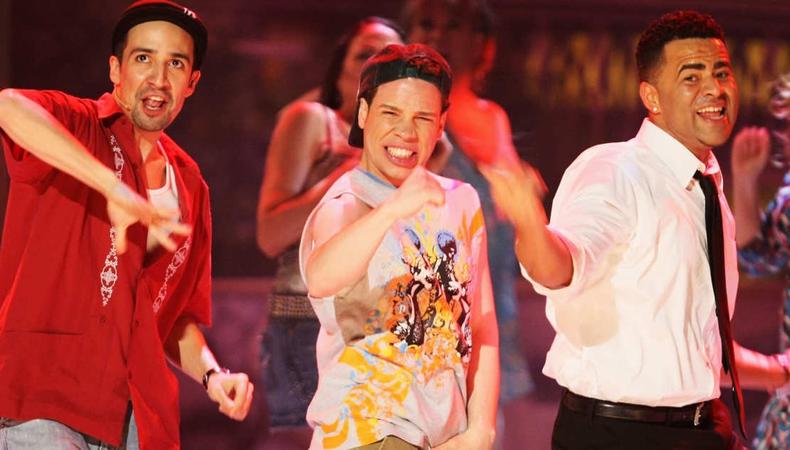 Greenlit means a project is officially a go, so all you have to do is follow these leads to stay up to date. You never know where you'll find an opportunity to land an audition!
"In the Heights"
Before the world knew Lin-Manuel Miranda's name from "Hamilton," the Broadway world was well-versed in his work thanks to his Tony-winning debut musical "In the Heights." Back then, in 2008, there was word a movie was in the works (with Miranda starring). When "Hamilton" hit international success, the "Heights" film was back on track…with just one problem: The Weinstein Company. But now, after a fervent bidding war, the rights have been purchased by Warner Bros., so lights are back up in Washington Heights. Miranda will, of course, be producing, and "Crazy Rich Asians" director Jon Chu will be helming. No word on casting yet, though Chu has used Terri Taylor a few times in the past and Telsey + Company cast the stage production so both might be good to keep an eye on as pre-production develops, likely for a New York City shoot.
"The Hunt"
While the world waits for the recently-announced "Us," the follow-up film to Jordan Peele's smash directorial debut "Get Out," we have something to hold us over. Amazon has picked up "The Hunt," a Nazi-hunting series executive produced by Peele, for a 10-episode series order. "The Hunt" will follow a diverse band of Nazi Hunters living in 1977 New York City who discovers that a group of high-ranking Nazi officials are setting out to create a Fourth Reich in the United States. While we will have to wait for news about a casting director on the project, it won't hurt to watch out for notices coming from Amazon Studios.
"City on a Hill"
Ben Affleck and Matt Damon will be executive producing a 12-episode series for Showtime called "City on a Hill," starring Kevin Bacon and Aldis Hodge. Written by Chuck MacLean, the series will be a fictional account of the "Boston Miracle," an initiative in 1990s Boston targeting youth gun violence. The film will be produced under Affleck, Damon, and Jennifer Todd's Pearl Street Films banner, and is just one of many projects the group has in development. Judy Henderson was CD on the pilot, so it's likely she will continue on the remaining episodes.
"Gloria: A Life"
"Gloria: A Life," a bio-play on the life of Gloria Steinem written by Emily Mann and directed by Diane Paulus, will get its debut this fall at the Daryl Roth Theatre. The play, split into two parts—one, a standard six-character play and the other a "talking circle" between the moderator and audience—will be put together by an all-female creative and producing team. Characters in the show include Steinem, Bella Abzug, and Flo Kennedy, and no actors are attached to star yet. Keep an eye on theater CDs for your chance at depicting a player in the history-making story.
"After Midnight"
After his Oscar win for "The Shape of Water," director Guillermo del Toro is following up with a major project for an even bigger audience. Netflix has picked up his new horror anthology "Guillermo del Toro Presents 10 After Midnight," a first for the platform. The series will be a collection of personally curated stories, both "sophisticated and horrific." Del Toro will be writing and directing the episodes but will also be choosing a top team of horror writers and filmmakers to bring his stories to life. It's still too early for a casting director announcement, but del Toro will be teaming back up with his "Shape of Water" producer J. Miles Dale, so we could also see a return to casting director Robin D. Cook.
"First Ladies"
Netflix recently announced they have acquired the new series "First Ladies," starring Jennifer Aniston and Tig Notaro, following America's first female president (Aniston) and her wife (Notaro). Notaro and Stephanie Allynne will write the series, collaborating again after their time working on Amazon's "One Mississippi." No further casting has been announced, nor has a casting director, but even Lena Waithe wants to join the project. "One Mississippi" used several CDs, including Cami Patton and "Veep"'s Dorian Frankel and Sibby Kirschgessner, so Notaro and Allynne could go back to who they know.
"Doom Patrol"
There is no stopping Greg Berlanti when it comes to the DC TV Universe. In addition to his previously-announced "Titans," Warner Bros Digital Networks and DC Entertainment has given a 13-episode series order to "Doom Patrol," an hour-long live-action drama based on the DC characters. "Supernatural" writer Jeremy Carver will write the series, which is scheduled to be released in 2019 on the DC Universe platform. Berlanti almost always works with casting directors David Rapaport and Lyndsey Baldasare, so keep your eyes on his door for casting opportunities.
Looking to get cast? Apply to casting calls on Backstage.