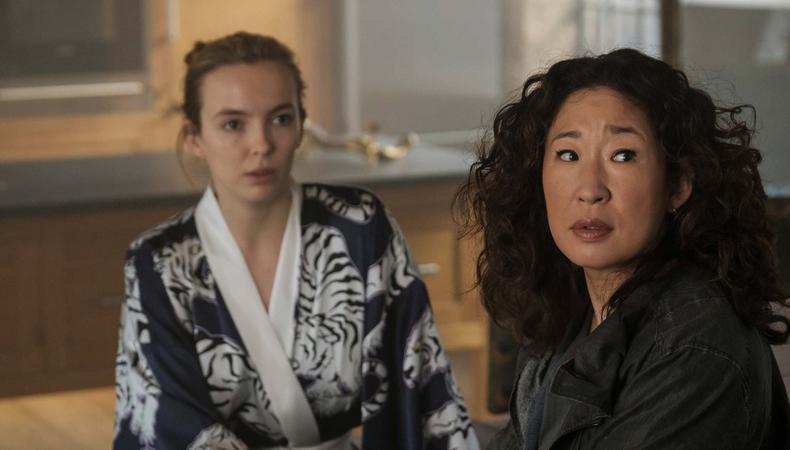 Greenlit means a project is officially a go, so all you have to do is follow these leads to stay up to date. You never know where you'll find an opportunity to land an audition!
"Killing Eve"
Season 3 of "Killing Eve," starring Sandra Oh and Jodie Comer, is still months away from airing, but the hit BBC America series has already been renewed for a fourth season. Created by Phoebe Waller-Bridge and based on the "Codename: Villanelle" novellas by Luke Jennings, "Killing Eve" has been a breakout success for the network, winning several awards for its stars and the show as a whole. Waller-Bridge served as the first season's showrunner before passing the torch to Emerald Fennell for Season 2 who gave those duties to Suzanne Heathcote for Season 3. Presumably, Season 4 will continue down this path, though no name has been suggested, especially considering a date for Season 3's spring debut also has yet to be set. Suzanne Crowley and Gilly Poole are the series' casting team.
"Fun Home"
Jake Gyllenhaal is reportedly coming to the "Fun Home." The stage and screen star, who will be reprising his role as George in "Sunday in the Park with George" this year in London, will take on another musical—this time on the big screen. Gyllenhaal will produce and star in a film adaptation of the Tony Award-winning musical "Fun Home," written by Jeanine Tesori and Lisa Kron and based on the graphic novel by Alison Bechdel. Like the stage version, the film adaptation will be directed by Sam Gold. Gyllenhaal will play the role of Bruce Bechdel, Alison's closeted father, originally played by Michael Cerveris. Heidi Griffiths and Jordan Thaler at The Public cast the show originally and Jim Carnahan took over when the show moved to Broadway. They could lend a hand for the screen iteration as well.
"Deadpool 3"
Ryan Reynolds is not ready to put away the Deadpool suit yet. In a recent appearance over the holidays on "Live With Kelly and Ryan," Reynolds, who plays the eponymous foul-mouthed mercenary, confirmed Marvel is currently working on a "Deadpool 3." This comes after the October news in Entertainment Weekly that screenwriters Rhett Reese and Paul Wernick had been given the green light to make more "Deadpool" movies. The film is still in early development, so we don't know any plot details, but the recent Disney and 21st Century Fox merger left the fate of X-Men characters, such as Deadpool and Wolverine, unknown, so the future film will likely look to clear up some of the questions fans have. Each "Deadpool" film has had separate casting teams, but the merger means that Marvel CD Sarah Finn could be working on it one way or another.
"Saved by the Bell"
First reported by The Hollywood Reporter, "Champions" breakout star Josie Totah will join original cast members Mario Lopez and Elizabeth Berkley in the upcoming series sequel of "Saved by the Bell." Totah will play Lexi, "a beautiful, sharp-tongued cheerleader and the most popular girl at Bayside High who is both admired and feared by her fellow students." The single-camera comedy sequel will reportedly explore what happens when California Governor Zack Morris (Mark Gosselaar's role, who is not yet confirmed) gets into hot water after closing too many low-income high schools and proposes the affected students be sent to the highest-performing schools in the state, a list that includes Bayside High. The series, created by Sam Bobrick (the original series creator), was picked up with a straight-to-series order in September and will be written and run by Tracey Wigfield ("Great News"). It's expected to launch this year on Peacock, NBCUniversal's forthcoming streamer. No casting director has been made public, but it could mean we see the return of original CD Robin Lippin.