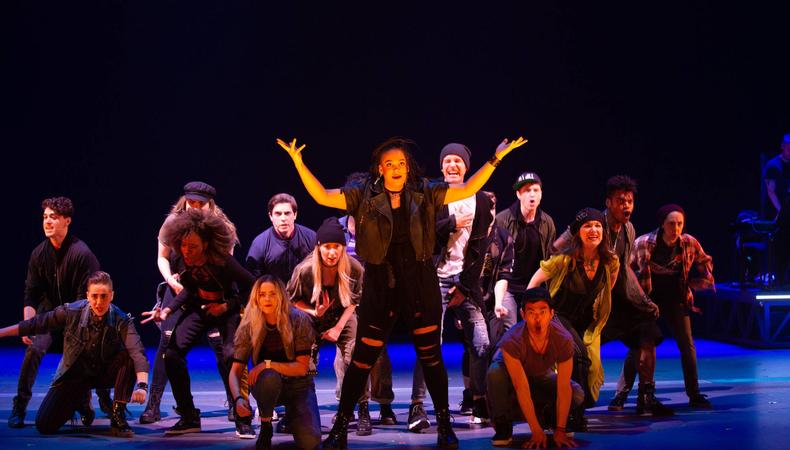 Greenlit means a project is officially a go, so all you have to do is follow these leads to stay up to date. You never know where you'll find an opportunity to land an audition!
"Jagged Little Pill"
Following its world premiere in Boston during the summer, the Alanis Morissette jukebox musical "Jagged Little Pill" is putting on a developmental lab in December and is currently casting. The musical has been rumored to be transferring to Broadway, though there has been no official announcement yet. The casting call is seeking singers who dance well of all gender identities and auditions will be held in New York City on Nov. 4. You can apply directly at Backstage here!
"In the Heights"
Lights up in Washington Heights! Straight off the news that "Hamilton" alum Anthony Ramos will star as Usnavi in the upcoming movie adaptation of Lin-Manuel Miranda and Quiara Alegría Hudes' musical "In the Heights," Miranda announced a worldwide casting search for the film. Actors will be able to submit a digital audition for a chance to be considered for a variety of major roles, including Nina and Sonny. "Crazy Rich Asians" director Jon M. Chu will be at the helm, Telsey + Company is handling casting, and production is scheduled to begin in early summer 2019.
"Godzilla vs. Kong"
The fight of the century has added another accomplice. Emmy Award nominee Brian Tyree Henry ("Atlanta") has recently joined the cast of upcoming "Godzilla vs. Kong," starring opposite Millie Bobby Brown. Adam Wingard is directing the feature and plot details have been undisclosed so far, but, as evident by the title, the film will pit Godzilla and King Kong against one another. "Godzilla vs. Kong" is expected to be released in 2020 and will also star Kyle Chandler, Julian Dennison, and Ziyi Zhang. Sarah Finn is casting the pic.
"Ironbark"
Rachel Brosnahan will soon be taking time out of her marvelous life for a new big role. The "Marvelous Mrs. Maisel" star is set to co-star opposite Benedict Cumberbatch in the upcoming Cold War drama "Ironbark." The film will focus on the true story of Greville Wynne (played by Cumberbatch), a British businessman who helped the CIA penetrate the Soviet nuclear war program with the aid of a Russian source, helping to end the Cuban Missile Crisis. Brosnahan will play the brilliant and determined CIA agent Emily Donovan, who runs the espionage operation. "On Chesil Beach" director Dominic Cooke will helm the film, and though no casting director has been publicly announced, Cooke used Nina Gold for his previous feature.
"Raised by Wolves"
Ridley Scott is adding a new job to his résumé. TNT has given a straight-to-series order to the film director's "Raised by Wolves," a serialized sci-fi series in which Scott will make his TV directing debut. The sci-fi series will center on two androids tasked with raising human children on a mysterious planet, and as the colony is threatened to be torn apart by religious differences, the androids realize controlling the beliefs of humans is a dangerous and difficult task. This will be a return to the network for Scott, who executive produced the award-winning miniseries "The Company" in 2007. Although the TV directing side is new for Scott, he regularly uses Carmen Cuba as the CD on his projects and could likely bring her on board for "Raised by Wolves."