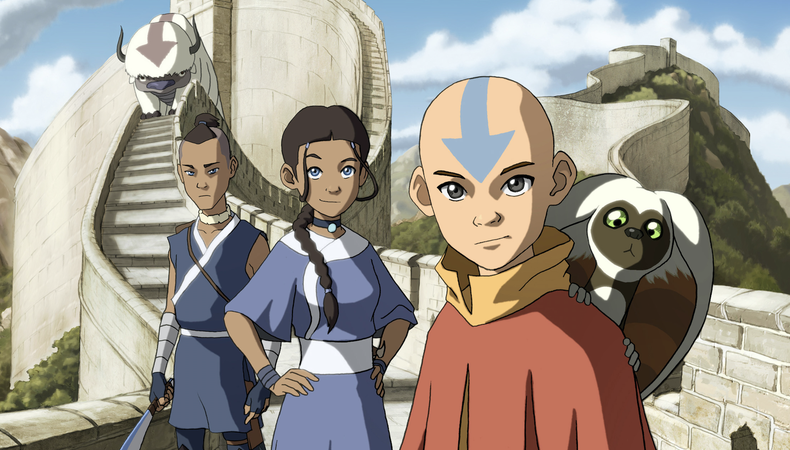 Greenlit means a project is officially a go, so all you have to do is follow these leads to stay up to date. You never know where you'll find an opportunity to land an audition!
"Avatar: The Last Airbender"
The "Avatar: The Last Airbender" live-action series at Netflix has found its four series leads in Gordon Cormier (Aang), Kiawentiio (Katara), Ian Ousley (Sokka), and Dallas Liu (Zuko). Original series creators Michael Dante DiMartino and Bryan Konietzko were originally attached to create the series for Netflix, but back in August, they had withdrawn from the project. (They have since announced a new deal with Nickelodeon to establish Avatar Studios, which will create new series and films within the universe.") As part of the cast announcement, Netflix announced that Albert Kim ("Sleepy Hollow, "Deadly Class") has boarded the show to serve as writer, executive producer, and showrunner. Kim penned a Netflix blog post about his attachment to the original series, which aired for three seasons on Nickelodeon, followed by its sequel series, "Legend of Korra," which ran for four seasons. The new live-action series was first ordered at Netflix in September 2018. A casting director has yet to be made public.
"Funny Girl"
Mr. Arnstein, here she is: "Booksmart" and "Lady Bird" actor Beanie Feldstein will star in a new Broadway revival of the classic musical "Funny Girl," producers Sonia Friedman and Scott Landis have confirmed. Performances are set to begin on the Great White Way in Spring 2022 with a theatre, exact dates, and further casting to be announced. Michael Mayer will direct the production, following up his run at London's Menier Chocolate Factory and in the West End. The New York revival, like the London runs, will also feature a revised book by Harvey Fierstein. Joining the creative team are set designer David Zinn, choreographer Ellenore Scott, and tap choreographer Ayodele Casel. The Telsey Office are the likely casting culprits.
"Bad Monkey"
Apple is hoping to score again with "Ted Lasso" co-creator Bill Lawrence, who has landed a series order at the streamer with the drama "Bad Monkey." Vince Vaughn is attached to star in the series, which is based on Carl Hiaasen's 2013 novel of the same name. It tells the story of Andrew Yancy, a one-time detective demoted to restaurant inspector in Southern Florida who is pulled into the world of greed and corruption after a severed arm is found by a tourist out fishing. Lawrence is writing the series and will also serve as executive producer under his Doozer Productions banner. Warner Bros. Television, where Lawrence is under an overall deal, will produce for Apple. "Ted Lasso" was cast by Theo Park, but assuming "Bad Monkey" will be filmed in the U.S., a reteam seems unlikely.
Ryan Murphy Television Projects
It was a big week for the Ryan Murphy Universe: FX announced it has given the go-ahead to two new limited anthology series entitled "American Love Story" and "American Sports Story." "American Love Story" will tell a scripted tale about John F. Kennedy Jr. and Carolyn Bessette-Kennedy, while the first installment of "American Sports Story" will focus on former NFL player and convicted murderer Aaron Hernandez. FX also announced a new installment of the "American Crime Story" franchise, tentatively titled "Studio 54: American Crime Story" is in development. On top of the newly announced projects, "American Horror Stories" also renewed for a second season. Murphy, Brad Falchuk, Nina Jacobson, and Brad Simpson are set to executive produce all of these projects. For "American Horror Stories," Murphy works with regular casting team Ulrich/Dawson/Kritzer, but for "American Crime Story," he works with McCarthy/Abellera and Bright/Daniels.
"Promised Land"
Following its series order of "Queens," ABC has picked up its second drama series for the 2021–22 season with the Latinx family drama "Promised Land." The series will star John Ortiz and Christina Ochoa and was written by Matt Lopez. The "epic, generation-spanning drama about two Latinx families vying for wealth and power in California's Sonoma Valley" also features a cast that includes Cecilia Suárez, Augusto Aguilera, Mariel Molino, Tonatiuh, Andres Velez, Katya Martín, and Rolando Chusan. Lopez executive produces with Adam Kolbrenner of Lit Entertainment Group, along with Maggie Malina and Cuesta. ABC Signature is the studio.
"Sonic the Hedgehog 2"
The "Sonic the Hedgehog" sequel has gone from 0 to 60 with its new casting announcement. Emmy nominee Idris Elba has joined the Paramount sequel, voicing the famed character Knuckles, as he shared in a recent Instagram post. The beloved actor joins previously announced James Marsden, Ben Schwartz, Tika Sumpter, Natasha Rothwell, Adam Pally, Shemar Moore, and Jim Carrey. Jeff Fowler will also return to direct the sequel after helming the 2020 blockbuster. Pat Casey, Josh Miller, and John Whittington are writing the script off a story that Casey and Miller penned based on the SEGA video game. Corinne Clark and Jennifer Page will take over the casting duties for the sequel.
Untitled Hulu Queer Teen Movie
Hulu has assembled a cast to fall in love with for its upcoming queer teen movie with stars Rowan Blanchard and Auli'i Cravalho. Written by Kirsten King and Casey Rackham and directed by Sammi Cohen, the story follows Paige (Blanchard), an aspiring artist thrust out of her comfort zone when she is forced to join the track team captained by her longtime crush, but she soons finds herself falling for an unexpected teammate, played by Cravalho will play AJ. The currently untitled film is produced by Animal Pictures' Natasha Lyonne, Maya Rudolph, and Danielle Renfrew Behrens. The project marks Animal Pictures' first foray into film after being active in TV development.