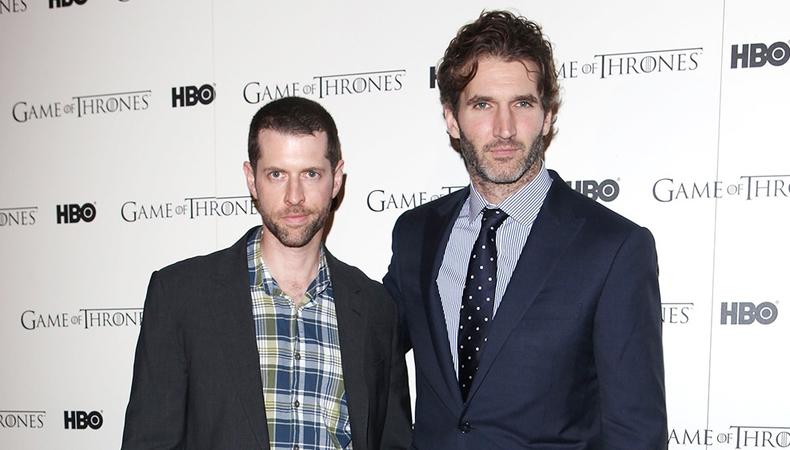 Greenlit means a project is officially a go, so all you have to do is follow these leads to stay up to date. You never know where you'll find an opportunity to land an audition!
"Star Wars"
Reality is not big enough for David Benioff and D.B. Weiss, and neither is one expansive fictional world, apparently. Disney announced last week that HBO's "Game of Thrones" creators will be writing and producing a new series of "Star Wars" films. The series will be separate from the Skywalker saga wrapping up in 2019. The HBO hit will also be ending in 2019, but is currently filming its final season, giving Benioff and Weiss a lot of time to work on this new series, especially if the controversial "Confederate" doesn't get off the ground at HBO. No word as to what or who the new films will follow, or its projected release, but keep your eyes out on casting director Nina Gold. She's not been booked to staff the project yet, but she did cast both the new "Star Wars" trilogy and worked with Benioff and Weiss on "Game of Thrones," making huge stars out of actors who went into both big-budget projects as virtual unknowns.
"The Secret Garden" on Broadway
All secrets get revealed in time, and today, a big one was uncovered: Marsha Norman and Lucy Simon's musical "The Secret Garden" is going to return to the Broadway stage for its first revival since it opened in 1991. There's a bit of time before the marquee goes up—it's currently scheduled for the 2018–2019 season—but Warren Carlyle has already been named as the director and choreographer for it, so it's never too soon to be thinking about those calls. The show's been considered Broadway-bound since 2017 when Gerald Goehring and Michael F. Mitri of Patriot Productions acquired the rights for Broadway. The production premiered at Seattle's 5th Avenue Theatre before going on to Houston and D.C. There's no word yet on which house is going to get it yet, but Laura Stanczyk cast the pre-Broadway run, and before that, the last show Goehring and Mitri produced was the Carlyle-choreographed "A Christmas Story," a Nederlander show with Stephanie Clapper as casting director.
"Harry & Meghan: A Royal Romance"
It was only inevitable that Lifetime would start working on a movie for the literal fairytale love story that is the Prince Harry and Meghan Markle relationship. The upcoming "Harry & Meghan: A Royal Romance" has officially found its leads: Murray Fraser and Parisa Fitz-Henley. The network will be putting in the work to turn around the story of when Harry met Meghan before the couple weds this May, so maybe you didn't get an invite to the Royal Wedding, but you could always get through the casting doors. Rob Kelly and Kerrie Malley of KM Casting are in charge of this one, and filming has officially started up in Vancouver, Canada and Los Angeles, so get those wedding duds ironed out.
"The Politician"
Everyone wants a piece of Ryan Murphy, who has become one of the most prolific showrunners in the business. Netflix will be next, nabbing "The Politician," an hour-long comedy series from Murphy, Brad Falchuk, and Ian Brennan. Ben Platt will finally get to recover from his emotionally-charged, Tony-winning performance in "Dear Evan Hansen" and will be playing the lead, a wealthy young Santa Barbarian with political aspirations. The series is currently also trying to hook Gwyneth Paltrow and Barbra Streisand. Who's in charge of that task? Currently, there's no casting director attached to the project, but Eric Dawson, Carol Kritzer, and Robert J. Ulrich are the usual combo for a Murphy, Falchuk, and Brennan collab.
"Kung Fury"
"IT" producers David Katzenberg, Seth Grahame-Smith, and Aaron Schmidt have a slightly less horrifying project in the works with "Kung Fury," a feature-length action-comedy sequel to 2015's original short. It was just announced Michael Fassbender and director-producer David Sandberg will star in the flick, with David Hasselhoff also joining the cast. No further casting has been announced, nor has a CD been attached to the project, but it looks like it will start shooting this summer with a storyline in Miami, Florida. The original short was entirely produced and shot in Sweden, so who knows what interesting collaborations and casting opportunities this will bring.
"Five Nights At Freddy's"
Between writing, directing, and producing across multiple genres, Chris Columbus has always been one of the busiest men in the business. Now, he'll be combining the three in maybe his strangest signing yet: the "Five Nights At Freddy's" movie. The horror flick is based on the hit video game series in which a security guard in a Chuck E. Cheese–like venue has to work hard to stay alive when the animatronic robots come to life at night. It has been on the table since last March, when Blumhouse landed the rights. Columbus has a lot to work with over six games, but no word as to how the plot and cast will be stacked. Columbus has worked with a slew of casting directors, with Janet Hirshenson and Jane Jenkins making repeat appearances, but this is currently a film unlike the rest of his oeuvre.
Looking to get cast? Apply to casting calls on Backstage.