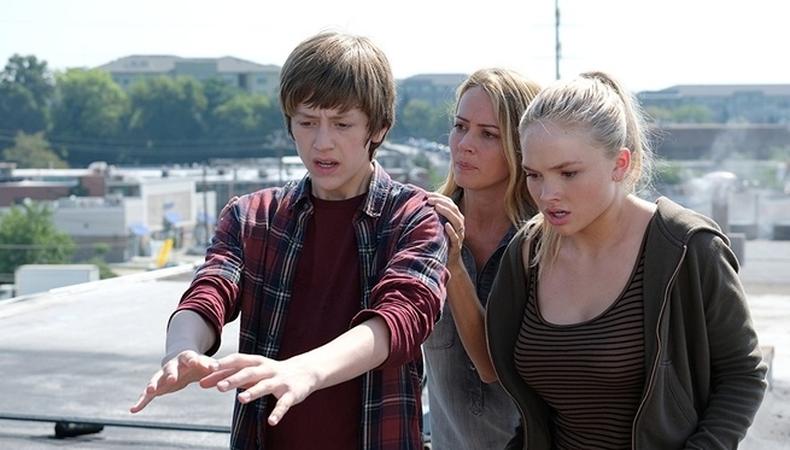 Greenlit means a project is officially a go, so all you have to do is follow these leads to stay up to date. You never know where you'll find an opportunity to land an audition!
"The OA"
You might still be scratching your head after the finale of 2016's metaphysical Netflix thriller "The OA," but before you're done thinking through the mind-bending first season, the team is likely going to start on the second. The series was renewed by the streaming service last February, but no word had come about when we might see it, until now. Co-creator Brit Marling shared on Twitter that she and producing partner Zal Batmanglij have been hard at work mapping out the second installment of the series. Filming will officially start this month, but with very little other information besides the knowledge that the second season will feature eight episodes. It's unclear whether the same cast will return in the same world as the last season, but either way, it's likely Avy Kaufman will return to fill out roles.
"The Gifted"
As the second part of the first season of "The Gifted" returns to Fox this month, the network announced at TCAs that the X-Men universe show has been picked up for a second season. Although Season 1 is fully underway and no information about the announced second season has been revealed, it's possible that new recurring characters will be needed when the show returns, likely in fall 2018. Dylann Brander and Megan Branman cast the show, and although production probably won't gear back up until late summer, it can't hurt to think ahead.
"Are You Sleeping"
Octavia Spencer is coming back to the small screen...sort of. She's set to star in the drama "Are You Sleeping" based on the book of the same name by Kathleen Barber, which turns an analyzing eye to the true crime podcast craze. Reese Witherspoon will executive produce, and the project is the next in a growing list from Apple, but this time the tech company is developing it instead of ordering it straight to series. It will be created and written by Nichelle Tramble Spellman. Sarah Koenig, partly responsible for the true crime podcast craze with "Serial," will consult. No casting director has been announced yet, but Spellman was most recently a producer on "The Good Wife," which used Mark Saks for its seven-season run, so she might consult familiar territory to round out the cast led by Spencer. There's also no word yet on if the show will film in New York City, Los Angeles, or elsewhere, which could affect that decision, as Saks is NYC–based.
"The Widow"
Kate Beckinsale has been attached to Amazon and ITV's upcoming joint venture, "The Widow." It's an eight-episode drama from Harry and Jack Williams. Beckinsale will play a woman who had cut herself off from her former self but must rejoin the world after she sees her supposedly late husband on the news. The series will follow the journey of her past both in concept and location. Production is expected to begin in South Africa this month and will also travel to Wales and Rotterdam to film. No other casting announcements have been made, but Gary Davy is filling out the roster, and casting is likely very much underway as production on the show is imminent.
"Bright" Sequel
Netflix original film "Bright," starring Joel Edgerton and Will Smith, is getting a sequel after its December 2017 release. There's no timeline on the second installment film, but the first installment, a crossover cop and alien drama, which also starred Noomi Rapace and Edgar Ramírez, got less than favorable reviews from critics. The audience was a different story, with 11 million viewers of the film in the first three days. Edgerton and Smith will be back for the second go, and if they stick with the same team, Lindsay Graham and Mary Vernieu will round out the cast. There's no news on additional returning talent.
"Fargo"
Season 3 of the FX anthology premiered last April, and until last week, creator Noah Hawley had no news, or as far as we knew, ideas for a fourth installment. That changed at TCAs when FX CEO John Landgraf announced that there will be a Season 4, but not until 2019. Hawley is hard at work on a "Doctor Doom" movie and preparations for the second season of another FX series, Season 2 of "Legion." Planning on "Fargo" is in the early stages, according to Hawley, but you can expect CD Rachel Tenner to attach talent for the new episodes like she has for Seasons 1–3.
"Mayans MC"
In more FX news, "Sons of Anarchy" creator Kurt Sutter is coming back to the cable network with a spinoff, a 10-episode season that will premiere this year. The pilot was shot (and reshot), as well as cast (and recast), but the rest of the season is not yet in the can. The show will be the next chapter in the saga created by the original series, featuring The Mayans who appeared throughout the run of "Sons of Anarchy." JD Pardo, Edward James Olmos, Sarah Bolger, Clayton Cardenas, Richard Cabral, Michael Irby, Raoul Trujillo, Antonio Jaramillo, and Carla Baratta star, and Wendy O'Brien serves as casting director, which you need to know whether you have the chance to book a recurring role or a day player part.
"The Chilling Adventures of Sabrina"
It's been some time since the Archie Comics universe companion series was announced, but Greg Berlanti's team has finally found its titular lead. In the time since the announcement of the series, it has moved from The CW to Netflix, and they've attached "Mad Men" and "Feud: Bette and Joan" star Kiernan Shipka to play the teenage witch, Sabrina Spellman. The series will be an origin story with dark themes and includes horror, the occult, and witchcraft in its storytelling while she grapples with her half witch-half mortal identity. Greg Berlanti's resident team of David Rapaport and Lyndsey Baldasare will be continuing to fill out the cast as pre-production proceeds.
Looking to get cast? Apply to casting calls on Backstage.