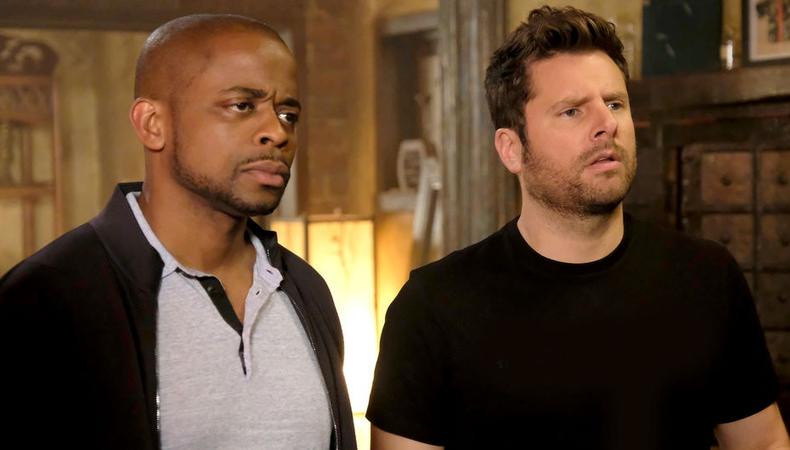 Greenlit means a project is officially a go, so all you have to do is follow these leads to stay up to date. You never know where you'll find an opportunity to land an audition!
"Psych: The Movie 2"
The old gang is back again! First reported by TVLine, the USA Network has formally greenlit a two-hour follow-up to 2017's "Psych: The Movie." The sequel finds Shawn (James Roday) and Gus (Dulé Hill) back where it all began: in Santa Barbara. Production is scheduled to begin next month in Vancouver after getting pushed from its original plans to shoot last summer. The returning cast also includes Timothy Omundson, Maggie Lawson, Kirsten Nelson, and Cobrin Bernsen. Julie Ashton will return as the casting director.
"The Kissing Booth 2"
The kissing booth is back open for business. Netflix will release a sequel to its breakout hit "The Kissing Booth" with much of the team returning, including Joey King and Jacob Elordi. Star Joel Courtney tweeted the announcement on Valentine's Day in a video with co-star King. Plot details for the YA film have yet to be disclosed, but it will be helmed by the first film's director Vince Marcello. Pre-production is underway and Gary M. Zuckerbrod and Kamala A. Thomas were the CDs on the first film and will likely return for the sequel.
"Good Omens"
Amazon's "Good Omens" has completed its cast with Benedict Cumberbatch. The "Sherlock" and "Doctor Strange" star will play the voice of Satan in the Amazon Prime series, which will also star Francis McDormand, David Tennant, and Michael Sheen, and feature Jon Hamm, Nick Offerman, Jack Whitehall, Miranda Richardson, Adria Arjona, Michael McKean, Anna Maxwell Martin, and Mireille Enos. The series, based on Neil Gaiman and Terry Pratchett's novel, will take place in the present day when the Apocalypse is near and Final Judgment is set to descend upon humanity. It will be released on May 31. There is no indication whether there will be another season, but if one is announced, Suzanne Smith serves as CD.
"Why Women Kill"
Announced by Deadline, "Once Upon a Time" star Gennifer Goodwin will lead CBS All Access's "Why Women Kill" opposite Lucy Liu. The series was created by "Desperate Housewives" showrunner Marc Cherry and will detail the lives of three women living in three different decades, each dealing with infidelity in their marriages and how they react to that betrayal. With Goodwin and Liu on board, there is still one major role in the series to cast, as well as all supporting roles. CDs Scott Genkinger and Deborah George are on board to attach talent.
"Merry Happy Whatever"
Christmas has come early this year! First reported by Deadline, Netflix has given the go-ahead for an eight-episode order of "Merry Happy Whatever," a holiday-themed multi-camera comedy series starring and executive produced by Dennis Quaid. Quaid will plan Don Quinn, a strong-willed father who must balance the demands of his complicated family with the stress of the Christmas season. The project has been envisioned as a possible anthology series, leading the way for future seasons after the first, which will take place over the course of a week at Christmas. Jeff Greenberg will be casting the project.