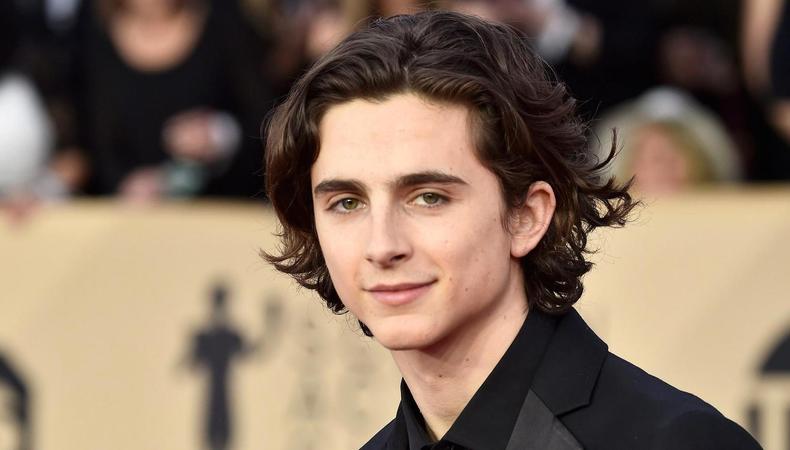 Greenlit means a project is officially a go, so all you have to do is follow these leads to stay up to date. You never know where you'll find an opportunity to land an audition!
"The King"
Timothée Chalamet broke out with last year's "Call Me By Your Name," and, as a result, the world's hottest platform has made a role for him to star. Chalamet, alongside Joel Edgerton, will lead the new Netflix Original "The King," based on Shakespeare's plays "Henry IV" and "Henry V." Chalamet will portray "a young, disgraced prince who inherits the crown and must learn what it means to be a king, guided by his one true friend, Falstaff (Edgerton)." "War Machine" director David Michôd, who is also currently working on Hulu and George Clooney's "Catch-22" miniseries, will helm this one and marks the continuation of a long collaboration with him and Edgerton. The pair wrote the script together, the second film they've co-written (the first being 2014's "The Rover"), so never say never to their casting director Kirsty McGregor joining them, as well.
Elisabeth Kübler-Ross Feature
Another popular book is on its way to the big screen: this time, Elisabeth Kübler-Ross's "The Wheel of Life: A Memoir Of Living and Dying." "The Resident" star Melina Kanakaredes will be co-writing and producing an indie feature based on the life and work of Kübler-Ross, the Swiss psychiatrist who introduced the world to the five stages of grief. Writing with her will be Charley and Vlas Parlapanides. This is the second time Kanakaredes and the brothers Parlapanides have worked together—the first was for the TV series "Stolen for Good." Considering "Stolen for Good" is still in script stage and this flick doesn't yet have a director, there's no prediction for casting, but this will be an interesting one to keep your eyes on.
Greg Berlanti-Produced CW Pilot
While Greg Berlanti is busy breaking and warming hearts on the big screen with the currently-playing "Love, Simon," he's also got another producing project on his to-do list. The CW's upcoming untitled drama pilot, written by April Blair and produced by Berlanti, has cast Daniel Ezra as its star, joining the cast of Taye Diggs, Samantha Logan, Bre-Z, and more. The project is inspired by the life of pro football player Spencer Paysinger and will center on Ezra's Spencer James, a rising high school football player from South Los Angeles who is recruited to play for Beverly Hills High. Rob Hardy will be directing the pilot, who's worked on a lot of Berlanti's past and current shows, including "Arrow," "The Flash," and more. A CW show with Berlanti attached means it's highly likely casting directors Lyndsey Baldasare and David Rapaport will be on board, so keep your ear to their door.
Michael Showalter's Next Project
Following award season's surprise hit "The Big Sick," director Michael Showalter is wasting no time finding his next project, and he's already got two great names to lead the cast. Showalter will direct a currently-untitled holiday comedy from Universal starring Octavia Spencer and Jessica Chastain. Chastain, alongside Kelly Carmichael, also wrote the first treatment, the details of which are being kept under wraps for now. The film will reunite Spencer and Chastain, who starred together in 2011's "The Help" and each earned a Supporting Actress Oscar nomination, for which Spencer took home the prize. Showalter obviously had great success with Gayle Keller for "The Big Sick," so it's possible she could return for this next feature.
"The Woman in the Window"
Even though director Joe Wright is busy with an adaptation of John Williams's "Stoner," he's got his eyes set on another high profile gig. It was announced today that Wright will take the helm for a big screen adaptation of A.J. Finn's best-seller "The Woman in the Window." Even though the drama, which follows a reclusive doctor who witnesses something she shouldn't from the window of her New York City brownstone, dropped in January, its bestselling run has made it a prime target for Hollywood. The adaptation will also be in good hands, with Pulitzer Prize winner Tracy Letts writing the script. Wright has exclusively used Jina Jay for his features casting lately, last for Oscar winner "Darkest Hour." Expect her to return for "The Woman in the Window."
Looking to get cast? Apply to casting calls on Backstage.