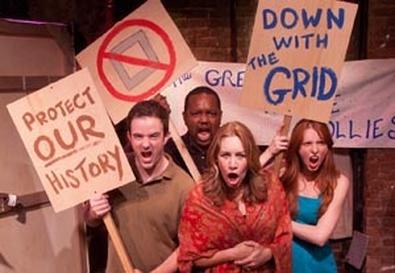 Innate, unforced charm is an increasingly rare commodity in our perpetually amped-up culture, but the cast and creators of "The Greenwich Village Follies" possess it in spades. Placing itself squarely in the tradition of the whip-smart musical revues once produced in Village boîtes by the likes of Julius Monk and Ben Bagley, Manhattan Theatre Source's very first open-ended production could be in residence for a long time to come, even if right now it only plays Sunday nights. A delightful salute to the Village's history and denizens, this refreshing breeze of a show is tuneful, literate, sassy, and sharp. It plastered an insuppressible 80-minute smile on this critic's usual professionally impassive face.
The clever sketches and patter are by Andrew Frank (with an improvisatory assist from the company), the gleefully idiosyncratic songs are by Frank and Doug Silver, and the unerring direction is the work of John-Andrew Morrison, a sweetly lubricious sprite who's also a member of the performing quartet and never more endearing than when enthusiastically handing out condoms as prizes (yes, there's audience participation). After a short title song of welcome ending in a graceful nod to "The Fantasticks," a sly Guy Olivieri starts things off stealthily as a John Kennedyesque George Washington singing about how, of all his monuments and tributes, he loves Washington Square the best. We then jump back in time as a quirky song informs us that the Lenape Indians called the area Sapokanican. The show proceeds more or less chronologically while taking time out for fun detours like the Village Follies Fact Contest, whose winners get those condoms, and Sneed (a hilarious Olivieri), a laid-back marijuana dealer who has bought stage time as a local merchant. The entirely appropriate finale involves high-kicking drag queens at the Stonewall riots, which packed an extra charge in the wake of the passage of same-sex marriage rights in New York.
Though there's not a clunker in the bunch, musical highlights include the cast as a bunch of edgy New Yorkers refusing Peter Stuyvesant's pleas to fight the British, the impressively detailed work of Patti Goettlicher as she delineates four very different undergrad years at NYU, and especially the big-voiced Meghann Dreyfuss' inspired comic lunacy as a blank canvas seducing Olivieri's inebriated Jackson Pollock to "Splatter Me All Over."
In the tradition of such classic revue songs as "Guess Who I Saw Today?," Frank and Silver bravely leaven the high jinks with a few serious numbers, the standout being "On Our Corner," in which Goettlicher and Dreyfuss sing about the 1911 Triangle Shirtwaist Factory fire. Morrison scores with "The Eleven of Us," an emotionally understated plea by one of the 11 slaves in 1640s Greenwich Village for their freedom, and a setting of Edna St. Vincent Millay's 1917 poem "The Dream," sung to a snuggling Olivieri sleeping with his head on Morrison's shoulder.
The "Follies" promises a different guest star at every performance, and this time it was longtime New York Neo-Futurist Kevin R. Free, now a member of the show's alternating cast (a total of eight actors revolve in the four roles), pinch-hitting for a sudden cancelation. Free sang a loopy, ingratiating ode of his own devising to his inability to accompany himself on guitar, which he of course accompanied on guitar. I thought he was terrific, but as he performed in my 2000 musical revue at the York Theatre Company about playwright-lyricist John Latouche, I probably can't be entirely impartial.
There actually was a "Greenwich Village Follies," created in 1919 by John Murray Anderson and playing in annual editions throughout most of the 1920s, in which the early work of legendary artists such as Martha Graham and Cole Porter was displayed. I'm not predicting legendary status for anyone currently at Manhattan Theatre Source's funky little Village space, but considering the level of talent and invention involved in this cunning confection, well, who knows?
Presented by and at Manhattan Theatre Source, 177 MacDougal Street, NYC. Opened June 28 for an open run. Sun., 7 p.m. (212) 352-3101, (866) 811-4111, www.theatermania.com, or www.greenwichvillagefollies.com.