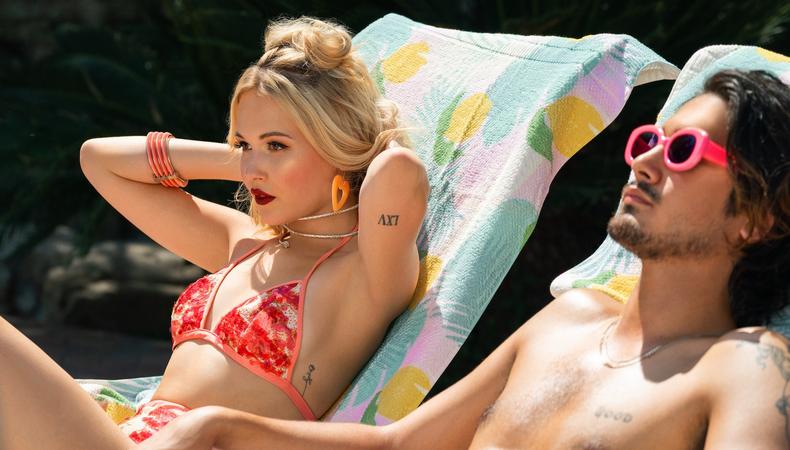 A strong performance happens when an actor has the freedom to play. When an actor can approach material from a personal space and take it where it's meant to go without fear of how it will be perceived, that's a recipe for, if nothing else, a singular and memorable take. Fortunately for Avan Jogia, who stars in indie auteur Gregg Araki's sex-doused, neon-lit, Los Angeles–set fever dream series "Now Apocalypse" on Starz, that's just the type of environment fostered by Araki and his onscreen collaborators. Below, Jogia, who also stars in the upcoming "Shaft" and "Zombieland: Double Tap," reveals what it was like to come to set every day and how it made him a better actor.
What has playing Ulysses on "Now Apocalypse" added to your acting skills?
I feel like every character grows you in some capacity. This character has allowed me to loosen up a little bit, free myself a little bit, not be so precious. And these are all things you're always working towards, and you get closer and closer to not giving a shit, somewhere in that little sweet spot. I think Ulysses allowed me to stretch in that capacity.
What made you want to sign on in the first place?
I think Gregg Araki is an incredible filmmaker. He and I had done a short film previously, and then he just reached out and said I wrote this part with you in mind—which obviously is a huge compliment and massively flattering. So I read it coming to it that way. I think a lot of the reason why I wanted to sign on was because I like working with filmmakers with vision, and there are so few filmmakers with vision. There are many people who are directors for all intents and purposes who either don't have the inclination to have a unique vision or simply just don't have it. And to be led by someone where you can feel their DNA on everything in the project? It's such a joy and so much better than the sort of creation-by-committee thing that we do a lot in the film industry, especially when lots of money is involved. That's not a good creative place to work as an actor or in any job in the field. No one really knows; there's not one leading predominant vision, focus, voice.
As an actor, what's your relationship with Araki like? Is finding the character a collaboration between you too?
Oh absolutely. To say that someone has a singular vision is not to say that they're not collaborative; he's immensely collaborative. It's just that everything we do together, I can feel safe and acknowledge it's going to be executed in a way that he wants. For better or for worse, it's his vision. I really dig that. And as far as collaborating with Gregg, he's the easiest most delightful person to collaborate with; but as far as reading the script and having an opinion, I think you're just signing on for the ride. It's such a bright, evocative, different type of show. I always laugh with Gregg, I'm like, "How do you note this show? How does the network go about noting a show like this?" 'Cause if you're going to start getting into notes from the network point of view, it's all notable. It's all, like, kinda scary. And that's a really huge kudos to Starz. I think what Starz has been doing really interestingly with their business is really letting people go and choosing the auteur, choosing the visionary, and really letting them have at it. That's immensely cool.
How do you typically prepare for an audition?
My whole audition philosophy—first of all is, not to be hyperbolic, it is an unceremonious, humiliating, degrading process. It is no place for art. It is no place for creation. It is no place for magnificence. That being said I, from my personal belief, you know what I do? I look at the character and I say, "I would love to play this character." And I go into a room and I put on a little play; I put on a one-person play, for me. So there's a couple people in the room watching this one person play. I go and I put on my little play, and then I leave. That sensibility has completely changed the way I audition. It's still the heightened experience because it's a performance and I'm an actor I want to make sure I do the part correctly for the small play that I'm putting on for myself. But it's not results-oriented. So much of auditioning is a results-oriented thing, like a horse race and competition. I think some people get off on that sort of level of competition. I don't. I get off on being able to create in a space that's comfortable.
What is one thing you would tell your younger self?
I mean since we're talking like early days career stuff, it seems dumb, it seems silly, but: Really get the words out of your way as quickly as possible. Have it written on the back of your eyes so you can free yourself up to have some actual fun, you know? And remember that's the name of the game here. Be free. That's what people like to watch. That's what people like to do. And that's what people like to shoot: someone uninhibited.