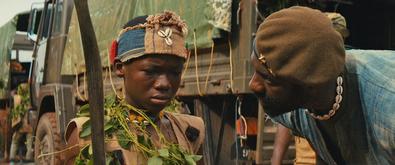 Director Cary Fukunaga thought his Emmy-winning work on "True Detective" was as hard as a production could get. But then he directed "Beasts of No Nation."
Not only did he and his crew get malaria, but his camera operator pulled a hamstring forcing Fukunaga to do double duty as director and camera op; local actors and drivers extorted him for more money; and Idris Elba almost fell off a cliff.
Shot on location in Ghana, "Beasts" is the director's most ambitious undertaking to date both in terms of filming and distribution. It's Netflix's first original film, and will be released in theaters alongside the Oct. 16 streaming premiere.
Starring the young first-time actor Abraham Attah and Elba, "Beasts of No Nation" follows Agu, a boy in an unnamed African country, as he's pushed from a happy life with his family and hurtled into a battalion of child soldiers.
Elba plays the group's leader and father figure, known only as Commandant. While vicious in his mission to exterminate those he sees as invaders in his country, the role is necessarily humanized in Elba's hands in a film where very little humanity survives.
"I think you have to do that," says Fukunaga. "If you don't humanize the villains you're not being true to life. Everyone had a mother once. Everyone bleeds. Everyone has their parts to them, and yes there are sociopaths and psychopaths in the world, but not everyone who commits terrible deeds is one of those people."
The writer-director known for indie films "Sin Nombre," and "Jane Eyre," starring Mia Wasikowska and Michael Fassbender, has been enamored with the idea of making an in-depth film about child soldiers and their leaders for over two decades. Reading books about the issue since the '90s and visiting Sierra Leone's conflict zones in 2003, "Beasts" is the definition of a passion project.
"Casting was pretty tough, but God, everything was so hard. It's hard to label what was harder," he says with a chuckle.
Working with casting director Harrison Nesbit, they scoured local schools and villages in the Ghanian city of Accra in search of a boy who could successfully carry Agu's story. They found Attah playing soccer.
"We were down to the wire," says Fukunaga. "We had about 30 kids who we thought had charisma from scouting missions all across the city and beyond. I thought he had, in spirit, the most similar personality to the character. But he also had a lot of pathos and experience in his eyes, and I needed somebody who could, by the end of the film, be believable in terms of the experiences he's witnessed and taken part in. The challenge with Abraham was getting him to play the more lighthearted parts of the story at the beginning."
Because by the film's end, Agu's harrowing experience weighs heavy, and a last lingering shot cements it; it was one Fukunaga felt the actor had earned by the end of the shoot.
"You have to have different expectations and requirements," says the director about working with first-time actors. "I wouldn't have held on that long take on Abraham unless I thought he could pull it off, but I certainly wouldn't have done it in the beginning. He proved himself to be as talented an actor as he did."
The winner of the Best Young Actor award at the Venice Film Festival, Attah expertly carries an enveloping narrative that stays after the credits have rolled.
"The whole process of films is to transport people out of their everyday lives to other places, to feel like they have intimate knowledge of different life far from their own experience," says the director. "And that's all I want. I don't want it to be an issue film. I want people to walk away feeling like they know Agu and other soldiers like him intimately and personally."
Inspired by this post? Check out our film audition listings!