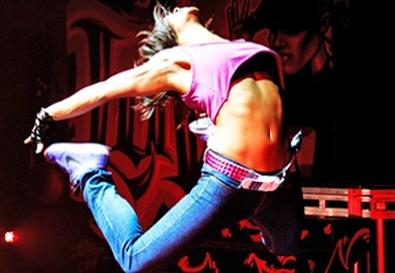 This is Back Stage's review of the show's original run, under the title "Groovaloo," this past September at the Joyce Theatre.
Forget that gritty, raw, sassy, often violent aesthetic that you may have come to associate with authentic hip-hop performance. The Groovaloos, a fresh-faced, 14-member Los Angeles–based troupe of expert hip-hop artists, is presenting a spiffy 85-minute show of locking, popping, free-styling, and spoken-word poetry that is theatrically slick, delightfully upbeat, and clean enough that you can bring your 3-year-old.
Conceived and created by its director, Danny Cistone, and Bradley Rapier, who directs the choreography (devised by the cast), "Groovaloo" borrows its dramatic conceit from the Broadway musical "A Chorus Line." Yet while it builds a larger narrative around the hard-luck, real-life tales of how its performers came to dance and to be a part of the Groovaloos, the lively production feels aimed at teenagers. The thematic issues are those of adolescence—self-image problems, feeling as though you don't belong, dealing with parental expectations or abuse—and are addressed with a gravity that outweighs their universal relevance. Also, the characters' individual stories are related in a disjointed manner reflective of today's new media; pieces of information about each person's life are presented in short episodes, the focus of each scene continually shifting from one subject to another.
But regardless of your age or comfort level with new storytelling techniques and whitewashed hip-hop, you will assuredly relish the show's colorful, cartoonlike set by graffiti artist Toons One, the propulsive original music by a terrifically wide array of pop artists, and, most especially, the first-rate, frequently astonishing dancing. The young men deliver consistently superb solos of acrobatic floor work and imaginative freezes, the women are winningly fierce, and the ensemble choreography is excellent. Dancers in the audience, however, will be most charmed by a dance-audition sequence in which Steven "Boogieman" Stanton is absolutely hilarious playing an insulting choreographer. If he ever gives up hip-hop, he could have a promising career as a standup comic.

Presented by Big League Productions at the Union Square Theatre, 100 E. 17th St.,, NYC. Dec. 8–Jan. 3. Schedule varies. (212) 307-4100 or www.ticketmaster.com.