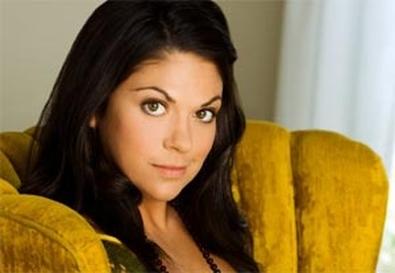 Jennifer Cetrone was a working actor, landing roles on TV and a few films, and performing regularly with East L.A. Classic Theatre. But many of her parts were not challenging. "I usually play sexy, badass girls," says the 26-year-old New York native. "I want do roles that are raw and honest and where I'm not necessarily made up."
To generate more-inspiring roles for herself and her friends in socially conscious works, Cetrone founded From the Ground Up in 2006. The Los Angeles–based theater company now has four plays in repertory dealing with such topics as child abuse, an ex-con's life after years of incarceration, and the struggle against homophobic stereotyping. The company's newest production, "The Real American Dream," is a collective piece derived from a series of interviews with a demographic range of Americans answering the question, "What is the real American dream to you?" FTGU is now in residence at the Lyric Hyperion Theatre & Café in Los Angeles and will soon be at a home in the Roy Arias Theatre Center in New York. "The Real American Dream" will bow in New York Sept. 3 and in Los Angeles Oct. 2.
Obtaining those residencies did not come easily, and when the theaters became available, Cetrone had to demonstrate "a sound business plan," she says, "breaking down how we saw the growth of the company and how we expected to raise funds." FTGU currently operates on a budget of $40,000–$50,000 earned mostly from private donations, and performs in theaters that are under 99 seats. FTGU works under the Showcase Code in New York and the 99-Seat Plan in L.A. They're similar contracts, says Cetrone, "though in New York the code is more stringent." To date, the company has 30 core actors, 15 on each coast; half are Equity members. Cetrone is committed to having actors, writers, and directors on board representing a range of experience and backgrounds.
Despite the demands of her company, Cetrone continues to pursue other acting opportunities and recently signed on as an executive producer with Public Displays of Affection, a production company founded by actor Gino Anthony Pesi, to produce and star in a Web series, "Sera." It's a supernatural drama, and she hopes to shoot 12 five-minute episodes. "We have Web platforms that are interested, but we're not sure what to make of the Internet," she admits frankly. "There is some well-produced content on the Web, but the stories are not strong. We're committed to making engaging stories with fleshed-out characters along with being well-produced. We need to find companies that will put money into advertising. We're going to utilize product placement, but it will be story-integrated. My goal is for 'Sera' to go to TV or be launched on a big Web platform."
Making Money as Spokesmodel
Cetrone launched her acting career at 13 when her family relocated to Orlando, Fla. She did commercials, Nickelodeon shows, and worked in regional theaters. She went on to win district and state acting awards, and at 16 she earned her first professional Equity stage contract. After high school, Cetrone spent four years touring in such musicals as "Children of Eden," "Fiddler on the Roof," "Joseph and the Amazing Technicolor Dream Coat," and "Singin' in the Rain."
Cetrone says she never studied acting formally because of a "tumultuous upbringing," and that she learned her craft on the job. "It's great to have the chance to go to school and take classes in a place where you feel comfortable," she says. "But I'm grateful for the way it turned out. I wanted to make a living at this and was forced to learn discipline and preparation."
When Cetrone was not acting, she worked as a trade-show spokesmodel, mainly for electronic companies. "They needed an attractive person who could speak well on behalf of the company, make guests feel warm and welcome, and answer people's questions about the company." When times were good, Cetrone worked on average two conventions a month, each running three to five days. The aftermath of Sept. 11 and the current economic downturn have diminished the spokesmodel opportunities, she says. The gig honed her acting skills—"You have to sound truthful and warm and honest"—as well as her business skills.
Cetrone recalls her fair-minded bosses who knew how to treat employees and work with them as a team—skills that have served her well as an artistic director. "I learned if people feel appreciated, they'll be inspired to make a success." She also learned the importance of marketing and advertising. Today, Cetrone uses social networks, most notably Facebook, to "connect with audiences that you might not be connecting with otherwise," she explains. "It makes it possible to reach people from many angles. MySpace is a little overwhelming, and it's less frequently used. I also have trouble with Twitter. I don't know how to get followers or who I'm supposed to be following."
At the moment, her thoughts are centered on FTGU's new season on both coasts, suspecting New York audiences may be more open to hard-hitting plays. She says L.A. is a tougher place to get audiences into the theater even in good economic times, especially now, "unless you're providing some escapism," she says. "For L.A. I need to be looking for pieces within my mission but maybe with more comedy. But in 2010 we may have to produce different plays in L.A. and New York."
Cetrone is hopeful FTGU is in for the long haul and will continue to be able to challenge and maintain the actors who are on board now. "I'd also like an Equity contract so the actors could make a living wage."
"The Real American Dream" runs through Sept. 27 at the Roy Arias Theatre Center, 300 W. 43 rd St., NYC. Tickets: SmartTix; and through Nov. 15 at the Lyric Hyperion Theatre & Café, 2106 Hyperion Ave., Silver Lake, CA. Tickets: Lyric Hyperion. For more info: www.fromthegrounduptheatre.org.