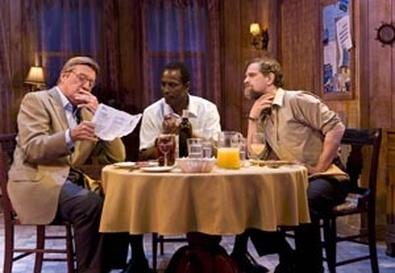 "We sent our eldest daughter to a multiracial school in Swaziland for two years—in the '80s." If you want to understand the gnawing power of Ian Bruce's new play Groundswell, look to that line. It describes a self-sacrificing commitment to racial equality or a hollow gesture from a man of privilege. The truth shifts with your life experience.

The play is a tense look at post-apartheid South Africa. The horror-movie setup finds wealthy businessman Smith (Larry Bryggman) pulling up to a remote seaside inn (designed by Derek McLane to look more Cape Cod than Cape Town). While he has no plans other than perhaps finding a golf course, his coming seems fated to handyman Johan (David Lansbury). The South African government has offered a diamond-mining concession to Thami (Souléymane Sy Savané), the inn's manager. But working the mine requires capital, and Johan thinks Smith is just the man to set them up.

To enlist Smith's assistance, Johan tries every recognizable form of persuasion—enticement, guilt, coercion, violence. It's the progress of institutionalized frustration and a metaphor for race relations in South Africa. But what separates Groundswell from lesser, didactic works is that it never feels like mere allegory. There are high and immediate stakes here. When a weapon is pulled, the characters react to it like it's a deadly object, not a symbol.

Bruce does himself a great favor by putting the most divisive material in the mouth of Johan, a white Afrikaner. It's clear that for these characters the problem isn't race but betrayal. They've been let down by their government, their fellow citizens, perhaps themselves.

The triangular tug-of-war generates real sympathy for all sides, a result of finely written characters finely played. Savané's Thami is a proud man; he doesn't like making excuses for himself, but he has a few to draw on just in case. Bryggman's Smith is a wellspring of compassion finally run dry. Lansbury, in the showiest role, has the searching, misdirected energy of the wronged man. Credit must also go to director Scott Elliott, whose production is brisk but thoughtful.

Seeing these men fight for post-apartheid scraps of property and dignity serves as a sobering reminder that while oppression isn't good, its absence leaves a void that the victimized and the guilt-stricken are often ill-equipped to fill.

Presented by the New Group
at the Acorn Theater at Theatre Row, 410 W. 42nd St., NYC.
May 18–June 27. Mon., 8 p.m.; Tue., 7 p.m.; Wed.–Fri., 8 p.m.; Sat., 2 and 8 p.m.
(212) 279-4200 or www.ticketcentral.com.

Casting by Judy Henderson.