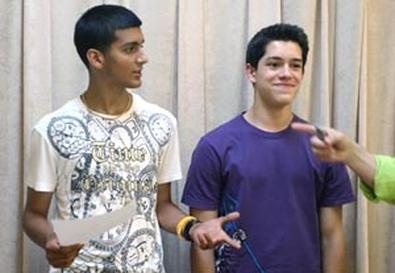 Not all young performers have the same needs. Toddlers auditioning for Pampers commercials are miles apart from 20-year-olds competing for teen roles on a sitcom. But young actors of all ages—or their parents—do share some common concerns. One of the biggest is the desire to secure an agent, a manager, or both.

"Without agency representation, there is no advocate for the talent," says Barbara Coleman, an agent with Innovative Artists in New York. "Agents have direct access to casting directors and producers, relationships with other agency professionals, and a vast knowledge of how to proceed."

Some young actors without representation submit themselves to casting directors. Christina Sciongay, who was a top-10 contender for Miss Connecticut in the Miss America competition, has submitted herself and booked roles in Connecticut-shot films including "The House of the Devil" and "Made for Each Other." Now, however, she's moving into the larger New York City market and recognizes the need for representation.

Young performers and their parents also need to educate themselves about industry regulations—things like banking school time and creating and maintaining a Coogan account (named for Jackie Coogan, the child actor who found himself with money troubles as an adult).

During question-and-answer sessions at L.A.'s Talent House Academy, which offers classes for young performers, Narmela Sargis—mother of 12-year-old actor Brandon Klopot—regularly asks five or six questions. "They're probably sick of me," she says. "I write down questions before class: What is the difference between SAG and AFTRA? Is it good to be a SAG member? Does it make a difference? Do you book more?"

Not all parents share Sargis' assertiveness. A helpful resource for such people is ChildreninFilm.com, which provides info for parents and stories about kids with successful careers.

Beyond these common concerns, there are needs unique to each age bracket. Back Stage recently spoke with industry professionals, teachers, parents, and performers about the particular requirements for talent of various ages.

Infants, Toddlers, and Young Kids (Ages 0–6)

From infancy until age 4 or 5, a child's physical appearance is the most important factor in casting success, says Krisha Bullock, a casting director for Nickelodeon's "Victorious" who teaches at Talent House Academy. Dan McKeown, a talent manager with Shirley Grant Management in New York, agrees that there's not much parents can do to give infants an edge at casting calls. "It's really hit-or-miss," he says, noting that his office does not sign children younger than 4.

Expensive headshots aren't worthwhile for babies and younger toddlers, whose looks change dramatically from month to month. For most purposes, a simple, recent digital snapshot will suffice. "A fully clothed, happy, smiley baby is what we look for," says agent Jeremy Apody, who heads the youth commercial division at Abrams Artists Agency in Los Angeles.

The strongest asset a very young child can have may be a good disposition. McKeown suggests that if a baby arrives at an audition in a fussy mood, the parent should wait to sign in until it's clear that the storm clouds are lifting. That's why identical twins are so valued at this age: There's an automatic backup should one have a tantrum.

Age 4 is a turning point in a young actor's career, says Apody. This is when Abrams requires professional headshots and calls children in for an interview to see how well they take direction and maintain eye contact.

Some basic training for tots may be helpful. Actors Technique New York provides "foundational exercises with a bit of improvisation" in 90-minute sessions, according to founder Todd Etelson. Mike Stevins, the founder-director of Talent House Academy, adds that toddlers can benefit significantly from playing memorization games with their parents, developing mental habits that will help them later in their careers.

Young Kids and Preteens (Ages 7–11)

Talent House doesn't begin teaching children until age 8. "That's when they start to comprehend exactly what's expected of them," Stevins says. By then they're also perfecting their reading skills, says Bullock, so the idea of serious training becomes more realistic.

If a child is unequivocally interested in acting, training should definitely begin by age 10, according to McKeown. He adds that kids who have received sides for an audition should get assistance from an acting coach before the call. "Not mom, not dad—an acting coach," he insists. "That's an absolute must."

But what about children who aren't unequivocally interested? "Kids get very excited about something, and it might be, 'Now I want to be an actor,' " says Bullock. "I see kids who feel as if they're going to want to do this—for a minute, until they realize that it's actually a business and that it involves quite a bit of work."

Determining a child's level of interest in performing is often a no-brainer. At 6½, Klopot would stroll from cubicle to cubicle at his father's workplace, entertaining adults with songs, British accents, and "Star Wars" routines. His parents tried to interest him in sports—everything from softball to tae kwon do—but Klopot connected with none of it. "But acting classes? He could have a fever of 104 and he'll still go to class," says his mother. "He'll be like, 'Oh my God, I need to go. I cannot miss it. I have a partner that's waiting.' " He has gone on to book roles on "Victorious" and in a Ford Fusion commercial.

In contrast, Marina Colonna, now 16 and a student at Actors Technique, was reluctant to begin classes at first. Her mother, New Jersey dance teacher Linda Colonna, had exposed her daughter to the performing arts since about age 4, but Marina was not especially eager. "She wanted to be a kid, and we let her be a kid," her mother says. "I said, 'Come on, let's go into New York. Let's try some different things.' She wasn't ready."

It wasn't until she reached middle-school age and attended a weeklong workshop at New York's TADA! Youth Theater that she started getting enthusiastic. These days she asks her mother, "Why didn't you push me when I was younger?"

But pushing a child can be damaging. Says McKeown, "It's important when kids come out of auditions that parents aren't saying, 'Well, what happened? What'd they have you do? What'd they say?' All parents need to say...is, 'Did you have fun?' And that's it. Because otherwise the kid is going to be worrying: 'I hope I did a good enough job so that Mom is proud of me.'... When I see that in 10- to 12-year-olds, I know it's been happening for years."

Starting with elementary school, young performers must also begin learning to balance their careers with their school lives. "Keeping the work permit up to date is always important," says Apody. "Good grades are crucial in order to get the work permit."

Tweens (Ages 12–14)

McKeown contends that 10- to 12-year-olds are among the busiest juvenile performers. But Apody notes that the years that follow can be "a little bit more sporadic and unpredictable" in terms of job opportunities. The roles they will audition for at this age tend to be more individualized and specific than those for younger actors, he adds.

Puberty is universally acknowledged as an awkward age, even for the most levelheaded and intelligent child. But Apody points out that, at least for commercials, casting directors customarily seek "that real-looking kid, that everyday kid you go to school with." He advises tweens and their parents to embrace the idea of physical change: "It's a natural progression. When you're going out on auditions, just be yourself."

Bullock agrees that the early teenage years can be a difficult time for young people, but she suggests that young performers may actually have an advantage over their nonacting peers. "I think that a child at that age who has decided this is what they're going to do has got a different level of focus," she explains. Poise and confidence can result when kids concentrate on an activity that gives them positive feedback.

As for skill level, certain early-teen performers progress much faster in acting classes than others do. For this reason, both Talent House and Actors Technique hold some classes in which students of different ages train together. Stevins has seen 18-year-olds outperformed by much younger students. Etelson mentions a young actor, Bridget Clark, who came to Actors Technique and was placed in the adult class at age 13, where she more than held her own. She went on to book a role in the film "Doubt" with Meryl Streep.

It's important for actors at the tween level to have headshots that accurately reflect their physical maturation, says McKeown. As children move into the teen years, he adds, the résumé becomes an increasingly important component in the casting process.

Teenagers (Ages 15–18)

In the later teen years, says Etelson, kids tend to have "a stronger idea of what they really want to pursue in their lives." So their studies should become increasingly in-depth. At Actors Technique, the curriculum expands to include scene study and advanced monologue work.

Another educational choice for teen actors is whether to attend a performing arts high school. Not all industry professionals recommend this kind of training. Interacting with students who are not all on the entertainment career track gives kids a wider perspective. Still, performing arts schools remain a popular option.

Marina Colonna attends the Fine and Performing Arts Academy at Howell High School in Howell, N.J., but she continues to study at Actors Technique as well. She has also appeared in productions with Kristin Caesar's Kidz Theater in Manhattan.

In earlier years, Linda Colonna would sometimes accompany her daughter into the audition room. Not any longer. As Marina has grown older, she has increasingly taken responsibility for her own education and career. "All the emails go directly to her," her mother says. Caesar, "whenever she sends an email, copies the parent and the child, which is very good.... Recently I said to Marina, 'Did you get back to her about that class?' I'm not supposed to get back to Kristin; my daughter has to."

Young Adults (Ages 18–21)

One challenge that teens face is the prospect that roles they audition for will go to young adults. Producers face fewer legal and industry restrictions when hiring performers who are no longer minors. In addition, agents and managers specializing in young performers will retain actors over 18 as long as they are marketable in the youth division.

This situation has been a boon to people like Christina Sciongay, now 24 but capable of playing much younger. "It kind of helps with child labor and everything to have someone who's older play a teen," she says.

Sciongay is enrolled in an upper-division course at Actors Technique designed to help students move from kid roles into the adult market. She still has her mother accompany her to casting calls, however—though not, of course, into the audition room. "I just love having the family there," she explains. "I don't know if it's appropriate to say or not, but we're Italian—we're a close-knit family."

Apody says that actors over 18 who are competing for high-school-age roles should avoid trying too hard to appear younger. He suggests a natural, fresh-faced look for women and a casual, T-shirt-and-jeans approach for men. Just step into the room and be yourself, he advises.

Easy availability is one of the most important assets for actors in the 18-and-over category, says McKeown. Once young performers are enrolled in college, they need to schedule auditions around their classes, so it's essential that they provide their reps with an up-to-date schedule. They should try to keep afternoons open for auditions, as that's when most youth-market calls happen. Young actors with part-time jobs should try to schedule evening shifts.

When actors are selecting a college, they need to keep in mind that it's more difficult to maintain a career if they're living outside the New York or Los Angeles areas, although some students outside those industry hubs tape themselves for online submission to casting directors.

Actors who've worked in the youth market may decide to major in acting in college, but Sciongay is not one of them. She's currently studying English at the University of Connecticut and commuting into Manhattan to further her acting career.

Sciongay is open to studying things like the history of theater in an academic setting, but for acting she prefers on-the-job training coupled with private instruction. She says, "I think I've learned the most from being on film sets and coming into the city and taking acting classes."