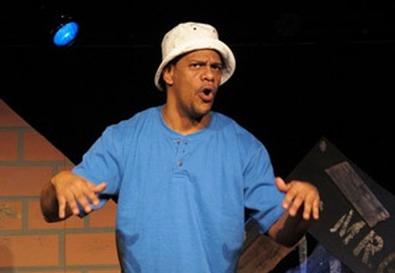 "Growing Up Gonzales" is an affectionate, gritty, and spicily authentic collage of growing up Puerto Rican—or perhaps more accurately, Nuyorican—in the Bronx during the 1970s. Not being Puerto Rican, I'm judging authenticity mainly by the many appreciative whoops of recognition this highly enjoyable show drew from a packed audience at the performance reviewed.

Felix Rojas' script for this solo piece overflows with colorful detail and smartly observed anecdotes, and actor Andres Chulisi Rodriguez, under Rojas' direction, brings it to life in a zesty, beautifully calibrated performance. Rodriguez plays both Gonzales brothers: Johnny, a troublemaking street kid, and Cisco, five years younger and the family's introspective "good boy." When Johnny, grown into manhood, appears at the play's start, he tells us that Cisco has recently died. In cleaning out his apartment, Johnny found a trove of writings—a memoir, in effect, of Cisco's young life. It's this memoir that Johnny shares with the audience, often embodying Cisco in the process.

As episodes unfold, they're enlivened with pungent sketches of parents, grandparents, other relatives, and neighbors. We hear how Cisco played little-league baseball and that all the teams were named with some variation of Roberto Clemente, the groundbreaking Puerto Rican major-league baseball player. Cisco relates how watching the bombshell Iris Chacón on TV awakened his earliest sexual feelings, and how a box of Good & Plenty candy helped win over his first girlfriend.

There is quiet pathos in his father's untimely death and the resulting stress on his mother, causing her to send the 9-year-old Cisco to family in Puerto Rico for an extended stay. His experiences with the primitive conditions there provide some of the script's funniest stuff, although it's closely matched by the description of an uncle's funeral bursting into chaos when the uncle's mistress arrives.

Adding to the feel of time and place are images and videos projected between monologues on a screen at the side of the stage. They range from the erstwhile Yankee Stadium to old-style cans of Goya white beans.

As wonderfully rich as it is, the show doesn't deliver a fully fleshed-out tale. What drove Cisco to the reclusive life we hear he ultimately led is never explained, and, except for a bout of shoplifting, Johnny's intimated criminal activities are never detailed. But the pulsating life and compassion in Rojas' writing and Rodriguez's performance elevate the material way beyond the realm of standup comedy reminiscence.

Presented by Reel Players and Poets Club and Toptia Productions at the Jan Hus Playhouse, 351 E. 74th St., NYC. Jan. 27–March 31. Thu.–Sat., 8 p.m. (212) 352-3101, (866) 811-4111, www.theatermania.com, or www.growingupgonzales.com.