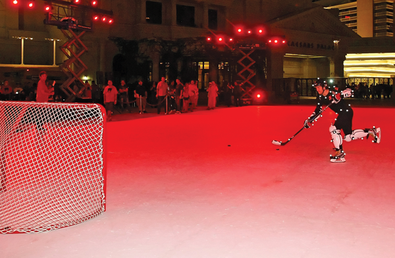 Recent news has been discouraging for actors who work in video games, or for those who have thought about trying to break into the hypercompetitive, often cloistered field.
Since reaching a peak of more than $20 billion in 2008, annual revenue for the business has plummeted by about 40 percent—30 percent within the past two years alone, according to research firm NPD Group.
Additionally, what gains the industry is making are coming through games such as Angry Birds and Words With Friends, not the high-end, high-production titles—such as "L.A. Noire" and "Call of Duty"—that create jobs for actors and performers of all skill sets. "There is a bit of a lull right now," Ferenc Laczko, of Independent Artists Agency in Beverly Hills, told Backstage via email.
But developments in motion-capture technology, as well as new gaming consoles expected from Sony and Microsoft within the year, indicate that this niche continues to be a growth area for actors. And for those who have thought about breaking in, the message is clear: Get busy.
"There's a lot of work out there," said Richard Dorton, a pioneer in motion-capture and video-game work. He calls himself Mocapman and hopes this year to become the first actor to have worked in 100 video games.
Though he indicated the work isn't as intense as it was in the mid-2000s, Dorton said that he and others he helped to bring in to the business several years ago are working steadily. And, he noted, the video-game industry makes much more money than the film industry, which had its highest grossing year ever in 2012 at $10.8 billion—far short of video games' slump of $13.26 billion.
Laczko, who started representing actors in motion-capture and performance-capture work in 2009, stated in the email, "there is significantly more work today in the mo-cap/pcap arena." As for the lull, he said video-game developers and producers are waiting for Microsoft to introduce its next version of Xbox and for Sony to roll out what would essentially be its fourth iteration of PlayStation (tentatively called Orbis, to be revealed Feb. 20 in New York).
"Nobody wants to make a marquee…AAA title video game without the use of the latest technology and knowing the specs," Laczko stated. "I think once developers/publishers know what they are working with there will be a surge of new projects."
Reporting on various trade websites also indicated that Microsoft's and Sony's latest consoles will prevent the playing of preexisting games. Video-game makers have long lamented the secondhand market, which cuts into their profits. Stricter hardware might cause a consumer backlash, but it could also fuel more game production, which means more work for actors.
Despite the notion that digital technology evolves by the hour, developments in the motion-capture arena have moved in fits and starts, said Lev Chapelsky, the general manager of West Hollywood–based Blindlight, which wrangles talent and helps to produce games for all of the heavy hitters, including Sony, EA, Microsoft, and Ubisoft. Currently, there is no industry standard for seamlessly integrating all of the moving parts that go into motion-capture, though some companies have done so.
For now, many developers and producers are "Frankenstein-ing the performance," Chapelsky said. "You end up with something that looks like Frankenstein. You can see the seam between the voice actor delivering in the booth and the motion-capture actor delivering in the stage and somebody animating the face and the eyes."
Frankenstein-ing has its benefits. For one thing, it means more overall jobs for actors and performers: Actors do the cinematic, or cut-scene, work that lays out the narrative for the video game; stunt performers do the in-game moves; and voiceover artists supply the dialogue.
Woody Schultz, a motion-capture pioneer in feature films such as "The Polar Express" and "Avatar," has served as the face of Frankenstein, or at least Jason Bourne, in the game The Bourne Conspiracy. It was arduous: He was placed in a tiny booth, had dots placed all over his face that captured his movements, and had to sit perfectly still.
"Trying to do stuff with your face that really matches these high-energy action sequences…without actually moving your head? It's really difficult," said Schultz, who also chairs SAG-AFTRA's performance-capture committee, which is trying to get more video-game work under union contract. "But it was a lot of fun."
But, Chapelsky said, the industry wants to move away from motion-capture and toward performance capture, which is the seamless integration. For actors wanting to break in, and for those already on the inside, it means stunt performers need to go to acting class and actors need to develop and hone—and, Dorton said, become experts in—skills such as gunplay, swordplay, dance, movement, running, jumping, gymnastics, and fighting.
Or, as Laczko stated, "My advice for an actor interested in getting into mo-cap is simple: Take an acting class—especially one that focuses on physicality and using the space around you."