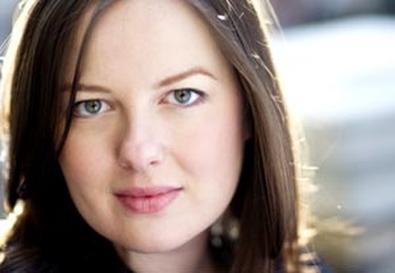 When Zuzanna Szadkowski first auditioned for "Gossip Girl," she never dreamed that one day she'd hear throngs of teenage fans screaming her name. After all, the part she was up for—a demure Polish housekeeper employed by wealthy glamour girl Blair Waldorf (Leighton Meester)—had no lines and was relegated mostly to the background, clutching a tray of champagne.
And yet, as the show progressed, the role started to grow. Suddenly the character had a name—Dorota—and an amusing rapport with Blair. Fans took note, declaring their love for Szadkowski on Internet message boards and creating Dorota-centric chat icons. The character became so popular that Szadkowski landed her own spinoff of sorts: a series of mobile and online "Gossip Girl" mini-episodes focusing on Dorota's surprisingly exciting behind-the-scenes life.
Szadkowski says she had some idea that Dorota was becoming a fan favorite, but the full impact didn't really hit until she heard a gaggle of teen girls shrieking for her during a location shoot. "The first time I ever felt cool was when they asked me to sign autographs, and for some reason they were having their iPhones autographed," she says, chuckling. "I was, like, walking around signing people's iPhones. I felt very weird."
It just goes to show: You never know which roles are going to provide the greatest opportunities. A part may not look like much on paper, but if you invest yourself fully and viewers sit up and take notice, sometimes it can morph into something greater. "It's like an actor fantasy," Szadkowski says. "You go in, it's a possible recur, and then you get to have this really fun ride and a cool gig. It really blew some doors open for me."
Szadkowski isn't the only actor making the most of a seemingly small role on prime-time television. Vik Sahay regularly steals scenes—and has amassed an admirable fan base—as antagonistic Buy More grunt Lester on NBC's "Chuck." Sahay initially auditioned for the role of Chuck's friendlier sidekick, Morgan, but was passed over in favor of Joshua Gomez. "My manager called and said, 'They are now offering you the role of Lester,' " Sahay recalls. "I remember looking through the script, and it was literally one line here, a word there. I was like, 'I don't want to do this.' My manager, smartly, was like, 'Yeah, who do you think you are to say no to anything?' "
Sahay, who had journeyed to Los Angeles from his native Canada for pilot season, assumed the role was a one-off…until he was asked back. And then asked back again. Each time, the number of words Lester had to say grew a little, and the character developed into a cantankerous social misfit with, as Sahay puts it, an "unrequited rivalry" with leading man Chuck. When the show kicked off its second season last year, Sahay was promoted to series regular.
Investment Pays Dividends
Szadkowski and Sahay agree that it's important to fully invest in your work, no matter what size the role. "I approach everything I do with a similar kind of template, which is going at it like you're trying to create a person," says Sahay. "I don't think a smaller role's any different than a bigger role. You invest in it with all your blood. I certainly don't try to make myself small or avoid taking the moment."
And when you take that approach, you can often find little things in the character to capitalize on. From the get-go, Szadkowski notes, she had a fully formed idea of who Dorota was within Blair's world—a caring maternal figure with lots of unspoken opinions—and used that to inform her performance. "When I was in a scene, I was attempting to engage it full throttle," she says. "The setup, being a serving person in an über-rich universe, it's a lot of fodder for silent reaction—an eye roll here and a smirk there. I was always trying to contribute in the background, and I feel like sometimes the editors would actually use some of my little takes or faces I would make."
Of course, if you're lucky enough to become a more central player, you have to be ready to raise your game and expand your character. David H. Lawrence XVII signed on for a one-episode guest gig on "Heroes" as villainous Eric Doyle, a menacing puppet master with the supernatural ability to physically manipulate people. Doyle was supposed to die at the end of the episode, but the writers loved Lawrence's performance so much, they rewrote the conclusion midshoot. Since then, the actor has appeared in more episodes and, like Szadkowski, earned a series of online mini-episodes focused solely on his character. And he was, he says, absolutely ready to take on the extra responsibility.
"It is, for me, a lot about knowing where you are on the set, knowing what your role is within the story, and then maximizing that character's opportunities—not your own," Lawrence says. "The character becomes memorable when you are interested in the character. I was fascinated with how Eric interacted with people and how frustrated he was."
In expanding her character for the mini-episodes, Szadkowski says she tried to be mindful of what made Dorota popular in the first place: "On the show, I'm more of a sideline commentator than a direct player. It's very different to be a lead character. I wanted to keep her the same person and to see how that person has fun or has their own love life. It was about, 'How do I play a whole scene and keep all my Dorotaness in effect?' "
Greater Things to Come
All three actors have enjoyed career boosts from what were initially envisioned as fairly inconsequential roles. "It's changed my world completely," says Sahay. "Going into an audition and having the people know who you are, it gives you a confidence. If your audition doesn't go as perfectly, they can now go, 'But we've seen him do this and that.' It's been really big and really important for me careerwise."
Lawrence, who recently lined up a guest-star role on TNT's "Raising the Bar," has also enjoyed increased recognition from the industry—not to mention the effect he now has on fans terrified by Eric Doyle's ultracreepy persona. "I was in a 7-Eleven," he says, "and there was a mother and her two children, and the one child was acting up, and she bent down to him and said, 'You better be quiet or I'm gonna have the Puppetmaster shut your mouth.' I turned around and she goes, 'You just hush; I need you.' That was kind of cool."
Szadkowski notes that, perhaps most important, landing the role and seeing it grow has helped her realize that you never can tell which auditions are going to lead to greater things—so you'd best get in the habit of going in with an open mind.
"I feel like, on paper, Dorota was supposed to be an older character, and it could've been anyone," she says. "As actors, we tend to type ourselves out right away: 'Oh, this is the one for me; I better get it. This one's not for me; I better just make a good impression.' This might've not seemed like it was going to be my best gig, and there's no way to foretell. It helps me to be hopeful every time I walk into a room now. I could be exactly what they want, even if it doesn't seem that way to me."