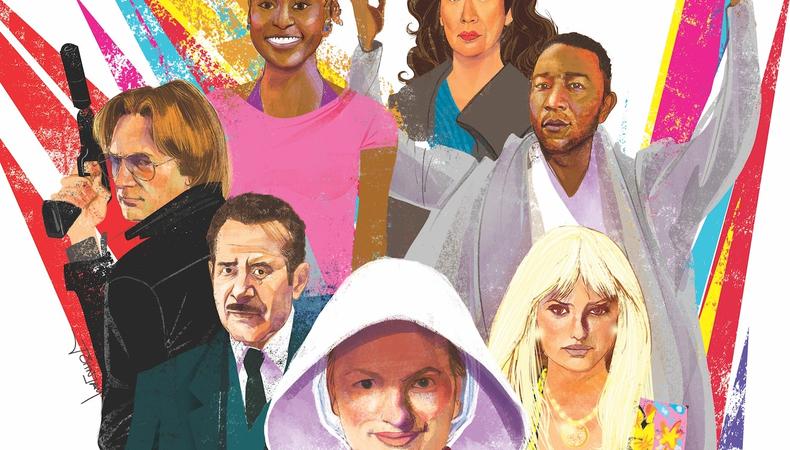 Before we are treated to the 70th Primetime Emmy Awards on Sept. 17, Backstage is breaking down each nominee in major acting categories: how they earned their nomination, what you should remember about their performances, and why we at Backstage can't stop thinking about them. Whether you're in the Television Academy and need a refresher or are just overwhelmed by the sheer amount of peak TV binge-watching options, read on for a 2018 Emmy acting voting guide!
OUTSTANDING LEAD ACTOR IN A DRAMA SERIES
Jason Bateman, "Ozark"
It may have taken Bateman most of his acting career to prove he can do drama as well as he can do comedy, but his performance as Marty Byrde, a cuckolded financial advisor whose idyllic life becomes a money-laundering nightmare, was worth the wait. That classic Bateman dryness provides the perfect mold for the unsettling world of Netflix's "Ozark," where middle-class banality becomes menace.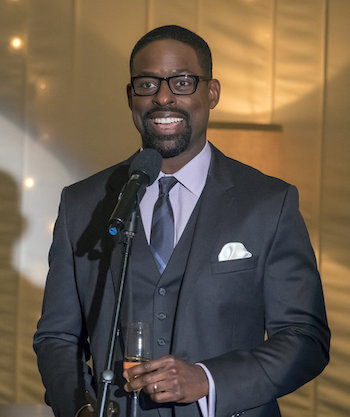 Sterling K. Brown, "This Is Us"
You can't look away from a performer like Brown, who can seemingly do no wrong. Playing the multifaceted Randall Pearson means the Emmy winner gets to throw out solid one-liners, have mental breakdowns, and preach the truth, allowing him to craft a character so enthralling, it's no wonder this star is on the rise.
Ed Harris, "Westworld"
Harris' scraggly appearance and gravelly voice help make up one of the season's most iconic TV characters, the Man in Black, aka William, aka the most bullet-riddled character in HBO's Western–sci-fi puzzler. He treks through the desert on a quest for purpose, drawing us inexorably into every twist and turn in his fraught journey. It's fairly certain Harris is having the time of his life.
Matthew Rhys, "The Americans"
Rhys upped the game on his typically great performance as Soviet spy Philip yet again in the final season of FX's "The Americans." Plumbing the depths of infidelity and trust while facing the repercussions of staying in his line of work gave Rhys a wider emotional range to tackle—all of which the Emmy-nominated actor explored unflinchingly. Now there's one last chance for voters to reward him.
Milo Ventimiglia, "This Is Us"
On paper, the day-to-day life of a father with three kids doesn't sound like a riveting NBC show. But with the terrific Ventimiglia playing the character, things start to get interesting. Endless care, tireless loyalty, and dad jokes: Jack Pearson is the culmination of everything anyone ever wanted in a dad, yet Ventimiglia still manages to make him feel real.
Jeffrey Wright, "Westworld"
For tips on how to make glancing over one's glasses or brooding over a computer screen riveting, watch every moment of Wright as Bernard. Or maybe that kind of charisma can't be taught. He exhibits his host's intelligence and burgeoning guilt in unassuming yet wholly captivating ways, and manages to have electric chemistry with each and every one of his co-stars.
OUTSTANDING LEAD ACTRESS IN A DRAMA SERIES
Claire Foy, "The Crown"
It's no small feat to portray a real person onscreen—let alone one who is still alive—but in Netflix phenom "The Crown," Foy does so with grace, nuance, and a subtle fire as Queen Elizabeth II. This year's SAG Award winner, Foy makes for a thoughtful study on the meaning of power, all while balancing a 3-pound crown on her head. We'll miss her performance.
Tatiana Maslany, "Orphan Black"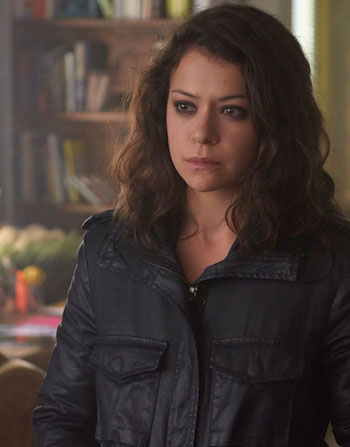 Has there been any turn on TV more jaw-dropping than Maslany's? As to which of her multiple characters on the final season of this sci-fi clone series we prefer, choose. Whether it's tough Sarah, neurotic Alison, nerdy Cosima, or deranged Helena, the Emmy winner delivered week after week, role after role.
Elisabeth Moss, "The Handmaid's Tale"
Peering out from between the bone-white wings of her handmaid's bonnet, Moss takes on the role of a lifetime, navigating the despair of an oppressive dystopian world with dignity—and a wickedly dark sense of humor. Last year's Emmy-winning producer-actor is at her most subtle when the stakes are highest, and watching her handle the pitfalls served up by the distressingly tangible Gilead can be revelatory.
Sandra Oh, "Killing Eve"
Oh's return to TV reminds us, through an honest, human portrayal of another brilliant woman committed to her work, why she's so compelling to watch. We follow her ascent from disillusioned government employee to insatiable MI6 agent on the hunt. Her complicated relationship with Jodie Comer's Villanelle proves that these cat-and-mouse stories can be anything but predictable. In fact, Oh's performance makes us want to savor each suspenseful moment.
Keri Russell, "The Americans"
If any current Russian spies are as ruthless as Elizabeth Jennings, we're in trouble. As both American matriarch and loyal Soviet agent, Russell radiates determination, even danger. And while "The Americans" has featured excellent dialogue throughout its astonishing run, watching this actor's magnetically wordless acting has been one of its most delicious treats.
Evan Rachel Wood, "Westworld"
Wood has referred to this series as the "acting Olympics," and after watching her as Dolores (plus the more villainous Wyatt), her second Emmy nod is especially merited. Keeping track of the mind-boggling layers to her character is enough to make you short-circuit, and in one heart-stopping moment toward the end of Season 2, Wood digs from such a deep well of shock and grief, it's a wonder the camera doesn't shatter.
OUTSTANDING SUPPORTING ACTOR IN A DRAMA SERIES
Nikolaj Coster-Waldau, "Game of Thrones
Jaime Lannister has managed the damn-near-impossible feat of surviving Westeros for seven seasons, so it's only fitting that Coster-Waldau be rewarded with his first-ever nomination following a heart-thumping, game-changing, dragon-slaying season. Though "Game of Thrones" is a crowded field, Coster-Waldau manages to stand out with his nuanced, soulful portrayal of a privileged pretty boy-turned-finally enlightened force for good (hopefully).
Peter Dinklage, "Game of Thrones"
Outstanding as always in a powerhouse cast of scheming royals and zombie-slaying warriors, Dinklage continued on HBO's hit fantasy series to somehow elevate the work of his every scene partner. This season, Tyrion has to navigate between two queens: one whose trust may be waning and the other whose familial bond he can't seem to shake. But the guy remains at his best in high-pressure situations (like watching his brother charge toward a raging dragon).
READ: 'Game of Thrones,' 'Saturday Night Live' Score With 2018 Emmy Nominations
Joseph Fiennes, "The Handmaid's Tale"
Everybody loves a villain—er, loves to hate a villain. And in Hulu's sophomore outing of "The Handmaid's Tale," Fiennes' putrid Commander Waterford was furiously easy to despise. By season's end, in fact, when at long last our hero June (Moss) meets his scornful gaze with the full force of her open palm, the satisfaction for those watching at home was so delicious, it had to be fattening.
David Harbour, "Stranger Things"
Harbour is given juicy material on "Stranger Things": an irascible tough-guy character complete with a secret, mournful past. But pure charisma and chemistry with co-stars like Millie Bobby Brown and Winona Ryder are what elevate police chief Jim Hopper on the screen. Amid all the monsters and skin-crawling suspense, it's this actor's well-balanced approach that legitimizes the Netflix sci-fi drama. You get the sense that even reading a phone book, Harbour would be engrossing.
Mandy Patinkin, "Homeland"
Patinkin earns his well-deserved umpteenth Emmy nod as the tough and gruff Saul Berenson in this Showtime series' most recent nailbiter of a season. What continues to make his performance so riveting is Patinkin's ability to wallow in the questions of right and wrong that haunt this political thriller. Nothing in counterterrorism is black and white, as Saul constantly reminds us in both word and action.
Matt Smith, "The Crown"
Prince Philip moved into focus in Season 2, and Smith rose to the challenge. He took us outside the palace and gave the Duke of Edinburgh his own individual identity. Smith effortlessly rotated between pompous, joyful moments with his all-male crew and the angry yet vulnerable husband opposite Foy's unwavering queen. His flashback-filled "Paterfamilias" installment was a standout.
OUTSTANDING SUPPORTING ACTRESS IN A DRAMA SERIES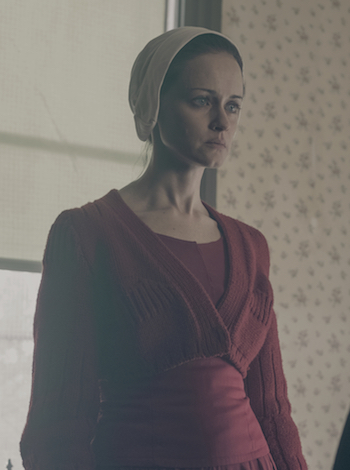 Alexis Bledel, "The Handmaid's Tale"
There isn't a pair of eyes on the small screen today able to wordlessly relay the same sadness, horror, and unending disgust as the mesmerizing baby blues of Bledel. Upped to series regular in the second season of "Handmaid's," Bledel's season-long arc is perhaps the most harrowing of all the crimson-clad women of Gilead. But somehow, Bledel ensures audiences never lose all hope for her Emily, even when she's lost it herself.
Millie Bobby Brown, "Stranger Things"
You'd be hard-pressed to name a role as beautifully drawn by a youngster on the small screen as Brown's Eleven. The mysterious psychokinetic girl who may hold the secret to defeating the terrifying Upside Down became more focused and nuanced in "Stranger Things 2." This powerful young actor switches with ease between adolescent frustration, raw vulnerability, and fearsome, growing strength.
Ann Dowd, "The Handmaid's Tale"
Dowd has been giving us great performances for the better part of three decades. But now, with her Emmy-winning, scrumptiously nuanced delivery on Hulu's dystopian drama, Dowd has undoubtedly hit a career high. As overseer Aunt Lydia, she's a heady mix of blunt force and for-your-own-good tenderness that does what exquisite acting can: humanize its most ruthless sovereign.
Lena Headey, "Game of Thrones"
There's a wonderful moment in this fantasy epic when Headey's Queen Cersei delivers what could be the show's motto: "I choose violence." She says it firmly but quietly, as if it's not a choice at all. Last year's astonishing season of "Game of Thrones" found Cersei burrowing deeper into her own ambition, greed, and evil, taking that choice to new heights. We can't wait to see what happens to the fate of Westeros and its most ruthless queen.
Vanessa Kirby, "The Crown"
Kirby doubled down as the reigning queen's petulant younger sister this season. We see a different side of royal life when Margaret attends parties with London's elite, strips down for photo shoots with her future husband, and tussles with her sister. Kirby is devastating when she plays frustration and loneliness in response to the isolation of her position. Her persistent ennui shows the audience that royalty isn't always what it seems.
Thandie Newton, "Westworld"
Newton has long showcased killer acting chops across film and TV, but she brilliantly bests herself again and again as the fabulous former brothel manager Maeve Millay in "Westworld." As the artificial creation achieving untold levels of power over her fellow hosts, her progression from the controlled to the controller through the drama's second season is one of its greatest strengths.
Yvonne Strahovski, "The Handmaid's Tale"
"What is she thinking?" It's the question begging to be answered in nearly every episode of "Handmaid's"; asked not of the show's Teflon protagonist June/Offred, but of her at-times keeper, at-times compatriot Serena Joy Waterford, played with agonizing restraint by Strahovski. Together, these two women, who depict either side of the same oppressive coin, made for the year's most compelling onscreen dynamic.
Ready to win your Emmy statue? Check out Backstage's TV audition listings!