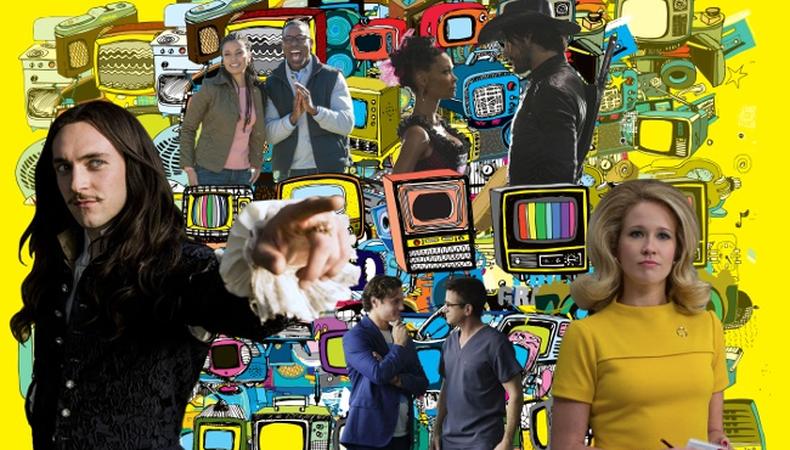 Are you the kind of small-screen aficionado who gets as excited as overwhelmed by fall TV's enticing crop of new series? Us, too! Sure, many old favorites like "Crazy Ex-Girlfriend" (Oct. 21), "Transparent" (Sept. 23), and "Fresh Off the Boat" (Oct. 11) are returning, but we sure love the rush of finding a new diamond in the rough.
Here, we've sifted through the pack and nabbed seven new series you could (and should!) be watching each night of the week. Based on this grouping alone, the fall 2016 slate is set to shake up our weekly schedule of must-see TV. Be sure to tune in!
Sunday
"Westworld," HBO (premieres Oct. 2)
Need something to get you through the long winter until "Game of Thrones" returns next summer? Your best bet is HBO's latest larger-than-life epic from showrunners Jonathan Nolan and Lisa Joy. Welcome to "Westworld," a virtual reality amusement park from the near future where reality-bound humans can plug in and live out their finest (and darkest) fantasies with resident androids. Your wish is their command. Taking visual cues from the American West, it's a world where both the noble and evil can seemingly coalesce without real-world consequence—or can they?
Based on the 1973 Michael Crichton feature film of the same name, this much-anticipated 10-episode series stars Evan Rachel Wood as Dolores Abernathy, a Westworld android who comes to realize the artificial Wild West created for her by Anthony Hopkins' Dr. Robert Ford is not as real as it seems. Pegged as a "dark odyssey about the dawn of artificial consciousness and the evolution of sin," the series co-stars Ed Harris, James Marsden, Thandie Newton, and Jeffrey Wright, and is produced in part by J.J. Abrams. You can be sure we'll be buckling up and plugging in each Sunday.
Monday
"Conviction," ABC (Oct. 3)
ABC is getting back in the political scandal race with "Conviction," the new prime-time soap from showrunner Liz Friedlander. Hayley Atwell graduates from "Agent Carter" to star as Hayes Morrison, a brilliant and troubled young attorney whose father also happens to be a former U.S. president and whose mother is now running for Senate. When her university board puts her on probation for sleeping with her students and she's busted for cocaine possession, things are looking bleak for her future and her mother's chance at winning. But she's picked up by D.A. Conner Wallace (Eddie Cahill) and given a clean slate—if she works for him as a director of his new conviction integrity unit. (You can credit its buzzworthy premise to the success of docuseries "Making a Murderer" and a little-known political family named the Clintons.)
"Working these pointless cases with you people—that's my prison," Morrison quips on her first day in the office. It's a bad-girl, fish-out-of-water schtick that's sure to serve a heaping dose of entertainment, brains, and sass.
Tuesday
"This Is Us," NBC (Sept. 20)
"This is real. This is love. This is life. 'This Is Us.' " NBC's new ensemble dramedy will be a sentimental hour of television, but when done right (see: "Parenthood"), it can be provocative and engrossing, too. Particularly considering it's from the creatives behind 2011's sleeper rom-com hit "Crazy, Stupid, Love.," we've got faith this one's in good hands.
Mandy Moore and Milo Ventimiglia star as husband and wife and soon-to-be parents; Emmy nominee Sterling K. Brown stars as a man searching for the father who abandoned him; Chrissy Metz stars as a woman struggling with her weight; Justin Hartley stars as a sitcom actor needing a change; and the ensemble goes on from there. What do all these strangers have in common? They share the same birthday—and, according to NBC, "so much more than anyone would expect." With childbirth complications, father-son reunions, first loves, and more, is it too early to cue the waterworks?
Wednesday
"Chance," Hulu (Oct. 19)
When Academy Award nominee and "Room" director Lenny Abrahamson follows up last year's indie darling with a TV show starring seven-time Emmy nominee Hugh Laurie, you know it's worth your Wednesday night.
Laurie stars as Dr. Eldon Chance, a San Francisco–based forensic neuropsychiatrist who prides himself on being personally invested in his patients' ailments. When he gets particularly close to one female patient who's stuck in an abusive marriage, he's sucked into the seedy depths of the city he calls home. Police corruption and mental illness aside, Chance has problems of his own on the home front, where he's in the middle of a divorce and is trying to mend his relationship with his teenage daughter.
"Chance" is co-created by Kem Nunn (who wrote the 2014 novel on which the drama is based) and "Bates Motel" alum Alexandra Cunningham. Promised by Hulu to be an "exploration of one of mankind's final frontiers—the shadowy, undiscovered country of the human mind," we wouldn't be surprised if Abrahamson breaks out the same psychological wizardry deployed in "Room."
Thursday
"Pure Genius," CBS (Oct. 27)
Like "Chance," "Pure Genius" is also set in the San Francisco area, but rather than excavating mental frailty, it explores mankind's boundless potential when pairing the mind with technology.
The new network medical drama stars Dermot Mulroney and Augustus Prew as Walter Wallace, a noted but disgraced surgeon, and James Bell, a young Silicon Valley tech billionaire, respectively. Bell is new to the hospital business, but he's set on revolutionizing it by building one of the most exciting facilities the medical world has ever seen. He pours billions into constructing a futuristic, state-of-the-art hospital that fuses cutting-edge technology and the best minds of the medical world to treat and solve only the biggest mysteries in the field—all at zero cost to the patient. He courts Wallace to be his new chief of staff.
Little is known about what drives Bell, exactly. (Is he playing Robin Hood for all the right reasons?) But this series is sure to be a medical mind-bender that's as timely as it is aspirational.
Friday
"Good Girls Revolt," Amazon (Oct. 28)
Amazon has a handful of new programs out this season (we're particularly smitten with "One Mississippi"), but "Good Girls Revolt" has the potential to be your next '60s-set obsession. The year is 1969. The cultural revolution has set America ablaze, but somehow, the newspaper industry never caught fire. This is the story of the ladies who brought matches.
Based on Lynn Povich's book of the same name, the series charts the true-life events surrounding a sex discrimination suit brought to "Newsweek" (renamed here as "News of the Week") when its women employees decided they wanted to be treated fairly and write for the company. It's a request, according to Amazon, that "sparks convulsive changes and upends marriages, careers, sex lives, love lives, and friendships."
Penned by Dana Calvo ("Made in Jersey"), the series has already drawn comparisons to "Mad Men" and promises to be an incisively feminist take on not only the hurdles women faced in the workplace 40 years ago, but those they face to this day. "Good Girls Revolt" stars Genevieve Angelson, Anna Camp, Grace Gummer, James Belushi, Chris Diamantopoulos, Hunter Parrish, and Joy Bryant.
Saturday
"Versailles," Ovation (Oct. 1)
Having withdrawal from the dearly departed "Downton Abbey"? How about "Outlander"? Simon Mirren and David Wolstencroft's "Versailles" may be just the thing to whet your appetite. Already a hit in France, England, and Canada, the acclaimed period drama makes its way stateside this season on Ovation before hitting Netflix in full come December.
"Versailles" plays out in 1667 France, where a 28-year-old King Louis XIV recklessly decides to mount the Palace of Versailles following his mother's death. Despite the extravagant product that's praised still today as an architectural wonder, you can imagine that its construction didn't come so elegantly. It's a show rife with deceit and betrayal, love and lust in equal measure. Trust us, things get steamy—all to a viewer's delight.
George Blagden reigns supreme as the king, but as his gay, cross-dressing brother Philippe, Alexander Vlahos steals the show and turns in a breakout performance. Get in on the hype and see why "Versailles" ranks among the most expensive and highest-rated French series in existence (just as the Sun King himself would have wanted).
Ready to star in a series of your own? Check out our television audition listings!