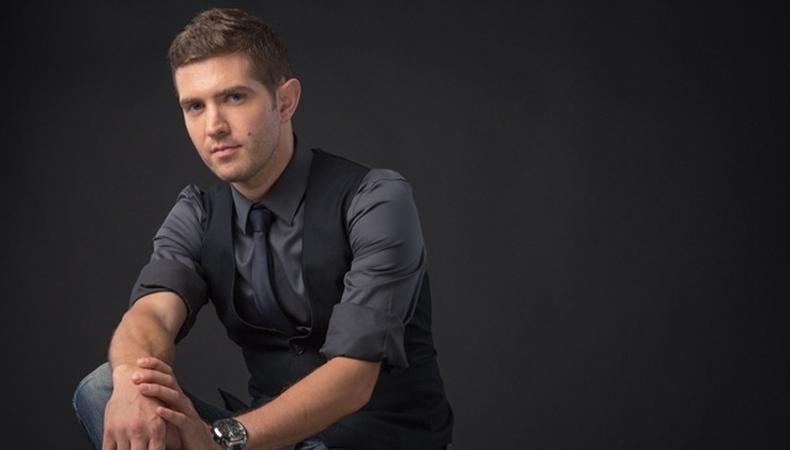 While Joel Johnstone may be currently juggling two shows for HBO, the young actor credits L.A. theater for that success. Everything came together at once for the actor and now when he's not trading barbs with Jim (John Gallagher Jr.) on Aaron Sorkin's "The Newsroom," he's matching wits with Laurie Metcalf and Alex Borstein on HBO's "Getting On."
And it all started with a small 99-seat theater production. "The Newsroom" casting assistant Shayna Sherwood happened to see Johnstone starring in "Finding the Burnett Heart," at the Lillian Theatre in Los Angeles. She signed the guestbook, and Johnstone took the time to write her a short thank-you e-mail. They stayed in touch, and eventually she called him in for the part of Cameron on "The Newsroom." "[It's] the story we all hope for as an actor. That we do this little tiny theater show and somebody discovers you, and then one thing leads to the other and you end up with a job," he says. "And that's exactly what happened, and I just feel like the luckiest person in the world. So to everybody that says nobody comes to see theater in L.A., I have a proven example of that not being true."
Keep struggling.
When he got the call from his agent about "The Newroom," he thought it was for "Getting On" and that call quickly followed. "It was the craziest week, maybe ever for me. I just couldn't believe it." he says. Having been in Austin at what was predominately a writer's film festival, Johnstone says he was really inspired by what the writers had to say. "There was this recurring theme of them struggling and struggling and struggling and struggling, and then one day, there was just this phone call and it wasn't like that phone call changed their life, but that phone call led to this job which then did change their life. It was just like, you struggle and struggle and struggle until that phone rings, and you better have been working your ass off. That was like the most common theme, but it was very, very, very, very inspiring."
Have fun.
"I was determined I was not going to get it because I cared too much," says Johnstone about his "Newsroom" audition. Johnstone was invested as a fan of the show, having seen every episode at least twice, as well as being a fan of Sorkin's other work like "Sports Night" and "The West Wing." "It's like death for an actor when they walk into an audition, and they really care about the job. You kind of want to go in and throw caution to the wind and have a good time with it."
Learn to audition.
"I will definitely say I'm less nervous than I used to be," says Johnstone of auditioning. "Once you get comfortable with the fact that they have a really good idea of what they're looking for and you're either it or not, then that does kind of eliminate some of the stress." However, Johnstone does believe that auditioning is a learned skill. "I just think most actors just get better with time. It's very different than being on a set and involved with other actors, and blocking out a scene and everything," he says.
Have confidence.
Being nervous on the first day is normal. On his first day, Johnstone showed up on location for "The Newsroom" at 5:30 a.m. "When I got there [Aaron Sorkin] walked up to me and he clapped my hand and he was like 'Joel, you're going to be great on this show' and that was all I needed to hear. It just completely put me at ease and I felt at home."
Use all your tools.
With a B.A. in theater from Fordham University, Johnstone's familiar with Meisner, Stanislavsky, and Strasberg, and sees value in all of the methods. "I think all of them are worth learning, and all of them have fantastic arrows that you can put in your quiver." But he doesn't limit himself to one, nor does he limit himself to only acting. "My favorite actors that I grew up admiring were the guys that did write and direct and also were billing actors," he says. He cites examples like Jack Nicholson, who was a writer before he started acting, as well as other actor-directors such as Robert Duvall, Billy Bob Thornton, Warren Beatty, and Kevin Costner. "They're masters at acting, but they also have this incredible talent of telling stories," he says. "If you have the desire to write and/or direct, it's only going to make you a stronger actor and vice versa."
Keep up your theater chops.
Johnstone may be having a blast on TV, but he's still a big supporter of the theater. "You have to do both. There is no one better than the other or anything," he says. "I just think when you're doing a play, you get to act for two hours at a time. When you're doing a film or TV show, you're acting for 30 seconds to a minute at a time. It's just like going to the gym, it just makes you stronger. And nothing beats the thrill of a live audience. It's more terrifying, that's for sure, but it's rewarding."
Stay creative.
Whether it's acting or expressing yourself in another way, Johnstone stresses how important it is to keep up with your creativity. "If painting helps keep you creative, even if you're an actor, do that," he says. "I think that as actors sometimes all we have are auditions and that's not enough. That's not going to satiate that creative drive. You have to create something on your own, be it a play, be it a piece of music, a painting, a photograph, a short film, whatever. Create. Create. Create."