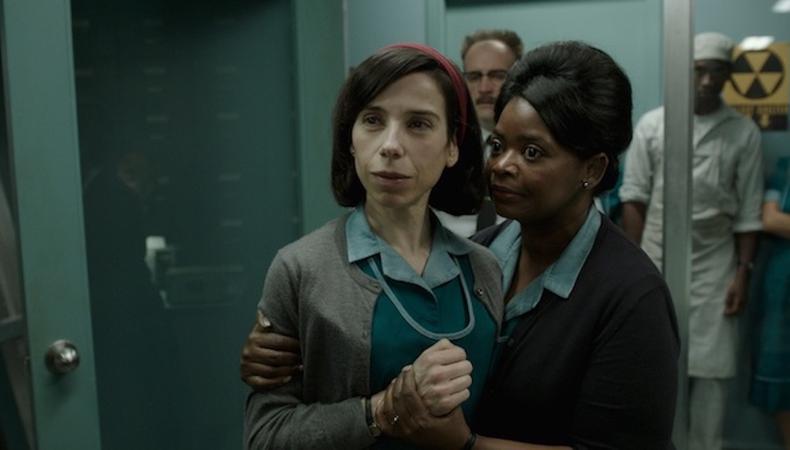 For his latest film, Guillermo del Toro was as much a mediator as he was a director. "Water and film don't get along," he says, but when it's in the title of your movie, like bickering co-stars, there's no option but to make them work together. While he's quick to admit it was one of the most difficult films he's ever made, "The Shape of Water" also marks a return to form for the legendary auteur.
Stemming from his boyhood desire to see the creature and Kay (Julia Adams) of "Creature From the Black Lagoon" fall in love, the Oscar-nominated filmmaker (best known for "Pan's Labyrinth," "Hellboy," and "Crimson Peak") has imagined and created a world where an interspecies romance is possible—enticing, even.
Centered on a mute janitor, played wordlessly and beautifully by Sally Hawkins, the Cold War–era film follows her high-stakes love affair with a government-captured sea creature (Doug Jones). It's a gorgeously realized blend of del Toro's signature sense of dark fantasy with musical, thriller, and comedic elements to round out an entirely singular story.
"What was really difficult was coordinating every department and every actor, who [each] have different styles, to keep unity," he tells Backstage. "It was constantly being vigilant that the production design was fanciful but not unbelievable; the lighting style was beautiful but not mannered; [that] the wardrobe was period-accurate.... So, every day there would be at least one or two moments where there were six balls in the air and two of them were mine."
The teamwork crescendoed in his most waterlogged scenes, where del Toro and his team in front of and behind the camera combined an old film technique called "dry for wet"—a visual trick that uses lighting, smoke, fans, puppeteering wires, and a high shooting speed sitting 36–48 frames—to create the illusion of being underwater (with bubbles added in postproduction), as well as physically submerging his set. It guaranteed both precise choreography, or a "dance of objects," as del Toro describes it, for the opening scene with Hawkins' entire living room "free-floating," for example, and the necessary, if uncontrollable, aesthetic of being underwater.
However, tackling the technical challenges of shooting a film like "Shape of Water" came much later in del Toro's process. True to his monster-making reputation, his first step was building the creature. Del Toro spent three years tinkering with the amphibi-man's appearance, sculpting in clay before moving on to drawings and then costuming to build a very specific presentation essential to the story: sex appeal. Hawkins' Elisa had to be attracted to him. The final touch was his presence. "You tell Doug, 'You're going to find your center like a bullfighter standing in the arena. You're going to have this beautiful straight center that is very, very powerful and graceful and sort of sensual,' " he recalls saying to the actor. "Then you tell him, 'Have the remoteness of a god.' "
Most of his cast's character development was done in what the director calls his favorite part of the process: the table work, where he gets to sit with his actors (the majority of whom had their roles written specifically for them) to give them a baseline before he "opens the space for the actor to try different colors and for [the director] to be able to look."
For Richard Jenkins and Michael Stuhlbarg, he provided four-page biographies, and a place for them and co-stars Hawkins, Michael Shannon, and Octavia Spencer to play. He has no interest, he says, in being "the little dictator" when it comes to directing. "You have nothing but discovery to gain…. Then, on the day-to-day, what you do is watch for tone and delivery. On the day-to-day, you give verbs and practical instructions of action. You say, 'Look at her in the eyes. When she says this, touch her hand. Slower or faster.' You're trying to keep it very simple on the shoot day [because] you have 130 people looking at their watch, waiting for you to say it's a wrap."
"Working with actors, I think that there is a moment of great humility, where you really put yourself in the hands of the actors," del Toro adds. "The director and the audience are embassies on two sides of the Atlantic. The actors are the couriers that are going to deliver, or not, the drama of the film. The rest of the departments can work beautifully. The camera, the set and the wardrobe, and they could all cooperate into creating a beautiful movie. But ultimately the connection between the embassies of audience and director is the actors."
Check out Backstage's film audition listings!