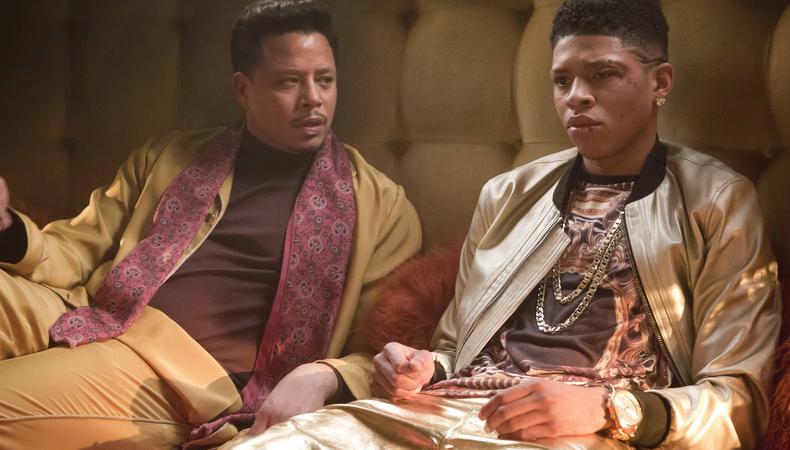 "I love things that are epic," confesses Danny Strong. As the Emmy-winning writer behind such sweeping political sagas as HBO's "Recount" and "Game Change," "Lee Daniels' The Butler," and the third and fourth installments of the "Hunger Games" franchise, Strong idealizes immensity and gravitates toward the grand. Where does a screenwriter turn today to develop tales of great magnitude? Television, of course.
"TV is exploding, creatively," Strong says. "You can do any kind of story you want because there's a network somewhere that's looking for that type of programming. It's incredibly exciting for writers and directors and producers and actors. There's such a variety of worlds you can plan." As of Jan. 7, Strong has been satisfying his craving for ambitious world-building with "Empire," a new Fox drama starring Terrence Howard and Taraji P. Henson. Working again with writer-director Daniels, Strong marvels at the collaborative nature of running a TV show as opposed to a movie. "In film it's restricting," he explains, noting it's "harder and harder to get certain movies made" in an economic environment that engenders hesitancy in big-screen producers.
With "Empire," Strong cobbles together several genres and influences, as befits the hip-hop world it depicts. The drama revolves around a wealthy African-American family whose record company is compromised when patriarch Lucious Lyon (Howard) is diagnosed with a terminal illness. Complicating matters is the mother of Lyon's three sons, Cookie (Henson), who arrives fresh out of prison to claim her portion of the family business. Part juicy melodrama, part 21st-century "King Lear," Strong describes the show as "a modern-day African-American 'Dynasty' set in the hip-hop universe."
Another draw is original music from industry giant Timbaland. "It's not a musical in the sense of characters randomly breaking into song," says Strong. "Its performances are extremely organic to the plot line. They're certainly singing about things that reflect upon their character." By threading the story around songs specific to each distinct member of the Lyon family, Strong and his writing team can explore issues inherent in the hip-hop business: classism, greed, homophobia, and the tension between artistry and commerce.
What was the impetus for pursuing such themes? Strong remembers driving through L.A. and hearing a news story about Sean "Diddy" Combs that got him thinking. "Hip-hop is this charismatic, dynamic world. There really needs to be a story in hip-hop at the highest level. And then I instantly thought, how would I do it? And all these ideas started flooding my head and I thought of '[The] Lion in Winter' and 'King Lear' and I wanted it to be real epic and Shakespearean." The moment this "kernel of an idea," as Strong puts it, took root, he knew he was onto something.
"I often roll with my first ideas," he says. "Once I have something I find exciting, I don't try and second-guess it or think of 10 other ideas—I literally just go with that." It's a technique that led to the creation of "Recount" and "Game Change"; Strong reacted to news stories that held dramatic potential below surface level. "There's got to be something more interesting than just the events that happened." When the quest to find that interesting story springs up in a gut reaction—often, Strong says, to political issues that provoke an emotional or angry response—the creative process begins.
As an actor himself (from "Buffy the Vampire Slayer" to "Mad Men"), Strong believes in that initial spark of inspiration. In his experience, auditioners have no idea what a casting director wants—but often, neither do casting directors. "Sometimes they'll tell you what they want and you'll give it to them and that's when they realize, 'Wait, I didn't really want that.' And someone will come in and do something completely unique and fresh and they'll go, 'Oh, that's what I want.' "
Word to the wise: Listen to your gut.
Inspired by this post? Check out our television audition listings!