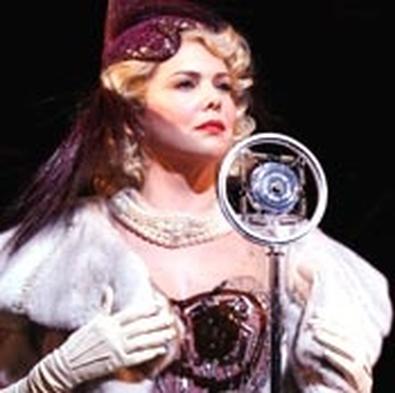 Did someone forget to baptize Guys and Dolls? Seems unlikely — but how else to explain why a nigh-perfect musical entertainment has been plunged into limbo, suspended between cartoon and noir in director Des McAnuff's appalling revival. Of course, there are worse places than limbo — but we go there too. Perhaps McAnuff thought he was directing The Divine Comedy?
In the past, McAnuff has made a name for himself as the purveyor of slick, somewhat soulless stagings (Jersey Boys, The Who's Tommy). The rigorous efficiency of those works is impressive, but while they have the precision of a Swiss watch, they also have its personality. It's to McAnuff's credit that he doesn't attempt quite the same thing with Guys and Dolls, perhaps because its most recent Broadway bow was Jerry Zaks' firing-on-all-cylinders Technicolor gloss.
McAnuff settles on something darker — but this is largely a matter of visuals, not interpretation. There's no deconstruction, no rethinking the blithe, powerful dance sequences, choreographed here without distinction by Sergio Trujillo. Instead, working with scenic designer Robert Brill, McAnuff gives us New York refracted through a cesspool, as if not only "Luck Be a Lady" but the entire evening were set in the sewer. The production's key visual is a massive LED wall, which replaces old-fashioned flats, drops, and trucks with a series of shockingly inept noirish CGI renderings that have the sophistication of a teenager playing around in the early '90s.
The same care has been taken in sculpting the performances. In her Broadway debut, Lauren Graham (best known from TV's Gilmore Girls) is all over the place. Her Miss Adelaide seems nothing like a burlesque headliner and shifts from weak to strong at random. Thankfully, Graham is a natural enough comedienne to land some of the humor of Jo Swerling and Abe Burrows' eternally funny script. Across from her, Oliver Platt — a rangy, normally confident actor — looks lost. He's arrived at a take on Nathan Detroit that's something like a nebbish taking confidence lessons from Bert Lahr. His Nathan is far too desperate and ineffectual of a simp to hold onto Adelaide, let alone run the oldest established permanent floating crap game in New York.
Craig Bierko's Sky Masterson is a subdued, off-key version of the Harold Hill he played in the most recent Music Man revival. The charmless performance is as flat as his singing. (This really isn't a great production for Frank Loesser's gorgeous score). As Sister Sarah, the missionary who saves Sky's soul and wins his heart, Kate Jennings Grant is the strongest of the leads. She's not quite believable in the buttoned-down scenes — she seems rather like a schoolgirl who can't wait to shirk her strangling uniform — but at least she finds the buoyancy in the lighthearted moments.
Of the usual showstopping numbers, the only one that makes an impression is "Sit Down You're Rocking the Boat," which has been given a nice gospel flourish and a race-reversed twist — it's the big white girl (Mary Testa) with the memorable flourish, though an unnecessarily padded Titus Burgess sings Nicely Nicely true to his name.
It must be said that Testa as General Cartwright steals the show. This shouldn't be possible in the tiny role of the Save-a-Soul boss, but the terrific actor knows that when the ship's sinking, it's every woman for herself. Also doing excellent work in small roles are Jim Ortlieb (a sweetly affecting Arvide) and Steve Rosen (period perfection as Benny Southstreet).
In Rosen's performance there's a sense of Runyonland — of a New York fable where gangsters have love in their heart and a jetĂŠ in their step. It's a shame he's been forced to live somewhere danker.
Presented by Howard Panter for Ambassador Theatre Group, Tulchin/Bartner, Bill Kenwright, Northwater Entertainment, Darren Bagert, Tom Gregory, with Nederlander Presentations, David Mirvish, Michael Jenkins/Dallas Summer Musicals, Independent Presenters Network, Olympus Theatricals, Sonia Friedman Productions at the Nederlander Theatre, 208 W. 41st St., NYC. Opened March 1 for an open run. Tue., 7 p.m.; Wed.-Sat., 8 p.m.; Wed. and Sat., 2 p.m.; Sun., 3 p.m. (212) 307-4100, (800) 755-4000, or www.ticketmaster.com. Casting by Tara Rubin Casting.