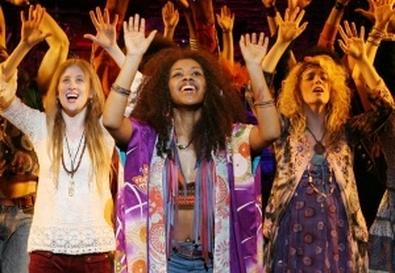 When it opened on Broadway in 1968,
Hair
captured the joy and rage of the hippie movement, allowing theatregoers to examine why kids were dropping out of mainstream society as if escaping from prison. It hit every hot-button topic of the day, from drug use to air pollution to the Vietnam War. Even the song titles were incendiary: "Colored Spade," "Sodomy," "Hashish." Tom O'Horgan's freeform staging, the loose plotting, and the rock score were blasts of fresh air on the Main Stem. The show ran for 1,750 performances, but book writer–lyricists Gerome Ragni and James Rado, who also originated the lead roles, never had another hit, and composer Galt MacDermot had only one: his rock adaptation of
Two Gentlemen of Verona
. So that leads us to ask, can
Hair
speak to the Obama generation, which yawns at onstage nudity and profanity and is more concerned with Facebook than flower power?
The answer is a resounding yes. After a run last summer in Central Park, this Public Theater revival has moved indoors, and it looks like the hippies will be grooving there for a long time. In the park, the show was a combination picnic and rock concert, with audiences digging the sweet pop sounds and the energy of the attractive young cast. On Broadway, Diane Paulus' grab-bag staging takes on a more forceful narrative drive. Scott Pask replaces his sylvan set with a Peter Max–inspired crash pad, illuminated by Kevin Adams' psychedelic lighting. Michael McDonald's costumes ground us in the colorful period.
The thread of a plot follows Claude (Gavin Creel, replacing Jonathan Groff), a rootless youth from Flushing, Queens, as he searches for his identity amid the blaring confusion of an America falling apart. His conventional parents demand that he get a job and clean up his room. His dropout friends urge him to live moment to moment with them on the streets. He's forced to make a decision when his draft card arrives: either face possible death in Vietnam or vanish from the mainstream altogether. In the late '60s, Claude's dilemma was a snapshot from the street just outside the theatre door. With 40 years of historical perspective, his story gains a bittersweet poignancy. We know that Watergate, Iran-Contra, 9/11, and Iraq will follow, and the beautiful, uninhibited society the hippies yearn for will never materialize.
Paulus recognizes this and manages to combine the wild "be-in" aspects of the loosey-goosey script with specific character choices. The tribe is populated by complex people, not one-note stereotypes. Their leader, Berger, is charismatically charming but also brutally narcissistic. Will Swenson embodies both qualities in a manically entertaining performance. Creel beautifully depicts Claude's painful journey of discovery, particularly in the moving "Where Do I Go?" Caissie Levy effectively conveys the idealism and anger of Sheila, the most politically minded of the group, and makes her ballad "Easy to Be Hard" a striking plea for understanding. Kacie Sheik is a lovely love-struck Jeanie, and Allison Case as Crissy delivers the moving "Frank Mills" with a breathtaking simplicity. Andrew Kober nearly stops the show as the clueless tourist lady who has a few secrets of her own.
One of the lesser-known numbers is "Oh Great God of Power," invoking Con Edison during a blackout. This company puts out enough voltage to light up all of Broadway. When they invite audience members to join them on stage after the curtain call, it's as if they charge the theatre with amps of excitement, capping an unforgettable experience.
Presented by the Public Theater, Jeffrey Richards, Jerry Frankel, Gary Goddard Entertainment, Kathleen K. Johnson, Nederlander Productions, Fran Kirmser Productions/Jed Bernstein, Marc Frankel, Broadway Across America, Barbara Manocherian/Wencarlar Productions, JK Productions/Terry Schnuck, Andy Sandberg, Jam Theatricals, the Weinstein Company/Norton Herrick, Jujamcyn Theaters, and Joey Parnes, by special arrangement with Elizabeth Ireland McCann, at the Al Hirschfeld Theatre, 302 W. 45th St
.,
NYC
.
Opened March 31 for an open run. Tue
.,
7 p.m
.;
Wed
.–
Fri
.,
8 p.m
.;
Sat
.,
2 and 8 p.m
.;
Sun
.,
2 and 7:30 p.m
. (
No performance Wed
.,
April 1. On Sun
.,
April 12 and 19, there is no evening performance and the matinee is at 3 p.m. Additional performances Wed
.,
April 8 and 15, 2 p.m
.) (
212
)
239-6200
, (
800
)
432-7250, or Telecharge. Casting by Jordan Thaler and Heidi Griffiths
.