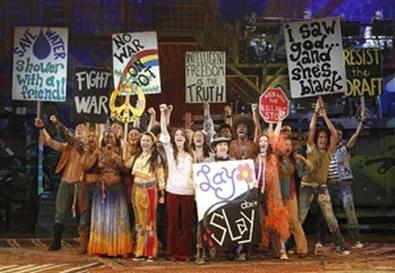 The Tony-winning 2009 Broadway revival of the flower-child rock musical "Hair" lets the sunshine into the Pantages Theatre in a smashing national touring edition, making its West Coast debut. Nostalgia, dazzling psychedelic imagery, and vehement anti-war sentiments propel this revisit to the watershed American tuner that galvanized Broadway in 1968 when frothy old-fashioned confections like "Mame" dominated the popular fare.
Written by librettist-lyricists Gerome Ragni and James Rado and composer Galt MacDermot, and subtitled "The American Tribal Love-Rock Musical," the show begins with minimal plot but soon blossoms, thanks to memorable characters: members of an urban hippie tribe who live by a credo of love, peace, and resistance to the Establishment. Reverie, bawdy humor, and ebullient song-and-dance numbers dominate the first act; generally more sobering reflections dominate the second act, as the horrors of war become painfully evident during a drug-induced fantasy sequence, leading to tragedy.
Director Diane Paulus, choreographer Karole Armitage, and a splendid design team (Scott Pask, sets; Michael McDonald, costumes; and Kevin Adams, lighting) fastidiously conjure the cultural signposts of a very specific time and place in our nation's history. Yet the vibrant production feels nothing like a museum piece. The disaffection of the younger generation, the ugliness and futility of war, and the resilience of the human spirit are themes pertinent to any era. The most surprising thing about this revival is how fresh and vital the music and lyrics sound, expertly served by music director David Truskinoff and the sensational ensemble cast.
As the draft-dodging Claude, whose mixed-up emotions vacillate between joy ("I've Got Life") and desperation ("Where Do I Go"), Paris Remillard brings nuance and great energy to a focal role. Playing his best friend, the audacious cutup Berger, Steel Burkhardt is likewise sublime, shading his generally goofy demeanor with dark edges. In the role of political activist Sheila, who is a romantic interest for both pals, Caren Lyn Tackett is superb, particularly earning our empathy in the plaintive ballad "Easy to Be Hard." As Claude's outraged parents, Allison Guinn and Josh Lamon give uproarious portrayals.
The Public Theatre's resurrection of its classic will be especially resonant for baby boomers who recall the social turmoil of the post-JFK era: the frenzy of campus Vietnam War protests and the firestorms over the sexual revolution. On opening night, many audience members let down their own hair, rushing onstage to join the cast in a prolonged post–curtain call singalong.
Presented by the Public Theatre and Broadway/LA at the Pantages Theatre, 6233 Hollywood Blvd., L.A. Jan. 6–23. Tue.–Fri., 8 p.m.; Sat., 2 & 8 p.m.; Sun., 1 & 6:30 p.m. (800) 982-2787. www.broadwayla.org.