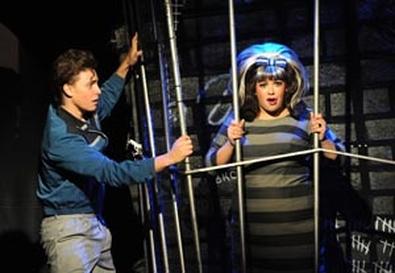 When "Hairspray" bowed in 2003, it upped the ante on frothy rock 'n' roll musicals. Inspired by John Waters' deliciously satiric 1988 film of the same name, the stage adaptation smoothly weaves Waters' stirring message about human tolerance within the conventions of lighthearted tuners, fueled by Mark O'Donnell and Thomas Meehan's radiant book and Mark Shaiman and Scott Wittman's rousing score. Director Larry Raben's rendition is an unabashed triumph.
Victoria Morgan appears to be somewhat older than other actors who have tackled the role of plucky underdog Tracy Turnblad, the story's plump teenage heroine. Thankfully, the actor-singer invests the role with the requisite vocal prowess and likability. Yet it's Jim J. Bullock in the crucial role of ample-girthed suburban homemaker Edna Turnblad who most frequently sets the production ablaze.
Among the actors who succeeded Harvey Fierstein in this cross-dress role, Bullock finds the optimum balance between warmth and broad comic shtick. His consummate characterization beautifully dovetails with the clever antics of Barry Pearl, as Edna's beloved spouse Wilbur, particularly in their tongue-in-cheek love duet, "You're Timeless to Me." At the reviewed matinee, this vaudevillian showstopper included sidesplitting ad libs.
The supporting performers offer scintillating portrayals, led by charismatic belter Gwen Stewart. As the kindly but feisty Motormouth Maybelle, she radiates sass and class in the hilarious "Big, Blonde, and Beautiful" and "I Know Where I've Been," an electrifying anthem to the civil rights movement and spiritual resilience. As the mother-and-daughter villainesses Velma and Amber, Tracy Lore and Lauren Smolka, respectively, are fun to hate. Derek Klena is somewhat subdued but nonetheless charming playing Tracy's heartthrob, Link. Erin Watkins as Tracy's close pal, Penny, is a bona fide hoot, delivering hilarious lines with spot-on precision. As Seaweed, Penny's African-American love interest, fleet-footed Todrick D. Hall is a continual delight. David Engel croons divinely as dapper dance-show host Corny Collins.
Additional fine turns come from JP Sarro, Chyka Jackson, Karla J. Franko, and a trio of red-hot Motown-style divas: Kamilah Marshall, Tiana Okoye, and Emily Mitchell. Choreographer Lee Martino and music director Dennis Castellano further energize Musical Theatre West's joyously entertaining offering.
Presented by Musical Theatre West at the Carpenter Performing Arts Center, 6200 E. Atherton St., Long Beach. Oct. 29-Nov. 13. Thu.-Fri., 8 p.m.; Sat., 2 & 8 p.m.; Sun., 2 p.m. (Also Sun., 7 p.m., Nov. 6.) (562) 856-1999, ext. 4. www.musical.org.