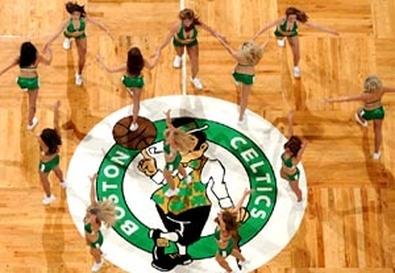 Christina Iannelli says dancing with the New York Nets has boosted her credibility in the professional dance world. "We're working with very talented Broadway choreographers, and the skill level is amazing," she says. "It can compete with anything out there. Performing with the Nets has made me a better dancer and given me confidence and poise."
Bonnie Lincoln, also with the Nets, echoes Iannelli. Sports team dancing has put her in good stead in the dance industry; it has even given her marketable skills she would not have had otherwise, she says. "My agent sent me for a commercial audition where walking on stilts was required. I learned how to use stilts from the Nets. Performing with the team has also made me better prepared and stronger at hip-hop, swing, and salsa. It's been a fabulous opportunity in every way."
While most sports team dancers don't have their sights set on a long-term dance career, they are highly trained and disciplined performers—the majority have been studying dance most of their lives—and should not be dismissed as bimbos in scanty costumes. It's a simple-minded and unfair stereotype, say the dozen-plus dancers and director-choreographers interviewed. Many of the women are full-time students; others are lawyers, pharmacists, teachers, and public-relations account executives, among other professions.
"Most of the dancers are type-A personalities," says Stephanie Jojokian, director-choreographer for the Washington Redskins dancers. "They're go-getters at everything, and most people would be amazed." In addition to dancing at home games, they are expected to appear at public events throughout the year, mingle with the fans, and be articulate and well-spoken. Indeed, the women are interviewed as part of the audition to gauge their poise, grace, and knowledge of the sport.
Hundreds audition for each team every year, but only a fraction are hired. For the Redskins, about 350 usually apply, says Jojokian, though only 40 to 43 make the grade. This past season the Boston Celtics also saw about 350 dancers, though the dance team has only 17 members, notes Marina Ortega, director of the Celtics' dancers. Lisa Estrada, director of game operations and entertainment for the Los Angeles Lakers, says as many as 600 dancers auditioned this year, with 22 making the cut. Furthermore, dancers in the National Football League and the National Basketball Association are required to re-audition each year.
Pirouettes at Center Court
Most dancers are in their early or mid-20s; some teams require a minimum age of 18, while for others it's 21. Heights and body types vary, though for the most part the women are fit, trim, and athletic. "We like fresh faces, the 'It Girl,' " says Michelle Duggan, coach and choreographer for the Indiana Pacers' Pacemates. "We like a cute look and a lot of personality."
Ethnic diversity is welcomed, but the interviewees say that for many teams, few minority women apply. The dance style is generally an amalgam of Broadway musical, jazz, hip-hop, and even ballet. "Our dancers are technically trained and are able to do leg extensions, pirouettes, and fouette turns," says Teresa Shear, director of the cheerleaders and game-day entertainment for the Denver Broncos. "Some of the women have gymnastic backgrounds."
Kimberlee Garris, entertainment manager of the Nets, says that because they are a New York team—and thus close to Broadway—the emphasis is on dance as opposed to cheerleading, pompoms, and sideline work. Whatever the dance style, "it has to look easy," says Jojokian.
All the dance directors maintain that the routines have become increasingly technical and the choreography more sophisticated over the years. The major difference between NFL and NBA dancing is that NBA dancers work on the hard surface of the court, which allows them to do floor work, unlike NFL dancers, who perform on grass or artificial turf. "It's not basketball versus football dancing," says Karen Kovac, director of the Oakland Raiders' Raiderettes and game-day entertainment, meaning that most of the dancers have been lifelong fans of either basketball or football and are usually drawn to a team's name and prestige, not the particular type of dancing involved.
The auditions, which usually take place in the spring, are not unlike the auditions for a Broadway musical. A combination is taught, and the dancers move across the floor in groups of three and four, at which point certain group members are cut. More routines and more cuts follow. Callbacks may go on for several days or weeks. Some teams provide pre-training for aspiring dancers, and Back Stage routinely lists auditions.
Long, Long Days
Dancing on a sports team is a part-time gig but a full-time commitment. Constant juggling is required, and some activities have to be put on the back burner. During the season, dancers attend two to three practices a week, each of which may run three hours. Many of the women spend hours in their cars commuting to and from practice and are expected to master and memorize between 30 and 50 routines.
"We get to the stadium four hours before each game," says Kate Anderson, a dancer with the St. Louis Rams. "We go out to the field and run through the routines for a one-hour practice. After that, we do our hair and makeup. We then go back onto the field an hour before the game to sign autographs. During the game we do four entire routines, two in each half. During the game, whenever the music begins, we'll do one of our mini-routines on the sidelines."
According to Anderson, at the beginning of each season the dancers spend a long weekend with a choreographer, who is flown in from Los Angeles to teach the new routines. "It's go, go, go," she says. "These are high-intensity, long days." Midway through the season the dancers may learn a new set of routines, and throughout the season they work with a trainer, who puts them through their paces, which may include running and strength training.
Maintaining a fit body is a must—not only for the dance requirements but for the revealing costumes. Asked if the outfits have ever been an issue, the dancers say no. "You know going in that you're going to be required to wear them," says Anderson. "I'm comfortable with my body, so I had no reservations about the costumes." Many of the dancers talk about the beauty of the costumes and how they are customized for each woman. One of the dancers, however, recalls the top clasp of her halter breaking off at the end of a routine. She says she was able to grab it before too much flesh was exposed and is grateful the mishap did not occur at the start of the number.
For the most part, the dancers say they have not encountered aggressive fans, stalkers, or even inappropriate comments. Relations with the players are courteous but professional. Indeed, the NFL's contract prohibits dancers and players from fraternizing. Every effort is made to maintain the dancers' dignity and privacy.
Still, Jessica R., an Indiana Pacers dancer, says her teammates do not use last names, in order to protect their anonymity. Washington Redskins dancers are similarly known only by first name, says Tequia, who works on Capitol Hill for a senator, who also remains nameless.
Dancing Into the Future
All the women believe that the experience of performing with a sports dance team will help them in their careers. Iannelli's long-term goal is to dance on TV shows and in music videos and to one day "open my own dance studio to share with others what I know." Lincoln also toys with the idea of opening a dance school, but her ultimate dream is to be a Radio City Music Hall Rockette.
Jessica R. says her three years with the team have taught her levels of responsibility and accountability, not to mention "people skills," that will always have application in her life and at her job with an insurance company. "We're in touch with the fans, and we have to be able to talk to them and carry on a conversation," she says. "I'm not outgoing, but I've grown in that respect."
Tiphanie McNiff, an Oakland Raiders Raiderette who hopes to be a TV journalist, agrees: "Talking to so many people has been good training for many situations I might encounter. It's made me a better spokesperson." As a Raiderette, she's also had the opportunity to travel to Iraq to perform for the troops, an experience she found "inspiring."
Anderson talks about the joy of representing her team in Afghanistan, where she and other dancers entertained the troops, and participating in charity outreach events, which she loves. Currently an account executive with a major public-relations firm in St. Louis, she says her 9-to-5 career is on track. So is her dance career. "Right now, I'm doing what I love, dancing at a high professional level," she says. "And I'm sharing it with an amazing group of women. This is living my dream."