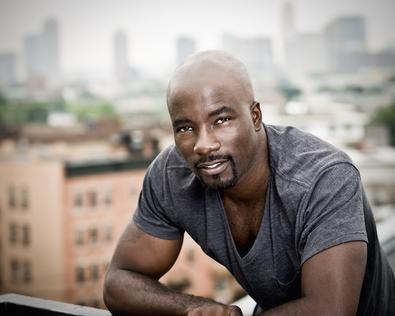 Most recognizable as the menacing drug dealer Lemond Bishop on CBS' "The Good Wife," Mike Colter's career is on the up and up. His credits span films such as "Million Dollar Baby," "Salt," and "Zero Dark Thirty," to television shows including three different "Law & Order's," "American Horror Story," and "The Following."
It's just the beginning for the Meisner-trained Rutgers University graduate. Colter is also the face of "Halo: Nightfall," in which he plays Agent Jameson Locke in the live-action digital series from XBOX One.
A working actor for well over a decade, Colter chats with Backstage about how he approaches his complex "Good Wife" character, the methodical approach by which he conducts his career, and advice for his fellow performers.
On his interpretation of Lemond Bishop.
When Colter first learned he'd be playing a drug dealer on "The Good Wife," he knew he'd want to find a way to elevate and complicate his character. "The challenge in playing somebody that has people killed, or supposedly allegedly has people killed…there's always the danger in flipping to the undesirable or the bad guy who comes in or scares everybody," he says, noting he never interpreted Lemond as a "scary character," per se.
"It's always tongue-in-cheek, just a wink of the eye with him. It's just a little bit of this and a little bit of that. So I don't think he takes himself as seriously, but he does take advantage of the fact that people do fear him and he likes to have that in his pocket. He uses that when it comes to negotiations and talking to people and manipulating people," he adds.
On his approach for Bishop.
Being one of the most formidable (and best dressed) characters on "The Good Wife" might look easy, thanks to Colter, but his approach isn't as simple as you'd think. "I felt like what would work well would be to approach this character as a professional—as someone who was a white collar guy, a guy who was in the business world, who functioned on a higher level to a degree in which when you saw him you didn't immediately think, 'drug dealer,' " the South Carolina-born actor says.
"I thought a bit of sophistication, of worldliness, a bit of culture and class would suit him well, so I would try and remember that whenever I'm thinking about the character. I just basically approached him like a banker, like a guy who wanted to function within the world of legitimate business and not be attached to a world of crime.
"I think Lemond Bishop himself is playing a character," he adds. "He's always playing a character in which he wants people to feel some way about him. He's aware of how people see him and I think the first time we saw him, he mentioned to Alicia (Julianna Margulies) and Kalinda (Archie Panjabi) that people assume certain things about him cause he's black, and he did that because he wanted them to understand that he understands how they see him and to keep them off balance. I feel like that's the key of his character, always being aware of how people view him."
On what he's taken away from his experience on the show thus far.
"It's always nice to find good writing, and I think that's what excites me as an artist," Colter says. "So when you find material that works, and you feel like you have a good feel for, and it just clicks with the audience, and people receive it well, [that's] just a nice place to be and you have to enjoy those moments in the business because it's not always the case.
"As artists, we are so not in control most of the time of the content or the narrative of our characters, and sometimes writing takes a turn and it's not something we necessarily have control over.
"It's just a lot of random dumb luck so when things click you've just got to enjoy it," he adds.
On his role in "Halo: Nightfall."
Based on the popular "Halo" game franchise, "Nightfall" is a live-action digital series which provides a backstory for his character Agent Jameson Locke, an ONI (Office of Naval Intelligence) soldier. The series was shot as a feature film, according to Colter, but it's the distribution that makes it distinct.
"It's being brought to you through your home entertainment system, which is in this case is Xbox One," he says of the episodes that premiered on Nov. 11.
One struggle in particular for Colter was trying to preserve the existing world and culture of the "Halo" games. "The legend of the game, we had to try to stay true to that because fans of 'Halo' are very keen to if you're doing things or saying things in the script that don't make sense to them.
"It's an action film that takes off as soon as you start watching it, and we're all on a journey from one planet to the next. There are aliens, there are threats to mankind, and it's really intense. I watched the first two episodes and I think it turned out well, and I think it's something that 'Halo' fans will be really happy with," he says.
On his training.
For Colter, it was important to train methodically and approach his career the best way he knew how. After studying Meisner under William Esper and Maggie Flanigan, Colter emerged at age 25 with his master's degree, which led to a showcase, which awarded him the opportunity of securing an agent—and though it wasn't an easy process, Colter wouldn't have done it any other way.
"It's a long, arduous process, but I thought, Let me have a little more of a methodical approach 'cause I've seen a lot of people try that and go out to L.A. and go out to New York and say, 'I'm just gonna pound the pavement,' and that's a long shot. I thought, It's already a long shot no matter how you approach it, so I wanted to do a fundamentally sound approach and that would set me up for success," he says of the tactics that have kept him working since he graduated.
On his advice for actors.
"When you're acting it's all about you and the person in front of you, and I think in life we forget to apply the same technique and we get caught up in the panic of what we're trying to do—how overwhelmingly daunting the task of trying to become an actor is. So I think the main thing for actors is to try and focus, try not to panic, not to get frustrated, and not to miss out on what's in front of them because sometimes success is really what you make of it," Colter says.
Inspired by this post? Check out our audition listings!