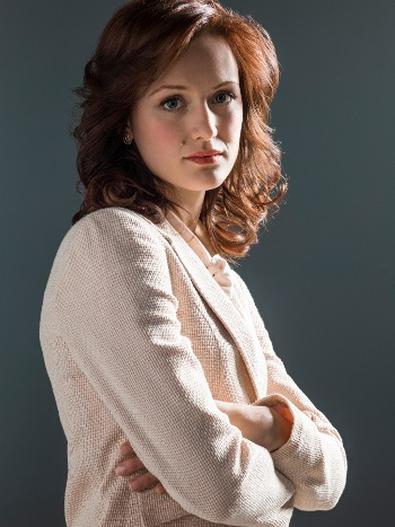 Kerry Bishé can't get away from Scoot McNairy. After playing his wife in "Argo," she's again stealing scenes as his better half, Donna, on AMC's "Halt and Catch Fire," the drama about computer programmers in the Silicon Prairie of 1980s Texas.
On handling the jargon.
"David Mamet has some acting theory books and one of the things he says is, 'You should be able to say any line of dialogue, whether it's medical technical stuff or legalese, if you know your intention and what you're trying to do.' And that's the way I think about the technical jargon stuff, that there's always some human purpose behind it."
On the humans behind the machines.
"My brother is a biochemist and introduced me to a computer engineer, and I tried so hard to wrap my head around this stuff and ultimately gave myself a migraine. [But] it's not really my job to understand how computers work. It's my job to know how people work who know how computers work."
On her multidimensional character.
"I think it's really rare to see women on television who are brilliant, selfish, vain, fallible—and I feel like I have all those capacities in myself, so it's good to see people in the media representing all of those things. And to get to play that breadth of traits is a real challenge and a thrill. This really is my dream job!"
On the early controversy over how the female characters were perceived as cardboard.
"People were reluctant to get on board because they'd only seen one episode. I really hope people are still watching because I think Donna and Cameron [played by Mackenzie Davis] explore some more nuanced territory."
On filming in Atlanta.
"There were some really great things to go exploring. And this was a blessing in disguise; none of us are from there, so we really got to devote our time to the work. We'd meet on Sundays and go over all the work for the coming week. We'd really hash it out, what our characters are doing, what they want. And that would never have happened if we shot in New York or L.A."
Inspired by this post? Check out our audition listings!