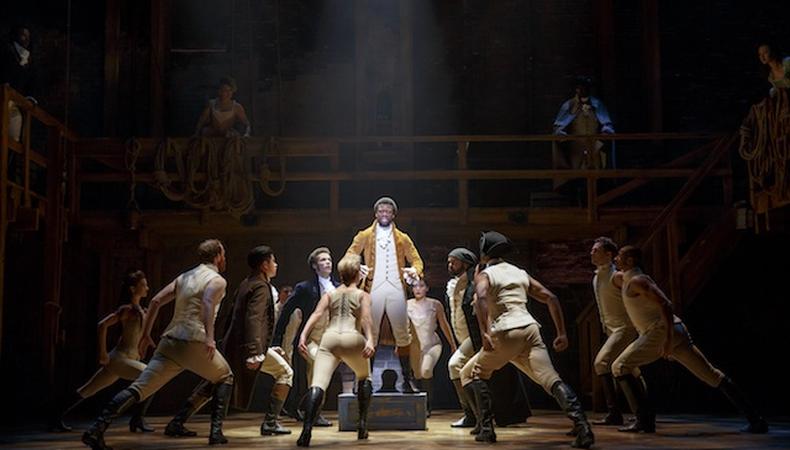 Michael Luwoye made a name for himself on the New York boards after making Broadway history by playing both leads of Lin-Manuel Miranda's "Hamilton" in the same day. As alternate to the titular Alexander and the understudy to Aaron Burr, he once played the former at a matinee performance and then took on the latter just a few hours later! Despite clearly showcasing the chops to take on "Hamilton" full-time, Luwoye admits he was hesitant to star as Alexander in the production's national tour, which is currently in the middle of its Los Angeles run.
"I thought it would be such a big challenge, but that is the best fear you can have when doing a show," he says. Once the opportunity knocked, he decided to channel his nerves into motivation. "That fear started to become an intriguing quality," he adds.
Luwoye took a break from his packed performance schedule to speak with Backstage about his personal audition advice and his warm-up routine—and it involves blasting Metallica in his dressing room.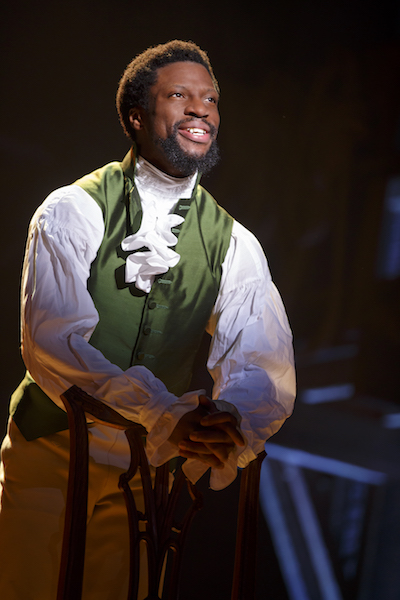 Can you recall the moment you found out you'd be taking over the role of Hamilton for the tour?
My agent was asking me how interested would I be if I were offered the tour. At that moment, I had a pretty big aversion to leaving the Broadway company because I had gotten used to doing the show there. I asked if I could have some time to think about it. I thought it would be such a big challenge. It would be the first time I was coming to these big cities, and there's a fear of getting to these places and feeling overwhelmed and not being able to adequately tell the story I was doing in New York. But that fear is the best fear you can have when you're doing a show. I asked myself if I could do this story seven times a week moving place to place in different atmospheres and cultures, [and] that fear started to become an intriguing quality, and it's something I thought I would benefit from greatly.
How do you prepare for a performance?
I warm up my voice throughout the day, as the show is very vocally demanding, and I want to make sure I'm prepared for that. I do lip trills and scales. People think this is odd, but it's actually very helpful: doing scales through a coffee straw. It helps to focus your voice so you're not putting so much pressure on your vocal cords. I drink tea. And I listen to metal, like Metallica, beforehand. I put the volume all the way up, so when the crowd reacts, or there are any loud noises during the show, it doesn't come as a surprise or shock to me. At the theater, I do a physical warm-up and then 30 minutes before, I turn to classical music, like Mozart. Then I just breathe and meditate a bit.
How do you keep energized through a demanding week of performances?
I look at the way I spend my energy with the show like a bank account. I know I can't spend too much of it, then I won't have enough in my account for the show. During the day, it's easy. I'll exercise, read, write, watch TV, play video games, do things that are quiet. It's recovery time. The limited activity helps me to spend as much as I can or need for the three hours of a show, or six hours on two-show days. It's a conservation of energy and knowing how to perform effectively to tell a story and do the same quality show every night over and over again. There is a pleasure in that because you know how much people want to see the show, and you want to give the best quality you can every single time. You have to be smart about how you're taking care of yourself.
What audition advice would you give actors?
I had an insecurity that was bothering me so much. It would be a regular audition, but the phenomenon of "Hamilton"leaked into my preparation. I felt I couldn't mess up and felt I had to be perfect for people in the room. If you do something less than perfect, you'll berate yourself more so than you need to. You walk away feeling guilty or shameful. Instead, you have to be willing to make mistakes in front of the people you hope to work for, whether you get the job or not. Learn how to fail and be comfortable with the way you fail in front of people you hold high. That's how you make better choices. If they can't see you mess up, then you can't really comfortably work for them. That's part of the process to get to the performance stage.
What was your most memorable survival job?
I only had one job in New York. I tried so many different things, and one hired me. It was catering. It was always interesting to see how people coming to the event you were catering would treat you. They had no idea who you were, the life you have outside of catering. Now, I empathize with anybody who's in catering because I know what people are going through. They're more than just that.
What advice would you give your younger self?
Realize that, as polished as everybody seems to be, everybody poops. [Laughs]Coming into theater was something I never planned to do. I didn't feel ready and felt I didn't belong in the space, and that made me feel a certain way, like I didn't know enough. When I got into "Hamilton"and the tour, I saw the way people with a level of skill would [second] guess, have anxiety, or be frustrated or worried about something. The reality is we don't really have everything together all the time. Nobody doesn't poop. Anyone can be so amazing, but after a couple meals, you're going to have to go to the toilet. I do that, you do that, all people do that. Everybody has insecurities and worries, and everybody feels like they're not enough at some point. I wish I had trained that muscle early on.
Want more? Check out Backstage's Los Angeles audition listings!