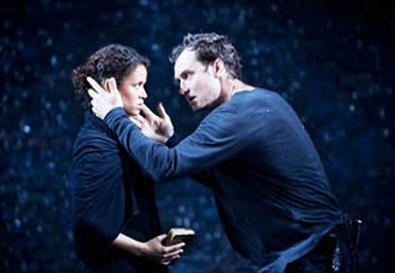 The Donmar Warehouse production of "Hamlet" opens with a spotlight on Jude Law, crouching and anguished in darkness. It's a striking image, created by Neil Austin's imaginative lighting and enhanced by the haunting music of Adam Cork. Unfortunately, it's also a metaphor for Michael Grandage's unbalanced staging: a brilliant star surrounded by bleak nothingness. While Law gives a muscular, intelligent performance in the most challenging role in world literature, the supporting cast and the director's concept barely register.
That's a shame, because Law is a Hamlet to remember, bringing exciting physical life to each line and gesture. This dynamic film star proves he's more than just a pretty face as he invests Hamlet's quest for revenge with an intellectual vigor and an athletic attack.
The actor playing Hamlet is unquestionably the most important element in any production of Shakespeare's greatest play, but if the performers surrounding him are not on his level, it won't be as great as it can be. Gugu Mbatha-Raw is a doll-like Ophelia. Ron Cook gets some easy laughs as Polonius and the Gravedigger but doesn't dig much deeper. Kevin R. McNally is a nonthreatening Claudius. Geraldine James is a cool and reserved Gertrude, showing sparks of life only late in the play when she subtly conveys that the queen suspects Claudius' role in the death of her first husband. Matt Ryan's Horatio and Gwilym Lee's Laertes have speed and volume but not much else. Peter Eyre appears just tired as the Ghost and pompous as the Player King.
Whether Grandage made a conscious decision to dial back the intensity of these performers in order to allow Law to shine more brightly is beyond the discernment of a critic, but, intentional or not, these are the unfortunate results. In addition, there is no sense of the political situation at the Court of Elsinore. The murder of Hamlet's father, the ascension of Claudius, and the advancing military campaign of Fortinbras seem as important as an announcement of the night's entertainment on a cruise ship. It's as if Hamlet exists in a vacuum. With no strong context, the hero's conflict and subsequent tragic death have less impact.
Grandage doesn't seem to have much of a concept beyond setting the play in set designer Christopher Oram's prisonlike palace, with huge gates occasionally opened for Hamlet's soliloquies. For some reason, "To be or not to be" is spoken during a gentle snowfall and "What a piece of work is man" in bright sunshine. In another strange choice, Oram, who also designed the costumes, has dressed everyone in black. How can Hamlet's mourning attire stand out, as Shakespeare indicates, if the entire court is wearing the same shade?
Austin's lighting helps quite a lot to set the mood, but apart from Law's riveting performance, there's not much worth focusing on.
The Donmar Warehouse production presented by Arielle Tepper Madover, the Donmar Warehouse, Matthew Byam Shaw, Scott W. Delman, Stephanie P. McClelland, Neal Street Productions/Carl Moellenberg, Ruth Hendel/Barbara Whitman, and Philip Morgaman/Frankie J. Grande at the Broadhurst Theatre, 235 W. 44th St., NYC. Oct. 6–Dec. 6. Tue., 7 p.m.; Wed.–Fri., 7:30 p.m.; Wed. and Sat., 2 p.m.; Sat., 8 p.m.; Sun., 3 p.m. (212) 239-6200 or www.telecharge.com. Casting by Anne McNulty.