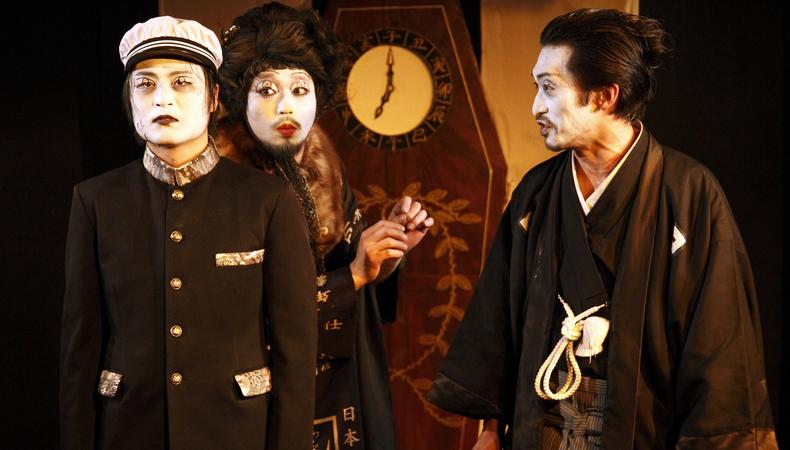 What is "Hanafuda Denki"? The title alone, referring to a traditional Japanese card game, makes one worry that this import fromTokyo's Ryuzanji Company will get lost in translation. But despite some puzzling references and a heavy reliance on supertitles, the ebullient spirit of the cast carries viewers away on a fantastical trip through the world of the dead.
Japanese avant-garde playwright Shuji Terayama premiered this loose adaptation of Bertolt Brecht's "The Threepenny Opera" in 1967, transporting it to a funeral parlor inTokyoduring World War I. The result is a madcap mixture of Japanese ghost stories andWeimarcabaret; musical styles run the gamut from J-pop to jazz, all delivered with the same devil-may-care enthusiasm. With spectacularly outfitted cast members constantly swirling about the stage, director Saori Aoki creates a pleasingly controlled chaos. The players perform a seemingly impossible balancing act, remaining completely committed while winking at the audience, bringing them in on the fun.
Presented by Ryuzanji Company as part of the New York International Fringe Festival atHereArtsCenter,145 Sixth Ave., NYC. Aug. 21–26. Remaining performances: Fri., Aug . 24, 7 p.m.; Sat., Aug. 25, noon; Sun., Aug. 26, 2 p.m. (866) 468-7619 or www.fringenyc.org.
Critic's score: A-