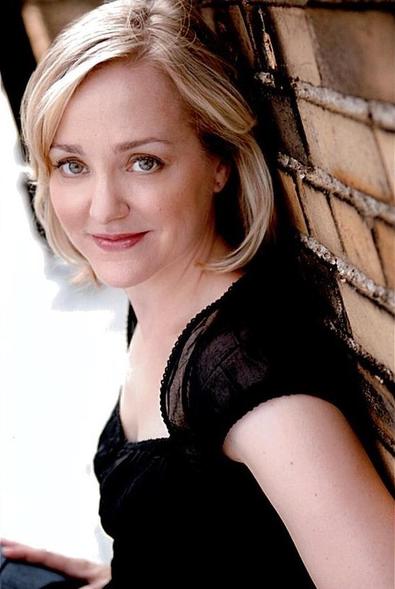 Up until the moment she saw Suzanne Shepherd onstage in an Ensemble Studio Theatre show, Geneva Carr was a banker. "It was definitely drastic," she says of her on-the-spot decision to become an actor in her late 20s. "The show just rang so true to me and I thought, What am I doing?
"Luckily I was too naive to know how hard it was going to be," she jokes.
Not long afterward, though, she snagged her Equity card by staging a one-night-only production of "Speed-the-Plow" and promptly joined SAG. "I think it was the universe saying, 'You're doing the right thing.' "
The universe has certainly rewarded Carr's 20 years of hard work with the announcement of her 2015 Tony Award nomination for best leading actress in a play—alongside acting titans Helen Mirren, Elisabeth Moss, Carey Mulligan, and Ruth Wilson, no less. In Robert Askins' demonically dark comedy "Hand to God," Carr plays a mother running a Christian puppet ministry whose repression bursts forth in shocking ways. In a category full of big-name star turns, hers is one can't-miss performance of the season.
In the midst of all the fervor accompanying the Tonys—"I already have a dress!" she exclaims—Carr offers Backstage readers thoughts on building a character, making career choices, and the power of persevering.
On booking work through Backstage.
"I'm thrilled to talk to you guys," says Carr right off the bat, "because Backstage has been really good to me! I was making a living acting before I got my first and only agent. The first thing I say when someone says they want to be an actor is, 'Go get Backstage.' You know what's going on, you know who's doing what, and there's work that you can find in there. It's an incredible resource and there's nothing else like it."
On the first "Hand to God" cold-reading.
In 2011 Askins wrote a first draft with Carr and Steven Boyer in mind as a troubled mother and son; when they sat down to read the play cold, there was an immediate synergy between actor and character.
"Good writing is when you know who that person is immediately," she says. "I know exactly who Margery is and I connected immediately. The way Rob writes, it's such visceral writing, and it's not campy or silly; it's funny because it's so true.... Just when you think your heart might break, he makes you laugh so hard. You're at a raw place where he can catch you. It's not calculated, it's so felt."
On the evolution of the play, Margery, and herself.
When you stick with a team of collaborators so intimately for almost four years, Carr says, you track changes big and small in your portrayal. "I think Margery was nicer in the beginning. I was afraid to go as dark as she's gotten now. Working with Rob has allowed me to understand there's a real freedom in expressing the deep anger and disappointment I have. I'm a Southern girl and I like to put a good face on everything. But Margery has allowed me to scream out; I've let out a rage I did not even know I had inside of me.
"This is our fourth production, and every time the fights have been completely different." When Margery finally confronts Timothy, her besotted student, the scene devolves from hysteria to violence to sex—a mixture of racy comedy and real danger that has audiences howling with alarmed laughter. "It's what we're feeling in the moment," says Carr of the fight. "I'd say it was sexier and more graphic Off-Broadway, and more violent on Broadway—and scarier. I mean, you don't know if he's going to kill me when he chokes me.
"Every day I do the show, I learn something new about Margery. [Director] Moritz von Stuelpnagel said to me at one point, 'I think I'm finally getting this show.' We are playing it like it's tragedy; Moritz will cut a laugh if it doesn't add to the story. The circumstances are funny but we're never playing for a laugh."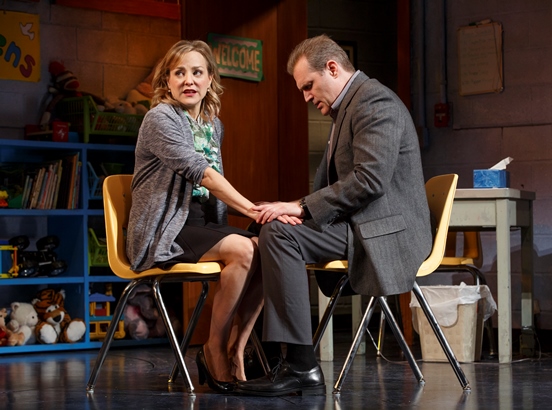 Geneva Carr and Marc Kudisch in 'Hand to God.' Photo by Joan Marcus.
On how bodies express emotion.
Margery and Timothy's fight also reveals a crucial theme in Askins' story: Bottled emotion can rear its head in explosive, unexpected ways. As Carr points out, "In the beginning of the play I don't think there's even a vague attraction to sullen, lazy Timothy—he's just a problem student. He gets me so angry and that's when it becomes sexual, because I didn't know how good it would feel to express how fucking angry I am."
The audience inevitably realizes their sadistic foreplay is a manifestation of Margery's grieving for her late husband. "That's mourning. You don't know how it's going to affect you." The dissonance associated with intense emotions reminds Carr of her mother's funeral decades ago. "I remember I got tickled," she admits. "The priest mispronounced her name and for some reason I laughed until I was shaking. And I was so embarrassed, but I think I couldn't express how deeply sad I was and my body took over."
On doing only what excites you.
Having played the mom in several family-oriented AT&T commercials, Carr advises against looking down on certain jobs as just a way to make money. Instead, actors should follow their passions. "Commercials are art, too; they're 30-second movies starring people like me. If you look down on the medium, you're never going to book. If you don't love it, do not bother. Find another job you like."
Look where that attitude got Carr: "mentioned in the same breath as Helen Mirren," as she puts it. "I gave three and a half years of my life to this play, never because I thought I would be on Broadway or thought I would make money." Sticking with "Hand to God" often left her broke, she says, but "you just do it because you absolutely have to. And then of course moving onto MCC was a shock, and moving onto Broadway is beyond a shock.
"So that's the first thing you should ask yourself; if you don't love it, do something else."
On never giving up hope, at any age.
In her 20 years of performing, Carr admits there have been moments of doubt—moments that are part of the job description for actors of any age. "Don't give up hope," she says. "I've been doing this a long time, and I'm listed up there with some of the best, most respected, amazing actresses in this business, across the pond and here. Do not believe you're too old, do not believe it's too late—I started late, I was almost 30. I wish I could have told myself in those dark moments, when I was tired of one last table to wait on. I'm living the dream! I just want to tell actors and writers it's never too late and it can happen when you least expect it."
Inspired by this post? Check out our Broadway audition listings!