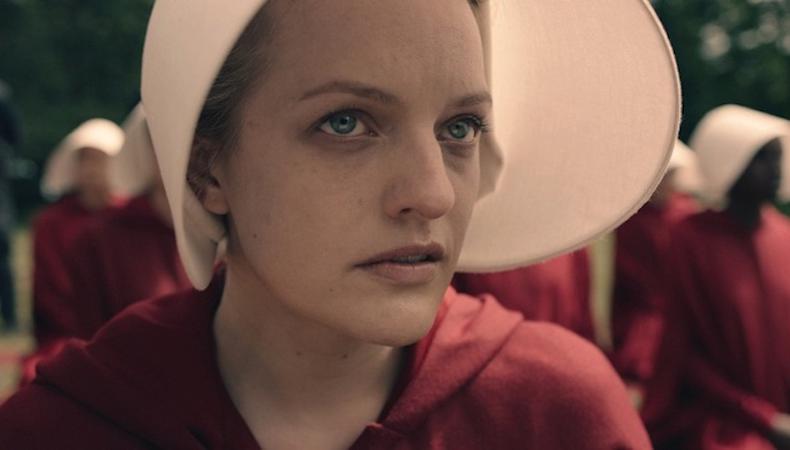 Three decades later, Margaret Atwood's 1985 novel "The Handmaid's Tale" remains depressingly urgent. To be fair, the eerie dystopian world the Canadian author created, wherein the United States has become a military theocracy that uses women's bodies as nothing more than breeding vehicles, has never quite lost its political punch.
For producer and showrunner Bruce Miller, who was tasked with translating the beloved classic into a Hulu original series, that enduring topicality is what's most remarkable about Atwood's tale. "It is so timely no matter when someone talks about it. It never goes out of style," he says. "It just always has a slot in the discussion."
Leading this television adaptation is Elisabeth Moss as Offred, the eponymous handmaid whose story we follow. It is through her eyes that we enter the world of the Republic of Gilead; Offred plays both guide and witness while dressed in the signature handmaid's uniform: all red—"the color of blood, which defines us," the novel reads—except for white, nun-like wings, which are "to keep us from seeing, but also from being seen." Viewers learn about this sinister world alongside Offred, privy only to what she can ascertain as she fulfills her one job in the house of the Commander (played by Joseph Fiennes): bearing his child.
READ: Elisabeth Moss Finds Her 10
"It definitely is an exercise in point of view," Miller says. "One of the things that I loved about the book was that you felt you were in Offred's point of view for good and bad. She didn't know what was happening outside of her own purview. The world was very opaque, [and] that's what made it scary."
Even as we get flashbacks to Offred's life before she came to live with the Commander, with glimpses of her with her loving husband, Luke (O.T. Fagbenle), and college friend Moira (Samira Wiley), much of the show's drama rests squarely in the cruel mundanity of being a handmaid. Miller says he's blessed to have Moss as his leading lady. Giving a quietly powerful performance, the "Mad Men" star is beguiling, capturing the tension between Offred's wide-eyed curiosity and her keen survival instincts.
"There are times where Lizzy [Moss] works every single scene," Miller recalls. "Almost every single shot. It's insanity! Just the amount of work that Lizzy has got to do in this show is kind of Herculean." Surrounding Moss is a superb ensemble cast rounded out by Ann Dowd, Alexis Bledel, Max Minghella, and Yvonne Strahovski.
Working with such a cherished property also posed some challenges, especially when it came to diversifying his casting choices. The world Atwood envisioned was a white nationalist one, in which African-Americans have been resettled to the Midwest. But the mere idea of casting an all-white ensemble for this adaptation didn't sit well with Miller.
"Honestly, when you're reading that this is an all-white world and when you're seeing an all-white world, it's a very different experience. I didn't want to just tell the story of what was happening to the white people when Gilead took over. O.T., Samira, and Max were astonishing—the idea to not even consider people who were not white just felt like not the way that we do things nowadays. You would miss out on all these spectacular talents."
Wiley, in particular, blew him away during her audition, offering a Moira that was quite different from the one in the book. For that, she was an all the more exciting choice. In her casting and others, Miller says he looks for someone who brings something different and unexpected to the audition room.
"I want to bring [on] someone who's going to scare me a little—someone who's going to do something different than what I would've imagined."
Want to star in the next buzzy book adaptation? Check out our TV audition listings!