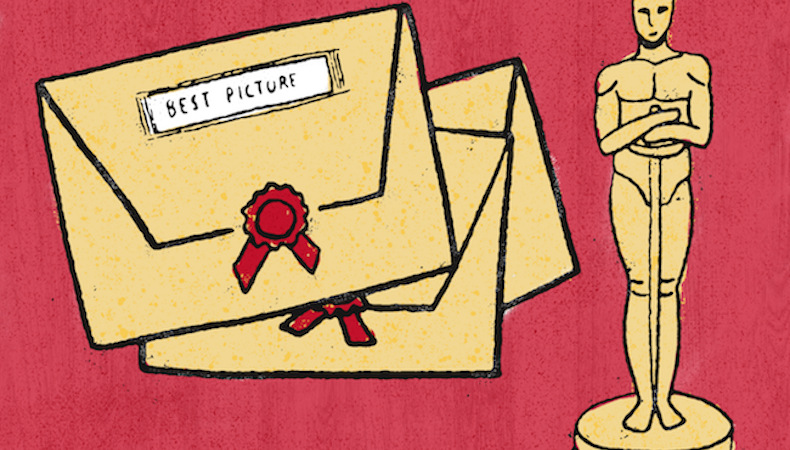 And the 2018 Oscar nominees are...20 extraordinarily talented film performers! In a thrilling and varied year for prestige filmmaking, the actors recognized for the industry's top honor played paupers and princes, ice skaters and merciless mothers. Eight can now call themselves Academy Award nominees for the first time, while one has shattered her own record for the most nods ever.
Who will take home the gold? The Academy's voting is taking place through Feb. 27. Decide for yourself by browsing our official Oscar-nominated actors' voting guide.
Best Actress in a Leading Role

Sally Hawkins, "The Shape of Water" (2nd nomination)
Considering the heightened reality of Guillermo del Toro's latest film universe, a lesser actor might have opted for a physical grandiloquence in playing a mute laboratory maintenance woman. But Hawkins crafts the inner complexities of an irrepressibly romantic character with increasingly fine-pointed strokes, making us believe—and root for—Elisa's desperate love for a half-fish, half-man (just one of the many challenges this fearless leading lady faces).
Frances McDormand, "Three Billboards Outside Ebbing, Missouri" (5th nomination – 1 win)
In Martin McDonagh's portrait of a sleepy Missouri town, McDormand gives the year's most heartbreaking (and foul-mouthed) performance as the grieving mother of a girl whose killer has yet to be found. Disrupting the status quo by calling out the inadequacy of Ebbing's police in those titular billboards, her Mildred is single-minded in her need for justice, a volcano forever on the verge of erupting.
Margot Robbie, "I, Tonya" (1st nomination)
Robbie has already proven herself as one of our strongest and most compelling working actors, but her portrayal of Tonya Harding in "I, Tonya" is both physically and emotionally muscular, undoubtedly her most triumphant work yet. It's such a bold performance, we'll never see the notorious Olympic skater in the same way.
Saoirse Ronan, "Lady Bird" (3rd nomination)
Ronan, as high school senior Lady Bird, solidifies her reputation as one of Hollywood's most versatile and empathetic performers, channeling Greta Gerwig's quasiautobiographical whimsy into a darkly funny rebellion without a cause. (And that pink arm cast and mediocre dye job remain the year's most memorable look.)
Meryl Streep, "The Post" (21st nomination – 3 wins)
At this point in her awards-pillaging career, part of Streep's appeal is her ability to continue to surprise. Her latest example of psychologically committed, full-bodied transformation is her portrayal of Washington Post publisher Kay Graham, whose decision to publish the Pentagon Papers may be the year's most edge-of-your-seat moment thanks to the Oscar nominations record holder.
Best Actor in a Leading Role
Timothée Chalamet, "Call Me by Your Name" (1st nomination)
What a breakthrough year it's been for this screen wunderkind. Small roles in "Lady Bird" and "Hostiles" aside, Chalamet's name is on everyone's lips for his stunning turn in Luca Guadagnino's symphony of a gay romance. Carrying the film by channeling all its sophistication, warmth, and slow-burning confusion, Chalamet has given us a coming-of-age story for the ages.
Daniel Day-Lewis, "Phantom Thread" (6th nomination – 3 wins)
In what is rumored to be his final film role, Day-Lewis' performance is predictably exquisite under Paul Thomas Anderson's direction, after their pairing for 2007's "There Will Be Blood." His dressmaking virtuoso Reynolds Woodcock zooms around the screen like an animate knife; the actor delves deep into a character who, from the twitch of a hem with his work-roughened fingers to the petulant chomp of an asparagus spear, is essentially a giant man-baby—albeit a complexing and endearing one.
Daniel Kaluuya, "Get Out" (1st nomination)
Watching Kaluuya's Chris observe and finally piece together what's going on in this daring horror film remains one of the dramatic highlights of the year. The craftsman executes horror tropes with aplomb, all while tapping into Jordan Peele's shrewd social commentary. Genre filmmakers will study this instant classic for years to come, while horror actors will look to Kaluuya's undeniable skill.
Gary Oldman, "Darkest Hour" (2nd nomination)
Oldman has always been a transformative actor, but his portrayal of Winston Churchill is a next-level master class in how to present real figures of history in new and unexpected ways. Joe Wright's film charts the best speeches that Churchill gave leading to the U.K.'s foray into World War II (some of the best speeches ever given, period), and Oldman bites into them and chews forcibly.
Denzel Washington, "Roman J. Israel, Esq." (8th nomination – 2 wins)
An old-school activist attorney, likely with savant syndrome, in the midst of an existential crisis reconciling real-world practicality with far-reaching legal philosophy? Sounds like a character only Washington could capably wrangle. Roman J. Israel, with his goofy suits and headphones and that insisted-upon title of respect, is Washington's least likely leading role. That's exactly why it's one of his best.
Best Actress in a Supporting Role
Mary J. Blige, "Mudbound" (1st nomination)
Anyone familiar with her music knows Blige is a discerning artist (she made history this year by being the first person nominated for acting and original song in the same year). But that doesn't prepare us for her astutely nuanced performance in Dee Rees' World War II epic. As matriarch Florence Jackson, she makes what veteran actors know is often the best choice: quiet stillness. Rather than swinging for the fences, the magnetic Blige draws us modestly yet movingly into her character's inner life.
Allison Janney, "I, Tonya" (1st nomination)
Portraying the ribald, abusive mother of the titular Olympic skater, Janney sticks a landing that could see her taking home gold herself. The TV legend has received the best big-screen buzz of her career, and it's a juicy role that's drawn comparisons to past supporting actress winners Mo'Nique in "Precious" and Melissa Leo in "The Fighter."
Lesley Manville, "Phantom Thread" (1st nomination)
"Don't pick a fight with me; you certainly won't come out alive." So sayeth Cyril Woodcock, business partner and sister to London's most fastidious dress designer. It's a scene of utmost quiet and a line delivery of ultimate restraint, yet Manville positively steamrolls her co-star Day-Lewis. They say that less is more. Watching Manville's implacable iciness, it seems less is delightfully monstrous.
Laurie Metcalf, "Lady Bird" (1st nomination)
As a "warm but scary" mother struggling to make ends meet and appreciate—as well as love—her daughter, Metcalf provides this story with both its familiarity and its idiosyncrasy. Her comic yet devastating tour de force confirms what stage and TV audiences have known for years: Metcalf is a master. Her final, silent scene is delivered so brilliantly, it feels tailor-made for awards.
Octavia Spencer, "The Shape of Water" (3rd nomination – 1 win)
In addition to turning in consistently wonderful performances, Spencer continues to prove she has excellent taste in cinema. As Zelda, co-worker and protective friend of Hawkins' Elisa, she gives the ideal supporting performance, quietly letting her co-stars shine until the story needs her to seize the spotlight. And when she does, Spencer is magnificent.
Best Actor in a Supporting Role
Willem Dafoe, "The Florida Project" (3rd nomination)
Best known perhaps for his zany or malevolent characters, Dafoe surprises here by leaning into an everyman sort of naturalness. His exasperated but tenderhearted hotel manager, Bobby, is one of the most memorable performances of the year simply because of its—and writer-director Sean Baker's—understated, immense humanity.
Woody Harrelson, "Three Billboards Outside Ebbing, Missouri" (3rd nomination)
Harrelson has a tendency to turn his particular form of charisma into a kind of trap he springs for audiences: He looks and acts like a goofball before revealing hidden layers of tender humanity. Here, he comes off at first as a portrait of incompetence as Sheriff Bill Willoughby, accused of doing nothing to investigate his small town's murder, only to back up his tough-guy persona with genuine warmth.
Richard Jenkins, "The Shape of Water" (2nd nomination)
Jenkins has never been more empathetic than as closeted illustrator Giles, whose friendship and charm provide his neighbor with an oasis of much-needed kindness; he and Hawkins blossom in each other's company. Bumbling, chatty, and emanating heartache, Giles is an all-too-familiar outsider figure in a tale full of them.
Christopher Plummer, "All the Money in the World" (3rd nomination – 1 win)
Plummer's depiction of John Paul Getty, the world's richest yet perhaps most heartless man, may have received awards attention even if Ridley Scott hadn't cast the octogenarian in the role in an unprecedented, last-minute reshoot. So precisely nuanced and unmissable is his performance, you'd never know Plummer had mere weeks to prepare.
Sam Rockwell, "Three Billboards Outside Ebbing, Missouri" (1st nomination)
This industry-favorite actor finally gets a part that demonstrates his versatility. Like others in this darkly comic story, Rockwell's aggressive, racist cop seems predictable from the get-go. As McDonagh dares to change our minds about him, Rockwell finds layers of surprise and sympathy in a man whose problem may be that he never quite grew up.
Your turn to star in an Oscar-nominated movie! Check out Backstage's film audition listings!