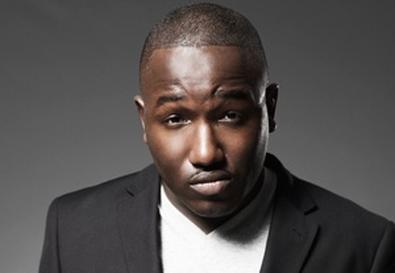 On a December night last year, the culmination of a decade's work on the part of Hannibal Buress was almost destroyed by an overzealous security guard.

Buress arrived at the Gramercy Park Theater in Manhattan to film his first hourlong standup special, only to encounter some truly dedicated security guards blocking his path. He made it to the stage to talk about it, though, so the minutes-old encounter is now preserved as the opening joke on his Comedy Central special "Hannibal Buress: Animal Furnace."

"It's happened [before] at some of my own gigs," Buress says, sitting in a plush blue armchair shortly after the "Animal Furnace" premiere in May. "There's been times where I sold the place out, and I walked in and the guy's like, 'Uh, ID?' No, you can't ID me, man. I just sold this place out." He laughs. "People are just doing their jobs, but I think if you're working the door at a venue where there's a headliner, you should at least be like, 'OK, this is the dude.' But instead the guy's like, 'Are you working here?' No, I'm the reason you're working here."

This year, though, his face will start looking a lot more familiar.


(Jeric Pio Agustin)


Since moving to New York City from his hometown of Chicago in 2008, Buress has been one of the most buzzed-about young comedians in the business. To hone his craft, he's onstage almost every night or on tour across the country or at international festivals. He was named best male standup at the ECNY Awards in 2010 and released his debut album, "My Name Is Hannibal," that year. He has already made the rounds at the late-night shows, has worked as a writer for "Saturday Night Live" and "30 Rock," and has quickly become a favorite among fellow comedians, even earning praise and advice from Chris Rock. "When I was filming my special," Buress says, "Chris Rock said, 'Make sure it's a special, and not a regular.' "

Buress' unique perspective, swagger, and deadpan delivery are balanced by a laid-back, even laconic style (a trait that, combined with his absurd premises and punch lines, drew early comparisons to comics such as Mitch Hedberg and Steven Wright). He's so subdued in person that he seems in danger of falling asleep in that armchair. But he's not bored; he's busy, estimating that he only spends about a week of each month at his Brooklyn apartment. His free shows at the Knitting Factory in Brooklyn, which he books and hosts every Sunday, offer some respite because the venue is conveniently located two blocks from his home.


Buress with Tina Fey on "30 Rock" (NBC)


After 10 years, Buress finds himself an overnight success.

Buress started his standup career in 2002 as a student at Southern Illinois University, when he was in the audience at an open-mic night and thought, "These people are really bad." So he decided to try it himself. "Everybody's bad starting out," he says. "But I got enough laughs to enjoy it, and I just kept doing that."

Buress dropped out of school and set out to get stage time every night of the week. He was becoming a minor celebrity in Chicago, where young comedians including Pete Holmes, Kumail Nanjiani, Kyle Kinane, and Matt Braunger were also establishing themselves. But after a few visits to New York, Buress decided the time had come to graduate to Gotham. "It's just a different energy," he says. "It's intoxicating, and that's what I wanted to be a part of." With no money and no plan, he got off the train from Chicago in 2006 and started getting onstage.

"I wasn't getting regular work, but I came in and I hit the ground running," Buress says. "I got off the Amtrak and went straight to do shows, man. I had a list of stuff that I printed off the Internet, and then I just went to open mics as soon as I got there."

He hadn't bothered to warn his sister, however, that he would not only be visiting but also crashing at her apartment in the city for the duration of his stay. He found himself locked out and sleeping on the subway in his quest for stage time.

"I probably could have made up with her and swallowed my pride or just moved back home to Chicago," Buress says. "But I just wanted to be in New York and not have to apologize." He laughs and admits, "I was homeless because of pride."

He did return to Chicago after about four months, licking his wounds -- then found out that he had been selected for that year's Montreal Just for Laughs Festival "New Faces" showcase, based on his audition in New York.

"I saw him in Chicago in a room that had 20 people sitting in it, and then we called him back to audition in New York, and he got it that year," says Robbie Praw, director of programming at Just for Laughs. "That is very rare. Typically, we track people for years, and we like to watch them grow and be part of the community, but once in a while when you see a guy like Hannibal, you know. I still remember his set. It's one of my favorite sets that has ever been on 'New Faces.' Nobody knew who he was. He was so superbly confident, and he did in front of that industry and Montreal crowd exactly what I had seen him do a bunch of times in Chicago and then in New York. Same set, same confidence, and he scored." This year, having already won best club comic at the Comedy Awards, Buress returns to Montreal to accept the Rising Comedy Star of the Year award.

Just for Laughs didn't turn Buress into a star, but it helped him secure management and led to his first televised gig, "Comedy Factory," which was filmed in Rotterdam. ("That was the reason I got my passport," he says.) At the same time, he was hired to open for Aziz Ansari ("Parks and Recreation") when the comic came through Chicago on tour.


Hannibal Buress on "John Oliver's New York Stand-Up Show" (Brad Barket)


Re-invigorated, Buress moved back to New York for good in 2008. An appearance on "The Late Late Show With Craig Ferguson" marked Buress' first television performance in the States, but it was his set on "Late Night With Jimmy Fallon" that almost immediately led to a writing job for a season on "Saturday Night Live." Being new to both the sketch format and the "SNL" writing staff, though, Buress and his sketches remained off-camera.

"I didn't have somebody that I worked with consistently, which is a big part of being there," Buress says of his "SNL" experience. "You need a teammate or a wingman that you know you can write with. And when you're not getting stuff on, for the most part people don't want to write with you. There's stuff I wrote that was close to getting on but didn't get on, but everybody has those. I mean, I struggled with it and it was upsetting, as it would be for anybody to not get their stuff on or not succeed at their job. But it was still a fun experience and a great opportunity."

After a year at "SNL," Buress moved on to write for "30 Rock" for the 2010-2011 TV season. He found that he felt like part of the team there and was even cast in several episodes as a homeless guy after getting laughs as the character at the initial table reads. Yet at the end of the season, he took a gamble on himself by opting to give up the sitcom job and focus exclusively on his standup. From the time "30 Rock" went on hiatus in March until he recorded his special in December, Buress was on the road, working on the material for his first hourlong special.

"I would rather do standup," Buress says frankly. "If I went to '30 Rock' again, I probably wouldn't be sitting here with you."

When he made his Montreal debut in 2006, Buress says he simply wasn't ready to take his career to the next level. "I didn't have anybody to take me on the road with them, I didn't have a full hour, and I didn't have script ideas or movie ideas," he says. By summer 2011, Buress knew that he needed to spend even more time writing, performing, and perfecting his act. He ventured for the first time to the Edinburgh Fringe, where he had to perform an hour of material every night for a month, cutting and adding bits based on audience reaction.

"I feel like it made me a better comedian," Buress says, "because I was doing a month of headlining shows with no opener. You're basically your own opening act, and you really have to get it going within the first few minutes. I learned a lot there." He will be returning to Edinburgh this August to work on another all-new hour, which he hopes to perform throughout the year before recording in late 2013.

"They kind of convinced me to do it this year," Buress says of the fest with a laugh. "I didn't want to do it, but I knew it would force me to write more."

Buress says he keeps pushing himself out of his comfort zone to come up with fresh material. As he's matured as a writer and performer, he's incorporated more of his own life and personal experiences into his act.

"It's easier," Buress says, laughing, as if embarrassed to admit it. "If you can find a way to make it funny, it's easier to talk about something that really happened instead of trying to think, 'What's funny about sushi?' It's easier to start with real life and find the funny parts."


Hannibal Buress and Eric Andre on "The Eric Andre Show" (Adult Swim)


In addition to working on his live sets, Buress is delving back into TV in a big way. He is a sidekick to comedian Eric Andre on the offbeat new Adult Swim chat show "The Eric Andre Show," which premiered May 20. And Buress is developing a live-action comedy pilot for Fox, with Jonah Hill as executive producer. He says the show, on which he will also star, will be based primarily on his cousin's life rather than his own, but it will incorporate his jokes and distinctive voice.

Besides his own work, Buress has also auditioned for a handful of pilots and other projects. "I've auditioned for some stuff," he says. "I guess all of them have been bad, because I haven't booked shit." He laughs long and hard, then says, "If it's funny stuff, I want to do it, man. But my acting range is just me."

Being himself has gotten Buress this far. Why stop now?

Watch "A Week to Kill," a documentary by Ryan Ferguson that follows Buress during the week leading up to his "Animal Furnace" taping:


A Week To Kill from Hannibal Buress on Vimeo.
Daniel Lehman is a staff writer at Back Stage. Follow him on Twitter: @byDanLehman
For photos by Jeric Pio Agustin, studio space courtesy of Image PowerHouse.