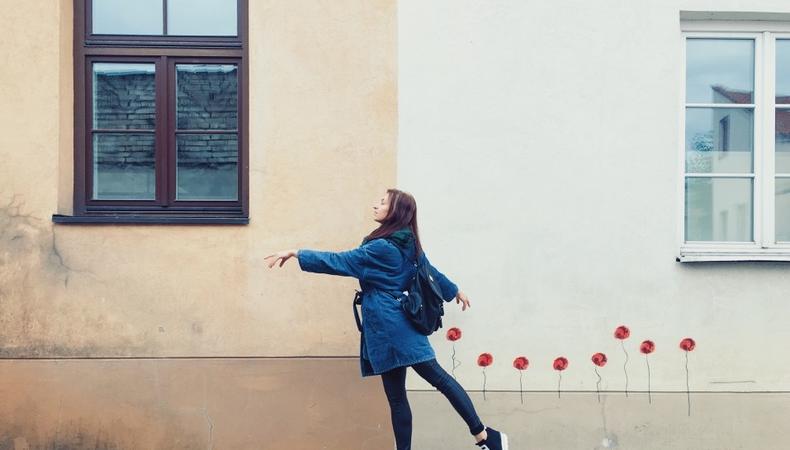 Fall season is here and we've gathered a variety of new classes for you to try, performances to be inspired by, and auditions to pencil in on your calendar. Enjoy your week of dance!
PERFORMANCES
Twyla Tharp Dance will be premiering "DYLAN LOVE SONGS," a piece exploring love's give and take, at the Joyce Theater through Oct. 5. Along with Tharp's new piece, the company will also perform two gems from the 1970s: "THE FUGE" and "THE RAGGEDY DANCES." You have a chance to see them every day this week, tickets and more information here.
Dixon Place presents Antonio Ramos and the Gangbangers' "ALMODÓVAR DYSTOPIA." Performances this week start at 7:30 pm on Sept. 22, 23, 29, and 30. In this performance, choreographer Antonio Ramos explores themes related to gender diversity and "sub-class" conflicts. This humorous celebration of queer culture is not to miss! Grab your tickets here.
New York Live Arts presents "Myself," an evening length work by Dardo Galletto Dance Sept. 22 and 23 at 7:30 pm. This melange of contemporary dance and tango depicts first the exploration of the self, followed by the shared soul of two dancers. Don't miss out on this intimate experience. Purchase your tickets here.
AUDITIONS
In Our Words is seeking six performers for their new virtual reality performance "Flock." Participants of "Flock" will be immersed in a psychedelic live-theater experience led by surreal bird performers before they step out of the nest and into the untethered virtual world of this location-based, multi-user virtual reality experience. Auditions will be by appointment on Sept. 20. Apply here on Backstage.
LLMoves is seeking a tall dancer for paid upcoming and shows and film projects this fall. Must be 5'9" or taller. Auditions will be held Sept. 22. Apply here on Backstage.
Vashti Dance Theater is seeking versatile contemporary and cultural dancers for their upcoming performance season. Dancers can send in their materials for consideration here.
Awaken Dance Theater is seeking African American dancers the upcoming fall and spring seasons. Dancers should be currently living in NYC and have Sunday evening availability. Dancers can send in their materials for consideration here.
CHOREOGRAPHIC OPPORTUNITIES
Amalgamate Dance Company invites you to present your work at their upcoming Amalgamate Dance Series! The deadline to submit your online application and payment is Sept. 20, so be sure to apply asap! Performances will take place at 7 and 9 pm on Oct. 27.
Peridance Capezio Center's APAP applications are now open through Oct. 1. Over twenty choreographers and dance companies will be presented the weekend of Jan. 12-14. Apply information here.
EVENTS
On Sept. 23, Gibney Dance Company will be hosting Vim Vigor Dance Theater Improv Jam. The free event is open to any dancers who want to come and explore movement. More details here.
It's time to get your salsa on! BAILA Society has started a 10-week training series that will culminate in a performance at Peridance Capezio Center's Blackbox Theater. The first class took place last week. It's not too late to join! More information here.
Interested in filmmaking for dance? Check out Gibney's DTI Tech Tuesday for some introductory techniques in dance filmmaking. Here you will learn fundamental tools to explore cinematic and choreographic concepts in dance film.
CLASSES + WORKSHOPS
Brooklyn Studios for Dance is offering a $5 ballet class Sept. 23 and will continue every Saturday this fall. You can't find a cheaper ballet class than this! More details here.
Have you been wanting to get your tap shoes back on? Check out the new beginner tap class offered at Mark Morris Dance Center. More info on this and other classes offered at Mark Morris here.
DANCE-RELATED JOBS
Crunch Gym is seeking professional trainers! If you have a dance degree, you are prequalified to apply. On Sept. 20, check out their open house in Fort Greene, Brooklyn for more information. You can also apply early on Backstage.
Flamenco Vivo Carlota Santana is hiring a Stage Manager for an upcoming tour, Feb. 7–March 28, 2018. More details on applying here.
Check out Backstage's dance audition listings!