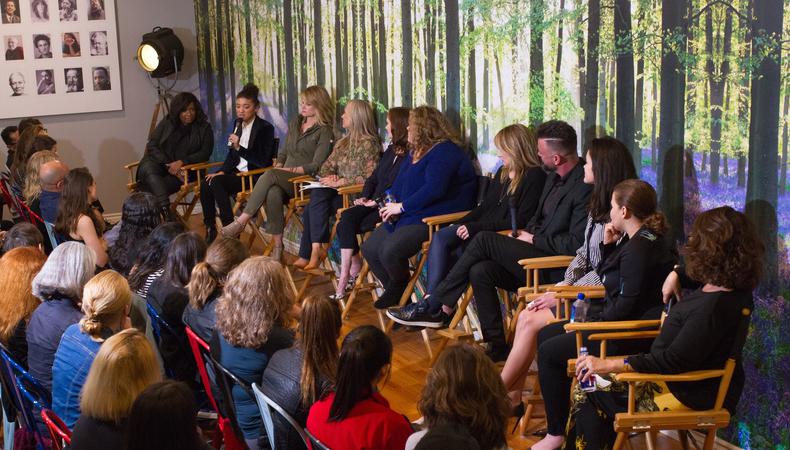 From the moment, we conceived of the "Wonder Women of Hollywood" S.E.A. Talk, I had doubts about hosting. I knew the conversation about the changing roles of women in the industry was absolutely necessary and had developed relationships with each of the panelists, so I knew the right questions to ask. I also believed that S.E.A. Talks would be the perfect venue for such a conversation. My doubt was only that I was a man and what role if any, should a man have in such a dialogue? What would it mean to be an ally in this context and would it be better to take a backseat and ask one of my female colleagues to host? I decided to split the difference and invite my mentor and fellow master acting teacher Martha Gehman to co-host with me. She's intelligent, dynamic and world-wise.
(S.E.A. Talks is a Zak Barnett Studios discussion and interview series focused on the actor's life, art, and process in the context of the studios' three signposts: spirituality, entertainment, and activism. At ZBS, we believe that an actor is defined by the questions they ask themselves. While we don't have the answers for anyone, we do know that the process of investigating these three themes, results in a clarity of presence, purpose, character, and influence that makes an actor indispensable. Star quality, simply put, is clarity of self.)
As the day of the panel drew closer, the media was unveiling more and more abusers, and my anxiety increased. Should I begin with a very public apology on behalf of my gender? Should I lead with the fact that I know suffering—I'm gay, Jewish, and a quarter Native American. Or maybe I should keep my mouth shut?
For the holidays, I took my anxiety on the road to visit my partner's family in North Carolina. One evening, I had an impassioned conversation with my new cousin Elizabeth, a budding lawyer, and feminist, about what it means to be an ally for women. I mentioned that I was thinking of backing out and letting Martha host without me. She retorted, "Taking a back seat is part of the problem. We don't want you to 'let us talk about it.' We already talk about it. We want you to listen and understand and participate. Historically, women have held the role of providing safety in our culture and now men need to." With newfound resolve, I decided to brave the discomfort and continue co-hosting as planned.
The night of the panel came. The evening started with an interview with my longtime student, Danielle Macdonald, whose breakout film "Patti Cake$" we screened prior to the panel. Martha brought up a pivotal moment in the film when Danielle's character, Patti, was publicly and viciously ridiculed for her weight. Danielle is a plus size actor and Patti was in a rap battle when her opponent went for the jugular. Danielle said her fellow actor was so uncomfortable putting her down about her weight that she realized she was going to have to coax him into it. "I told him I was gonna come right back at him, so he better got his shots in while he can."
It dawned on me in that moment why the film was so successful. Plus size actors, even the most celebrated ones, are often portrayed as victims or the butt of a joke. Danielle's characterization of Patti as a plus size girl whose conviction and resilience we admired was what was so significant. Patti wasn't a victim or a joke. We empathized with Patti, rooted for her, and most importantly, looked up to her. Danielle made a plus size character a hero. This film exemplifies how an actor's work can change the way we think.
Then the rest of the panelists entered to the song "Girl's Sit Screaming" by Ivy Ross, whose lyrics say: "Looks so easy for the boys, to make noise. While the girls sit screaming in their seats, silently, scared to eat."
With the gravity and truth of those words resonating, the diverse group of Wonder Women joined Danielle: from those just breaking out, like ZBS students Victoria Moroles ("Teen Wolf") and Gabrielle Elyse ("Snatchers") to critically acclaimed veterans Justina Machado ("One Day at a Time"), Mädchen Amick ("Twin Peaks," "Riverdale"), Joelle Carter ("Chicago Justice") and ZBS teacher, Sandi McCree ("The Wire"), to icons like Academy Award nominee Leslie Ann Warren ("Victor/Victoria") and casting legend Marci Liroff ("E.T.," "Mean Girls"). The breadth of the women represented ranged from ages 20-72, thin to plus size, black to white to brown. We covered a huge range of topics, from body image to #metoo, ageism, diversity, and leadership, behind and in front of the camera.
Victoria Moroles continued the body image discussion by saying we need to change the cultural expectation. She relayed a story about pushing back when she was told to lose weight for a role, insisting the role didn't demand it. Joelle Carter chimed in with why it's important to her for things to change: "I have a daughter and what I've had to suffer through, I don't want her to have to face."
The women shared a number of harrowing #MeToo stories that included a director insisting on filming scenes nude for his private collection to another offering a career-making role if the actor would get a boob job: "Don't worry about it" he said, "the studio will pay for it!"
Leslie Ann Warren spoke about aging in front of the camera, saying that the way she managed to beat ageism was by accepting the age she was being perceived as with grace. When Marci Liroff pushed back saying that a woman can accept their age with grace but if the writers are not writing the roles, they can't be cast in them, Leslie retorted with, "Yes, but the really juicy role is playing the older woman who is left for the 30-year-old." The audience laughed in recognition.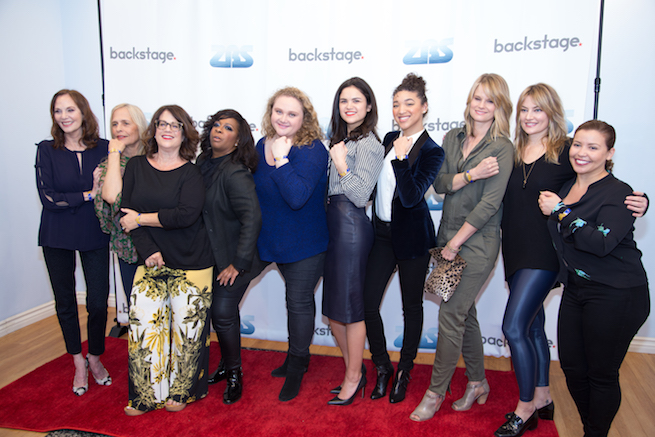 There was a collective call for more female writers and filmmakers: "We can embrace who we are, and deal with the asshole behind the desk at the studio who wants the girl that he can fuck, who's fuckable," said Mädchen Amick. "But until we get more women hiring us, nothing is gonna change. We can still be brave, and still fight, but we have to change who hires us."
Justina Machado spoke about the personal and cultural significance of being a Latina lead in a show, as well as how calls for diversity shouldn't be satisfied when a single African American is nominated. "There are Asians, Latinos, transgender people, people with disabilities…"
There were further calls for diversity by Gabrielle Elyse who spoke about being mixed race. Growing up, she had never seen anyone who looked like her on TV. She didn't believe she fit in anywhere. Over time, she has realized she was the literal product of love transcending boundaries.
Marci Liroff discussed how CDs have long been advocates of diversifying casting and reiterated the need for more female voices in the writer's room. ZBS instructor Sandi McCree brought us back to Joelle's opening sentiment by saying, "The education starts at home. With how we raise, and teach, our kids."
I won't recount the whole evening here, but the main takeaway for me was this: Over the course of the discussion, I found myself less and less nervous. I felt like I knew when to participate and when just to listen. As the conversation was approaching its close, I mentioned that as the only man there, I was so appreciative that the women were making me feel comfortable. And then I remembered what my cousin Elizabeth had said: Women's' roles had always been to provide safety, but not it's men's jobs, too. This is what she was talking about.
The evening closed with me asking each panelist about their individual activism. As activism is one of the central tenets of the studio, I shared my thoughts and they gave me space to. I said that I thought the root of activism for an actor is empathy. The more we empathize with our characters, the more the audience can process their feelings through us. A bond of trust is formed and with that trust comes the power of influence. As actors, we may or may not be holding picket signs, but our words and actions weigh on the world in a very significant way because people feel connected to us.
So, my question then followed: how have each of them chosen to use that trust and influence? How has their activism manifested? Each actor had a different insight on what it meant to be an actor and activist and how what they fought for was connected to their core values.
The lesson? Each of us is born into a reality we were largely handed. It's comprised of conscious and unconscious assumptions about our place in the world, the limits of what we can do, how we are expected to behave, etc. Activism is shining a light on the fallacy of that construction.
Danielle's role as Patti, a plus size character we looked up to, changes society because it changes who heroes are and defies cultural expectation. As the lead in a popular sitcom as a Latinx woman in her forties, Justina defies cultural expectation. Gabrielle Elyse coming to the realization that she was the product of love transcending boundaries defies cultural expectation. All these women defied cultural expectation in one way or another. And for myself, creating an environment where women feel safe enough to discuss their pains and triumphs in the face of a deeply prejudiced society defies cultural expectation.
There is no big bad wolf in discussions of equality; there is no reason to be afraid, no one is going to be crucified. In fact, the only thing lost in a discussion about equality is distance, paranoia, and isolation. Equality makes everyone less alone. Being an ally is much like being an actor: if we're willing to participate with empathy despite the fear or discomfort we may feel, we become part of a process that enables insight, healing and eventually, transformation.
Zak Barnett is one of Hollywood's most renowned acting coaches, helping thousands of actors and directors (aspiring, working, and celebrity) of all ages to artistic success and professional integrity within the industry as the owner, director, and master teacher at Zak Barnett Studios. His studies and work as an actor, writer, and director have resulted in B.A. and MFA degrees in acting, playwriting and directing, as well as an award-winning theater company, a feature-length independent film, and professional acting work in both film and TV. Currently, Zak has two dozen of his students working as leads on major television shows, major roles in both studio and independent films, as well as hundreds of others working as guest stars, costars, and on and off-Broadway.
The views expressed in this article are solely that of the individual(s) providing them,
and do not necessarily reflect the opinions of Backstage or its staff.