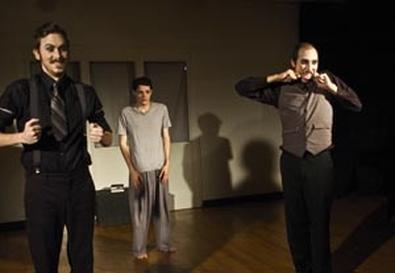 Readers of the original Brothers Grimm fairy tales unfailingly note the surprisingly, well, grim nature of the stories, which have since been lightened by modern retellings and movie remakes. But "Happily Ever After" takes the gruesomeness of the tales several steps further in this heavy-handed and directionless production.
In a dream state, Jack (Cody Lucas, also writer and director) encounters the Grimms, Jacob (Travis Stuebing) and Wilhelm (Zane Harris), the ringmasters of the Circus of Lost Souls and Innocents, which features many of their famous characters. The Grimms, a mix of Gorey cartoons, vaudevillians, and carnival barkers, are a chilling narrative presence. But the production devolves into an unfocused, sadistic sideshow, with little connection between the characters and the acts they are forced to perform. The half-baked ending, intended to shock, is cringe-worthy. Only in the waltz between Hansel and Beauty (Aaron Sanchez and Olivia Emile) do we glimpse the exquisite melancholy of the original tales.
Presented by Sundown Collaborative Theatre as part of the New York International Fringe Festival at CSV Flamboyan, 107 Suffolk St., NYC. Aug. 22–28. Remaining performances: Wed., Aug. 27, 7 p.m.; Fri., Aug. 26, 3:45 p.m.; Sat., Aug. 27, 7 p.m.; Sun., Aug. 28, 2 p.m. (866) 468-7619 or www.fringenyc.org.