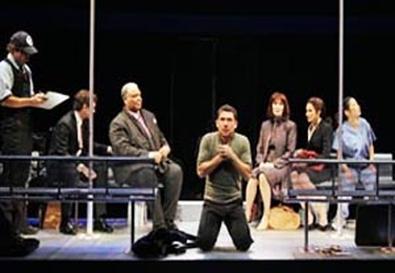 There's a lot of existential angst going around the New York theatre scene these days, what with
Our Town
off Broadway,
Exit the King
on Broadway, and now the new Off-Broadway musical
Happiness
. Commissioned by Lincoln Center Theater, the show has pedigree: Lyricist Michael Korie and composer Scott Frankel of
Grey Gardens
fame have written the score, and the project reunites book writer John Weidman and director-choreographer Susan Stroman, the creators of
Contact. Happiness
is also that rare animal: a new American musical not based on a source in another medium. All of which makes it frustrating to report that, unhappily,
Happiness
falters.
Nine contemporary New Yorkers find themselves on a stranded subway car. It doesn't take long to figure out that their problem is worse than they thought: They are all dead. Well, except for one. Zack, an alpha-male lawyer, isn't on the conductor's passenger list. Racing to court, he forced his way on board at the last second. The conductor tells his passengers to pick their perfect moment, then the subway doors magically open and they leave to live in that moment forever. The conductor doesn't know what to do with Zack; the doors only open for the dead.
The conceit conjures up such works as
A Christmas Carol
and
Outward Bound
, influences the creators acknowledge. Zack is a latter-day Scrooge, having lived a soulless, ambition-driven life. Unfortunately, Zack just isn't very interesting. And he can't take action; he can only be acted upon. That's also true of Scrooge, but the events that change Scrooge are largely the events of his own life. He is personally involved with them. Zack's change can come about only through the examples of his fellow passengers. It's not enough.
With a device rather than a character at its center,
Happiness
has nowhere to go. And its revuelike structure—each passenger gets a number about his or her moment—puts it at the mercy of its songs, which vary in effectiveness. Nevertheless, there are ancillary pleasures. Frankel and Korie's score is attractively eclectic and gratifyingly particular to character. Weidman, forced by the conceit into a predictable structure, adeptly disguises it. He's helped by Stroman's virtuoso staging, which turns an inherently static situation into a kaleidoscope of shifting perspectives, with assistance from Thomas Lynch's motorized set, Donald Holder's acute lighting, and Joshua Frankel's projections.
Standing out from the excellent ensemble are Hunter Foster as the sardonic conductor, whose explanation of how he got that job in "Step up the Ladder" is a highlight; Joanna Gleason as a right-wing radio talk-show host with a sharp tongue, even though she's saddled with an unconvincing backstory; Miguel Cervantes as a cheerfully hedonistic divorced bike messenger who loves his daughter; and Ken Page as a gay Republican interior designer who sings the show's most moving song, "The Boy Inside Your Eyes," to his dying lover. Jenny Powers, Phyllis Somerville, Robert Petkoff, Pearl Sun, and Fred Applegate as the remaining dead passengers acquit themselves admirably. As Zack, Sebastian Arcelus sings powerfully and acts forcefully but can't overcome his generic role. Among the supporting ensemble, a chameleonic Robb Sapp consistently commands attention.
Alan Jay Lerner once said, "Only the truly talented can be truly terrible."
Happiness
is far from terrible, but here's hoping its truly talented creators are already at work on their next show. Nobody gets it right every time.
Presented by Lincoln Center Theaterat the Mitzi E. Newhouse Theater, 150 W. 65th St
.,
NYC
.
March 30
–
June 5. Tue
.–
Sat
.,
8 p.m
.;
Wed. and Sat
.,
2 p.m
.;
Sun
.,
3 p.m
.
(
212
)
239-6200
, (
800
)
432-7250, or www.telecharge.com
.
Casting by Tara Rubin Casting
.