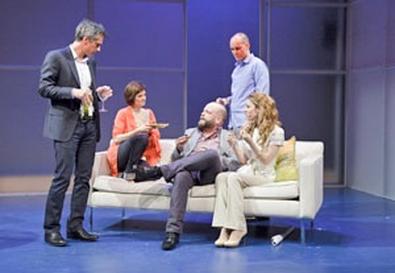 Poor Kitty. Her father and her boss are dying, she can't stand her mother, her best friends' marriage is breaking up, her job at a cancer charity is incredibly demanding, and her husband doesn't want to kiss her anymore. But what really sets her off is a pass from a clownish stranger at a conference. That flirtation gets under Kitty's skin and causes her to question all her assumptions about her chaotic life and how happy she is with it. That's the basic outline of British playwright Lucinda Coxon's "Happy Now?," currently being presented by Primary Stages after runs at London's National Theatre and at Yale Rep. If it sounds like Kitty's a bit of a whine, she is, but the author attempts to balance that self-pitying tone with wry humor and sharp observation of the pressures placed on modern women to do it all. Coxon partially succeeds, though director Liz Diamond and a few of her cast members go too far in reaching for the humor.

The play's main theme seems to be that every adult, man and woman, goes through the kind of travails Kitty does; whether they result in happiness or misery depends on how one looks at them. The slightly buffoonish Michael—he's the guy who makes the pass—refuses to feel guilty for cheating on his wife and seems relatively content. Without giving too much away, in the final scenes he offers Kitty the best advice on balancing her desires, obligations, and fears. Their encounters are the play's lightest and brightest moments, staged with snap by Diamond and played with the right combination of sexual interest and brisk one-upmanship by Mary Bacon and C.J. Wilson.

Too much of the rest of the play fails to find a steady level of credibility. In her other scenes, Bacon's Kitty can be charmingly vulnerable but also shrill and forced. Kelly AuCoin as Kitty's husband and Quentin Mare, Kate Arrington, and Brian Keane as her friends attempt to balance humor and verisimilitude, with varying degrees of success. Joan MacIntosh goes totally over the top as Kitty's eccentric mother, playing as if she were on "Saturday Night Live," with scrunched-up faces and sitcom shtick.

The bulk of the play is taken up with Kitty's crazed home life: an equally busy spouse, bratty offstage kids, estranged parents, a gay pal with boyfriend problems, and a pair of straight married friends right out of "Who's Afraid of Virginia Woolf?" Rather than focusing on one or two main issues, Coxon is all over the place. Sometimes plays can bear this kind of crowded structure, such as Lisa Loomer's "Distracted" or Melissa James Gibson's "This," but those works have one central through-line: The former is about dealing with an unruly child, and the latter concerns the death of a husband. "Happy Now?" feels as scattered and confused as its heroine.


Presented by Primary Stages at 59E59 Theaters, 59 E. 59th St., NYC. Feb. 9–March 21. Tue., 7 p.m.; Wed.–Fri., 8 p.m.; Sat., 2 and 8 p.m. (Additional performances Sun., Feb. 21, 3 p.m.; Wed., March 3, 2 p.m.) (212) 279-4200 or www.ticketcentral.com. Casting by Laura Schutzel/Tara Rubin Casting and Stephanie Klapper Casting.