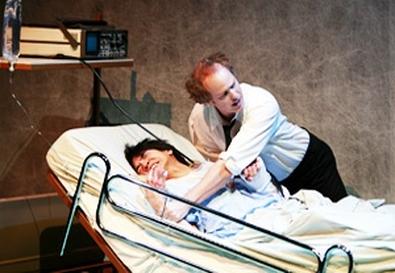 It's 1975, in Garden Grove, Calif., where Walter (Raphael Sbarge), a successful appliance-shop owner, blissfully resides with his loving family in a stylish suburban home, complete with swimming pool and squeaky-clean beige furnishings. Ten minutes into the play, Walter's idyllic world comes crashing down when a Vietnamese immigrant (Greg Watanabe) accidentally enters a freeway ramp the wrong way, instantly killing Walter's wife and two children. What follows in Julie Marie Myatt's remarkably sweet play is a beautifully nuanced portrait of emotional healing, forgiveness, and the importance of friendship. Director Martin Benson's thoughtful staging allows the understated power of this gentle yet gripping dramedy to shine.
The most impressive element of Myatt's new work is the dexterous way she elicits emotional resonance by giving the human frailties of the characters a weight equal to their innate compassion and goodness. Subtly depicting the overwhelmingly difficult process of mourning and letting go, Myatt leavens the tragedy without blunting its significance. Except for occasional lapses into sitcom-styled banter, the character interactions crackle with the ring of truth.
Fortunately, the two focal characters are in the hands of actors well-equipped to illuminate the script's multiple dimensions. Sbarge radiates a nice-guy sensibility that instantly earns our empathy, yet the actor deepens our perception of his character by making Walter's self-doubts and emotional confusion perceptible, even in the lightest moments. There's always something churning behind that radiant smile and good-natured joviality, and when the frustration and anger ultimately emerge, the result is devastatingly affecting. As Bao Ngo, the guilt-ridden driver who caused the accident and survived his injuries, Watanabe is likewise a master at less-is-more acting. As Bao insists on doing a series of favors for the reluctant Walter, as a form of penance, we learn that there are reasons why the tragedy that occurred is worse for the immigrant than Walter could even imagine. The surprising friendship that grows between the men becomes marvelously uplifting, courtesy of these lovely performances.
Solid support is offered by Geoffrey Lower as Walter's supportive minister friend, Gary, and by Nike Doukas as Gary's overly solicitous girlfriend, hungry for a committed relationship. A first-rate production design adds to the professional sheen of this delectable world premiere.
Presented by and at South Coast Repertory, 655 Town Center Drive, Costa Mesa.
Oct. 3–18. Fri., 7:45 p.m.; Sat.–Sun., 2 and 7:45 p.m. (714) 708-5555. www.scr.org.