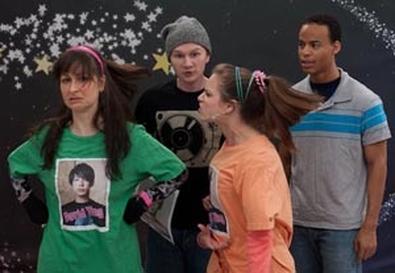 Walking to see "Happy Worst Day Ever," it felt like exactly that. The E train stalled, causing me to run late, and my wind-destroyed umbrella and I were nothing against speeding taxis and huge puddles. While the 4th Street Theatre provided a respite from the downpour, Arlene Hutton's children's play sheltered me in a different way by dumbing down its subject matter. The children Hutton aims to instruct are undeniably wiser than those she puts on stage.
Four elementary schoolers, portrayed by much older actors, quibble about the shallow troubles of their young lives, and while Hutton attempts to introduce more-serious problems, such as divorce and parents in combat overseas, the focus remains on things like fractions and a fictitious "American Idol" knockoff. The actors create caricatures—popular girl, nerd, troublemaker, wannabe—rather than three-dimensional characters, and the moving moments are few.
Under Mark Lutwak's succinct direction, Dana Brooke is effectively annoying as queen bee Glorie, and Jacob Moore is endearing as the innocently misbehaving Chris. As the preteens whine about birthday parties, the play feels like an adult's perception of childhood behavior rather than a realistic depiction of what today's children endure.
Presented by the Journey Company and Cincinnati Playhouse in the Park, in association with Wild Card Productions, as part of the New York International Fringe Festival at the 4th Street Theatre, 83 E. Fourth St., NYC. Aug. 13–21. Remaining performances: Wed. Aug. 17, 6:30 p.m.; Fri. Aug. 19, 3:45 p.m.; Sun. Aug. 21, noon. (866) 468-7619 or www.fringenyc.org.