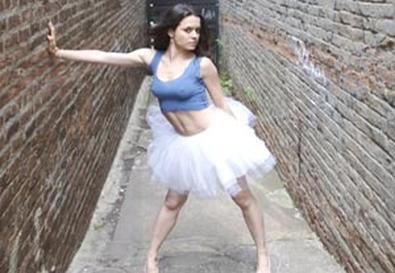 It all started a couple of years ago while shopping for bras. Passing a display of high-tech boob paraphernalia, a pretty little box caught my eye:
'Silicone Nipple Covers... Show's Over!'
Next to the inscription was a bright cartoon illustration of a slender woman in a strapless evening gown standing on a stage. She's pulling shut the stage curtain. She has a look of triumph and satisfaction on her face.
Holding the carton in my hand, I chuckle with anticipation. "That's right!" I say to myself. "The show is
over!"
******************
If you saw me perform prior to, say, 2006, you've most likely seen my erect nipples protruding through my costume. Don't think I was unaware; my nips just do their thing. They are one hundred percent independent of their owner.
Though as a dancer I display my body rather openly, I'm actually quite modest. I have been ever since I was a young girl. I enjoy being sexually attractive in private, but I am adamantly selective in how I display it in public.
I've always chosen to downplay my appearance. As a classically trained dancer, I have literally sacrificed years of my life in study and practice to perfect my art—how my body moves and what it expresses. I want to be noticed for what I do, for what I create, for what I've achieved despite many trials and personal setbacks. I've wanted more than anything to be appreciated for my hard-earned accomplishments—not my looks and, most of all, my unruly nips.
Plus, like many women, I have blamed myself when it comes to my body's appearance. But sometimes you can't control what your body does, despite your best efforts.
So, during a performance, it was infuriating to know that perverts in the audience are staring at nothing other than my nipples. The last thing I want is to be another pretty doll on stage for someone's self-centered entertainment.
*******************
I flip over the box and notice an opening enabling me to touch what's inside. I can't resist opening the box in order to fully inspect them. They are translucent pink and shaped like flower petals. "Ooh, these are really soft and smooth. Oh and look, self-adhesive and reusable, too!" How cute! And really, really addictive. I couldn't stop touching them.
They were therapeutic in an unexpected way, like those squishy, stress-relieving balls sold in drugstores. I found they had a calming and grounding effect. (Who needs a pricey therapist when you can get these babies for under $20?!) I decided, "Yeah, I
definitely
want to wear these!"
But, it wasn't that simple.
As a dancer, I needed to be sure they could withstand hours of sweat, dancing, back-bending, quick costume changes, the unstoppable pull of gravity, and all the laws of physics that have their way with my breasts during a performance.
The big question was: Are they going to stay put?
Suddenly, I had an image of myself in the midst of an advanced partnered lift in which I'm upside down for several seconds. What if one of them fell out and hit me in the face? Or what if they fell downward through my costume and plopped onto the floor? Everyone would wonder, "What the heck was that?"
My heart sank. There was only one thing to do: Try them out in rehearsal.
I did. They held ok. Then, just to be certain, I took things up a notch—I gave my breasts an earth-shattering shake. The petals still held. These nipple covers are amazing! They are so comfortable and well-made I could run a marathon in them—braless—knowing they will make it to the finish line intact, even if I don't.
As months passed, I bought several pairs, to make sure I always had them with me.
As a performer, you develop deeply personal rituals and anchors that help you focus and feel confident. Dance shoes come and go, as do fellow cast members, costumes, and venues. But the rituals remain.
These nipple covers became an integral part of my ritual. I could count on them. They gave me control where previously I had none, and that was empowering. I needed those determined, sheltering petals, which were so intimate to me; the only ones out there with me under the lights, next to my beating heart, they had never failed me.
Wearing them, I performed with increased confidence and precision. They gave me added peace of mind. Who knew these silicone petals could do so much?
One day, while in my dressing room preparing for a show, I realized I forgot my cherished silicone nipple covers at home. Yup, it was just me and my naked nipples staring back at me in the mirror.
Oh no! I felt completely unsteady, vulnerable and abandoned.
I couldn't believe the extent to which those soft, sticky petals had become part of my pre-show ritual. I became worried about my performance. I did not want to go out there. A familiar voice rang inside my head. "Well, Suzana, you have to get your ass out there and give a great performance whether you want to or not."
Frantically, I grabbed a bunch of Band-Aids, unpeeled them as fast as I could, and stuck them where the nipple covers would go. Predictably, my plan did not succeed. The Band-Aids made a horrible mess, and they were already half-dangling. Defeated, I ripped them off and tossed them to the floor.
Soon after, I'm being called.
This is it. What choice would I make? Standing in the wing I decided: 'Fuck it! I don't care anymore! They are going to see my nipples big time tonight! I am not hiding or apologizing. My nipples are beautiful, and they are going to shine!'
Standing there in the darkness, I was having a breakthrough.
All these feelings came flooding forward. I realized I wasn't 12 years old anymore, and it was time to let go of pubescent shame about my body. I was a complete adult woman, and my nipples were an important part of my feminine sexual being. I had
nothing
to be ashamed of. In fact, I was
proud
of who I was and what I looked like.
At my core, I have always wanted my work to help move women forward, not back... to be seen as a serious artist which, to me meant tackling serious, epic themes in my work (certainly not prancing around with erect nipples). But apparently I had also been rejecting a normal and healthy aspect of myself.
That night, I stopped blaming myself for what others might think. I was not responsible, if, instead of focusing on my performance, some guy became aroused. That was
his
problem. No matter what, I was going to be the artist I always wanted to be, silicone nipple covers or not.
*********************
Can I tell you what a relief it was to awaken to this? I realized it is possible and perfectly acceptable for me to both be, talented
and
sexy, intelligent
and
attractive, accomplished
and
feminine. My sexuality need not subtract from my achievements and artistic vision; it's just another part of me finding expression.
I am learning to embrace all of me, inside and outside, nipples and all. We are all sexual beings—to deny that is to deny a natural part of universal human experience. My sense of womanhood is now expansive and holistic, honoring and loving all of me. Not just any one single aspect.
I can safely say that I don't need to validate my talent, nor do I seek approval of it, nor do I want to suppress something as vital and burning as my God-given sexuality. Within me are spiritual, emotional, intellectual and sexual dimensions I am just discovering.
But if for you, the best part of me are my nipples, then so be it.

Suzana Stankovic is selling a sexy and inspiring 2010 calendar featuring photos of her in action taken by Maciek Jasik, Rachel Neville and Ken Paprocki. Proceeds go to the Catskill Animal Sanctuary. Purchase your calendar by January 15, 2010 and get two free tickets to Suzana's next show, premiering in March in New York City. To purchase the calendar, visit www.iamsuzana.com/boutique.

Born in NYC, Suzana Stankovic studied gymnastics as a child and began ballet with Callina Moraitis. She continued her training with world-renowned teachers at The Joffrey Ballet School, Steps NYC and Ballet Arts at City Center. Fiercely independent and creative, Suzana presented her first piece of choreography at age 19. In 2007 she presented a full-length modern ballet "Rapture," which garnered praise from critics and audiences. That same year she shared the stage in a principal role with Tony-winner Savion Glover at The Joyce Theater. In 2008 Suzana shifted to drama, which she studied in college, and in 2009 created and presented P U R E, a one-hour dance-theatre show in which she blazed through new artistic territory. Suzana sees herself as equal part actress, dancer, director, choreographer and producer. For more information, visit www.iAmSuzana.com.