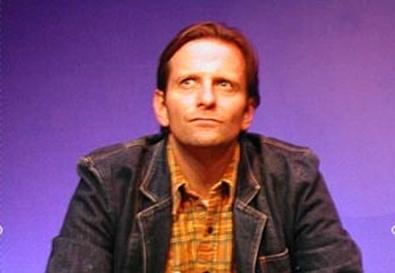 By equating the conditions of Depression-era America with those of today, writer-performer Randy Noojin invests "Hard Travelin' With Woody," his one-man show about Woody Guthrie, with topicality and urgency, rescuing it from mere homage and transforming it into a call for united action against the greed and selfishness of the rich.
We don't learn much about Guthrie the man here. Noojin's concern is presenting him as a political artist. It's an approach that might leave some unsatisfied, but others will welcome it, because it blows the dust off of such Guthrie standards as "Bound for Glory" and "This Land Is Your Land," restoring their intended sting and deepening their soulfulness.
Noojin's sincere, low-key performance suits Guthrie's down-to-earth persona and homespun poetry. Combined with Richard Mover's tasteful direction, it transforms Guthrie's appearance at a benefit for striking miners in 1940 into a call to arms for us in 2011.
Presented by Rooster Productions as part of the New York International Fringe Festival at the Clemente Soto Vélez Cultural Center's Flamboyán Theatre, 107 Suffolk St., NYC. Aug. 13–25. Remaining performances: Wed., Aug. 17, 9:30 p.m.; Sat., Aug. 20, 5 p.m.; Mon., Aug. 22, 3:45 p.m.; Thu., Aug. 25, 7 p.m. (866) 468-7619 or www.fringenyc.org.