Sam Rockwell has been good for so long that we, as filmgoers, take him for granted. We enter a movie expecting a certain level of excellence; Rockwell invariably delivers; and we complacently accept it as our due. But there is nothing complacent about Rockwell, an actor who blithely, giddily shifts from big-budget studio films ("Charlie's Angels") to devastating indies ("Snow Angels") to misfires ("Cowboys & Aliens").
After a stellar, undersung 2013—which found him on screens in "The Way Way Back," "A Single Shot," and "A Case of You"—Rockwell quietly continues as one of the hardest-working actors in Hollywood this year, with the debut of Lynn Shelton's "Laggies" at the 2014 Sundance Film Festival, the upcoming comedy "Trust Me," and the wild, surprising "Better Living Through Chemistry," in theaters March 14. Shifting invisibly from nebbish pharmacist to drug-addicted stud, Rockwell turns in a deceptively simple performance that anchors the film's sometimes anarchic humor.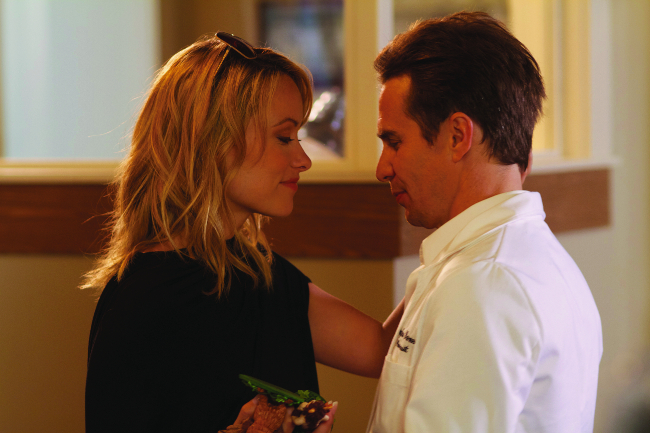 "I really had fun with it," he says. "I wanted to approach it very seriously because we could have hammed it up. We still have some pretty crazy comedy in there, but it's an interesting tone."
Interesting is right. Without Rockwell's rock-solid performance, "Better Living" could easily collapse in on itself. Narrated by Jane Fonda as Jane Fonda (for no real discernible reason), the comedy finds Rockwell unleashing his inner alpha male with the help of stolen pharmaceuticals and sweaty, adulterous sex with the pill-popping, cocktail-swilling trophy wife played by Olivia Wilde. By the time the two of them contemplate murder, the film has earned its oddball swagger.
"He's a director's secret weapon, like a Swiss Army knife, because he's so unbelievably versatile and so good," says David Posamentier, who, with co-writer and co-director Geoff Moore, makes his film debut with "Better Living." "It's one of those things where we feel like we hit the jackpot when he agreed to do the movie."
Initially, Jeremy Renner was cast as Doug Varney, but had to bow out due to scheduling conflicts—and the role was offered to Rockwell, a not atypical situation for him. "Usually what happens with me is, I'm not Brad Pitt," he says. "People want to cast me, but for financial reasons sometimes they can't, and they go through all their movie stars and then come to me and say, 'Now we can get this guy because we've exhausted the list to make the bankers happy.' I imagine it's similar for a lot of actors in my category, sort of character slash quirky leading man." He pauses. "I don't know what the hell my category is. And that's the point: to not be in a category."
Though "Better Living Through Chemistry" came as an offer, Rockwell isn't above auditioning if it's "a juicy role," pointing out that auditioning is as much about the people on the other side of the table as the person reading. "It's a muscle you've got to work," he says. "You've got to stay loose, you've got to relax. I tell acting students, 'You cannot try to get the job. Just go in there, have some fun, and do your version of that part. This is what I'm selling. If you want to buy it, that's cool. Have some adjustments for me? That's fine, I'll make some adjustments, but this is basically what I want to do.' That's the attitude, sort of a 'fuck it' attitude. Not fuck you, but fuck it."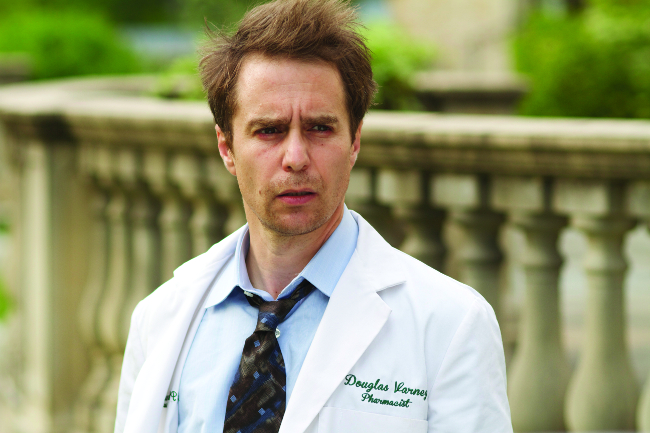 Rockwell doesn't just drop by acting classes to share his hard-won wisdom; he also continues to work on every script with acting coach Terry Knickerbocker at his alma mater, New York City's William Esper Studio. "We break it down and I'll write notes and we'll kind of problem-solve and riff," Rockwell says. "Depending on how familiar I am with the text, I can go wherever he wants me to go; I'm pretty facile. But if I'm not as familiar, it's harder to hit the notes right away. So I gotta get familiar with the material: repetition, rehearsal, and keep reading the material over and over again." But despite his outside work, Rockwell is diligent about checking in with his directors to ensure everyone remains on the same page, and that his work isn't running counter to the rest of the creative team's ideas.
That eagerness for input was not lost on his directors. "That was something that was pleasantly surprising, that this guy who is a natural still goes back to the drawing board and breaks down the script with an acting coach," Posamentier says. "Natural talent can only take you so far."
Rockwell himself agrees with that. While he says he's a firm believer in talent winning out in the end—"Not always," he adds, "but eventually"—he's an even more fervent believer in the importance of doing one's homework, and drills that point home when he speaks to acting students. "They'll say, 'How do you network?' and I always sort of say, 'I don't really know much about networking. You don't get to be Daniel Day-Lewis and Meryl Streep by sitting on your ass, shaking hands, hustling, going to parties.' "