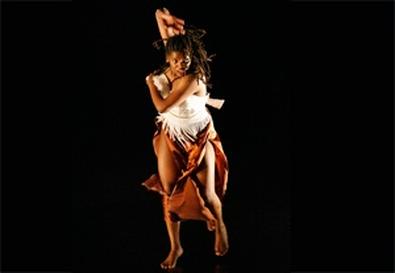 Unlike dancers, who constantly have teachers or choreographers telling them what to do, and actors, who are often guided by instructions from directors, professional choreographers rarely have anyone to turn to when they want help, advice, or feedback on their work. It is especially difficult for young choreographers to get the kind of informed guidance they might need to develop their dance-making talents.
Harlem Stage's
"E-Moves" a Harlem-based dance presentation series in its 13th year, is addressing this issue through its mentorship program for choreographers of color. The program pairs an emerging choreographer, selected through a two-stage application and audition process, with an established choreographer who mentors the young artist's creation and performance of a dance piece. The works by this year's 10 mentees will be presented April 20-21 and 27-28 at the historic Harlem Stage Gatehouse.
"Unless you've danced in a big company, it's really hard for choreographers in the modern dance world to find mentors or people they trust to come in and help them with their work," says Edisa Weeks, a well-known modern-dance choreographer who is one of this year's mentors. "Particularly among people of color, and specifically among women, there's not enough mentorship. Too often we're in competition with one another, as opposed to supporting or finding ways to help each other grow, or to challenge each other in healthy ways."
Weeks has taught choreography at Princeton University, is a teacher at Queens College, and operates Brooklyn-based modern-dance company Delirious Dances, founded in 2003. "One has to be a little bit delirious to want to have a modern-dance company,"she says.
According to Weeks, mentorship is about guidance, support, sharing opinions, and sharing resources. Her mentee in "E-Moves" is Leslie Parker, a Minnesota native who earned an undergraduate dance degree from Philadelphia's Temple University. "Working with Edisa really helped me dig deeper, get clearer, and refine the focus of my creative process,"Parker says.
During the approximately five-month mentorship process, Weeks attended four of Parker's rehearsals and each time described to Parker what she was seeing, what she felt could be strengthened, and what she was confused or had questions about. Weeks says, "I was trying to get her to communicate what she wanted to say as strongly and clearly as possible."
Set to soul music, and exploring African-American identity through a personal and historical lens, Parker's piece is a solo that she is performing herself. "It's hard to be objective about a solo," Weeks says. "You can't step outside of it. So what I did for Leslie was try to be an outside eye. She's very comfortable with improvising, but it's not always consistent. So I tried to help her with that, but I also challenged her to take more risks and with those risks find freedom and an individual point of view."